Dolphins at Patriots: 5 best fantasy options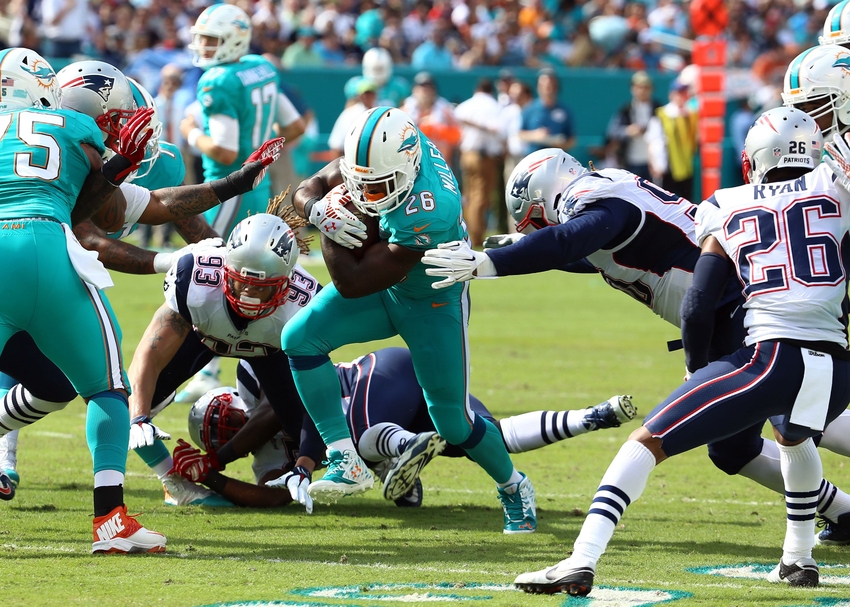 Ranking the five best fantasy football options for the Week 2 game between the Miami Dolphins and New England Patriots.
With Miami's low scoring affair against a tenacious Seattle defense, they'll need to muster something up offensively if they wish to upset the Patriots on Sunday. Even without stars like tight end Rob Gronkowski and Tom Brady, the Patriots were able to upset Arizona in typical Belichick fashion.
With Miami coming to town, the Patriots must be licking their chops as they haven't lost to Miami at home since 2008. Ryan Tannehill and the rest of the Dolphins offense looked quite restrained in the loss to Seattle. It was Adam Gase's first game as a head coach, so that could be some of the reason but the Dolphins must open things up against the Patriots otherwise, things will get ugly in a hurry.
But for now, let's get into the best fantasy options for the Dolphins at Patriots.
Jimmy Garoppolo
The second round pick out of Eastern Illinois is making noise and making himself at home in the Patriots offense. There's a lot of good stories in the NFL and this certainly is one of them. Jimmy G should make a statement Sunday in his second start in the league. He threw for 264 yards, a touchdown, and completed 72 percent of his passes last week at Arizona. Expect an even bigger game in Week 2 at home versus the Phins.
The Pats offense will take advantage of the middle of the field, utilizing two tight end sets, especially if Gronk is playing. The Dolphins strength is their pass rush on defense, but that can be negated by quick throws over the middle to tight ends. The Dolphins strong safety Reshad Jones is comfortable in the box, leaving free safety Isa Abdul-Quddus on the back end alone.
With multiple weapons to choose from, Garoppolo has the luxury to pick and choose who to throw to. Offensive coordinator, Josh McDaniels does a phenomenal job with the offense week in and week out, putting players in the best position to thrive. Whether or not the Dolphins have the will power to slow this Pats offense down will soon be discovered. But it appears that too many holes remain on their defense to keep up.
LeGarratte Blount
Last week, the Arizona Cardinals did a good job containing Blount for the most part. He carried the ball 22 times but picked up just 70 yards on the ground and averaging only 3.2 yards per carry. Miami was 28th in rushing last year as they gave up an average of 126 yards per game on the ground alone. Historically, the Dolphins have actually bottled up Blount in their matchups. In four games against the Dolphins in his career, Blount has 47 carries, 182 yards, and only one touchdown.
But with the offense rolling expect a breakout game from Blount who will see 25 touches. Last week in Seattle, Miami gave up 112 yards on the ground. Ndamukong Suh can only do so much inside and needs help from the inside linebackers to fill gaps. While Miami's pass defense isn't great, their run defense much worse.
Belichick is famed for exploiting a team's weakness. Expect to see him do the same on the ground against the Dolphins this week, with Blount leading the way.
Jarvis Landry
No matter how big of a mastermind Belichick is, he simply can't take away all of the weapons that Tannehill has to throw to. Landry caught seven passes for 59 yards last week and was a bright spot for an otherwise reserved offense. He's Tannehill's favorite target but he needs to get the ball down the field.
New England's defense features a top 10 secondary in the game. They're deep enough at the position to slow down opponents second and third receivers too. Landry is extremely talented however and he'll likely be matched up with Malcolm Butler out wide and Justin Coleman in the slot.
Too many times last week Tannehill was throwing the ball parallel to the line of scrimmage or behind it on quick screens to these fast receivers. A well-coached team like the Patriots won't get beat on simple screen passes, so it's imperative that the Dolphins find other ways to get the ball in #14's hands.
He played in all 16 games a year ago, catching 110 receptions for 1,157 yards and four touchdowns. On Sunday, the Dolphins will move him around into the slot, out wide, or in trips and trey looks to get the ball into his hands. He's their most valuable chip on offense and they'll need a big game for him to have a change against New England.
He's too valuable of a player for this offense to not be involved and not be productive. He's a game changer and can take the top off a defense. Gase can't hinder his team with conservative play calls throughout the entire game. With that being said I expect Landry to haul in some deep passes from Tannehill Sunday, whether or not the Dolphins will be even in the game at that point, that's to be continued but he still will have a solid game.
2. Julian Edelman
A former quarterback at Kent State, Edelman has made a living torching opposing defenses in the slot on slants and any other quick route on the route tree. But don't be fooled, he's more than capable of going deep and hauling in passes over 20 yards down the field. He caught seven passes last week which was the most on the team. Though he didn't have a touchdown, Garoppolo seems very comfortable throwing the ball to Edelman, no matter where he lines up on the field.
Byron Maxwell will likely see one on one action with Edelman. Maxwell was in the top 10 among corners targeted last season. I don't see any reason that wouldn't be the case come Sunday when Maxwell is on Edelman. With his explosiveness of the line of scrimmage, Edelman is not the tallest receiver but defenders underestimate his strength and his ability to carve defenses with his route running skills.
In only nine games last year, he caught seven TD passes. What can I say, the guys underrated and the Dolphins better be ready for him, otherwise, he'll light their secondary on fire. Don't think for a minute that the Pats are overlooking the Dolphins. Miami will have to game plan for a handful of skill players, as will the Patriots, but perhaps New England has the better of the two quarterbacks.
1. Arian Foster
The 30-year old running back can't be quiet all season right? He received only 13 carries last week and picked up only 38 yards on them. The Dolphins abandoned the run early in the Seattle game, so look for them to get more consistency in the trenches early on Sunday. They'll need a workload of attempts from Foster if they plan on winning this game. Miami simply cannot rely on Tannehill to sit back and throw it 30 times against New England and expect to win.
Against New England on the road, the Patriots have beaten Miami 28-0, 27-17, 41-13 and 36-7, a combined score of 132-37 in Tannehill's starts in Foxborough. In these games, he's averaged 42 passing attempts per game. That's just too many for a quarterback who's yet to lead this team to the playoffs or a winning record. Foster must be featured early and often. Last week, Foster was also
Last week, Foster was also the Dolphins number one receiver. He caught three receptions for 62 yards which led the team. Most of the yards came on a 50-yard swing route where he made Earl Thomas wiff on the tackle. Foster is still elusive with the ball in his hands, and while he's not the same runner as he was a few years ago, I think he's more than capable of rushing for over 1,000 yards.
Going for 100 yards on 20 carries would be a nice way to kickstart his 2016 season. Of course, the line must do their part in blocking for him but when there's a slight hole, Foster will find it. His vision still appears to be good and as I said, he's still a shifty runner. He won't be the main focus for the Pats defensive game plan but he still needs attention.
This article originally appeared on