Digging Deep: Three Keys in the New England Patriots' 33-13 win over the Cleveland Browns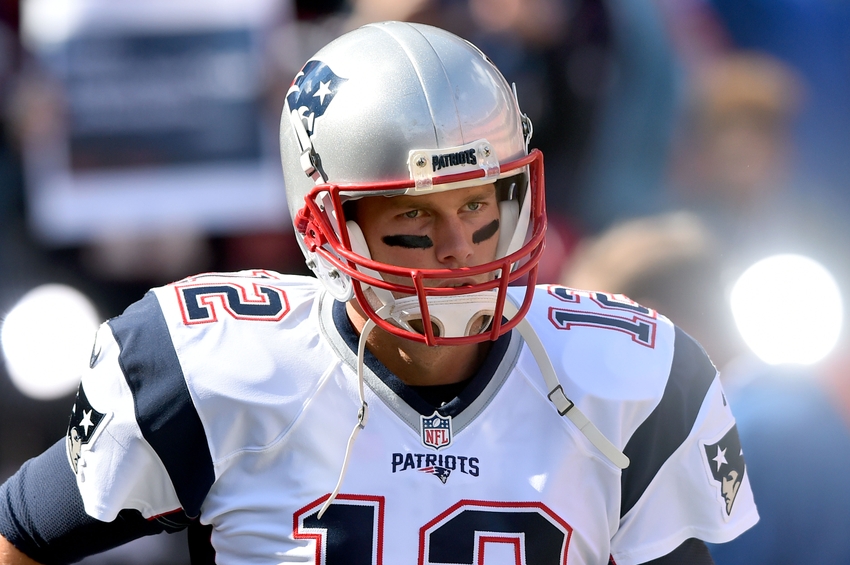 As bad as the New England Patriots looked last week against the Buffalo Bills in their 16-0 loss, they flipped 180 degrees and were dominant against the Cleveland Browns.
The return of Tom Brady played a key role in getting an offense which was shutout and ineffective back on track against a weak Cleveland defense.
Tom Brady showed little rust putting up over 400 yards passing and should have topped 40 points but his kicker (Stephen Gostkowski missed 50-yard field goal) and goal line running back (LeGarrette Blount stopped at the one-yard line on third and fourth down). The Patriots got sloppy on offense as well as they got ahead 30-7 early in the third quarter.
The defense knocked rookie quarterback Cody Kessler out of the game (Kessler was quarterback number three for Cleveland) and then knocked back-up Charlie Whitehurst out of the game. If there was a game to get the defense some much-needed confidence it was the hapless Brown's offense.
Regardless of the competition, throughout the game there were numerous big plays, strong performances, and exciting action. However, going back and digging deep into the statistics and game tape there were a number of hidden keys to the New England road win. Here are three examples as we close the door on Cleveland and week five:
I Get No Respect
Tom Brady: Wait, the greatest quarterback of all time gets no respect? Well, there was a lot of talk about Brady being a "system quarterback" when he was out and the team went 3-1. Funny, there seemed to be little of that talk on Sunday night after Brady dismantled the Browns throwing for 406 yards and three touchdowns and compiling a 127.7 passer rating.
Brady is a system quarterback, sure. Just like Peyton Manning had to have Denver adapt to "his system" from Indianapolis. Just like Joe Montana was a "West Coast Offense" system quarterback. Just like Dan Marino was in "his vertical offense" system in Miami. System quarterback is a badge of honor for these Hall of Fame quarterbacks, not an insult. They played the game at such a high level that they became the offense.
Sure, Brady is a system quarterback–his offense is a great system for his skills. The offense has evolved every year from the run-based attack of 2001 to 2005 to the vertical attack with Randy Moss at wide receiver to the double-tight end monster of 2010 to 2012 to the Gronk-and-Edelman show of the past few seasons.
Now the offense is evolving again with Martellus Bennett and Rob Gronkowski; Chris Hogan and Malcolm Mitchell on the outside; Julian Edelman lining up outside and in the slot and Danny Amendola as the pure slot receiver. James White is an evolving threat catching the ball from the backfield and…oh yeah…Dion Lewis may be back at some point this season as well.
Cody Kessler, Charlie Whitehurst, Robert Griffin III, Josh McCown and Terrelle Pryor: With RG3 and McCown already out injured the last thing the Cleveland Browns needed was another quarterback injury. So of course the Browns have another pair of quarterback injuries on Sunday.
Browns rookie Kessler had his shoulder driven into the turf by a spry-looking Dont'a Hightower and is out of the game (and maybe longer). Fresh off the scrap-heap comes Whitehurst and he hyperextended his knee and had to give way to college quarterback Pryor. Talk about a bad situation getting worse.
Pryor playing quarterback takes away the only legitimate receiving threat from the Browns offense (since he cannot throw the ball to himself) and the Browns must be praying that Kessler comes back quickly as they are running out of scrap-heap quarterbacks (No way is Johnny Manziel coming back and Tim Tebow is a New York Mets minor league baseball player now). Playing quarterback for the Browns has become a joke of Spinal Tap drummer proportions. Just as in the movie "This is Spinal Tap" there were drummers dying in mysterious ways, so to do the Browns cycle through quarterbacks in sad way.
Patriots Rushing Defense: The Buffalo BIlls and LeSean McCoy gashed this group last week. Rookie defensive tackle Vincent Valentine was out and the Patriots had to bring up Woodrow Hamilton (can we run this guy for President? His name alone is presidential in timbre and he cannot be worse than who is running) to fill in. The Browns only had the top rated rushing offense in the NFL and were no doubt planning to keep the ball away from Tom Brady.
So of course the Patriots' front seven dominated and shut down the Browns running game. Shut down as in held them to a 1.2 yards per rush average. Shut down as in the longest rush of the game by the Browns was a six yard run after the game was far out of hand. Shut down as in 22 rushes for a total of 27 yards for the game.
When the game was close, it was worse: in the first half the Browns had 13 rushes for a total of 11 yards. That is a 0.8 yards per rush average. Isaiah Crowell had just nine yards on seven rushes in the first half. Duke Johnson had three rushes for negative one yard in the first half. These guys were both averaging over six yards a carry coming into the game.
Hamilton played well in a rotation with Alan Branch and Malcom Brown in the interior offensive line. Rob Ninkovich was back and making plays. Dont'a Hightower seemed to have shaken some rust off and was moving well after being slowed by a knee injury. Patrick Chung seemed to be everywhere and was hitting everyone with the ball.
Where does he get those wonderful toys?
Martellus Bennett: For the first time the Gronk-Marty show was on display with Tom Brady at quarterback and a healthy Rob Gronkowski out in pass patterns. Gronkowski topped 100 yards receiving with five catches for 109 yards and a 37 catch-and-rumble that seemed to indicate the hamstring is getting close to 100%.
Bennett had six catches for 67 yards and half of his reception were touchdowns. Twice Brady looked off other options in the red zone and found Bennett. His final touchdown had him and Gronkowski running go routes on the right side of the field and Brady had to choose which of the two open tight ends he would throw the pass.
Bennett cost the Patriots next to nothing by the time Bill Belichick finished wheeling and dealing draft picks. He looks like what the Patriots thought Scott Chandler could be last year. Bennett shook off an ankle injury on Sunday as well and got back on the field after he was down on the field and limped off.
Chris Hogan: After being invisible last week against Buffalo, Hogan showed what he can do with a quarterback who did not need surgery on his thumb. Hogan played 49 of the 80 offensive snaps and was knocked out of the game twice and was examined for a concussion. Even so, he had a great game showing what he can do with Tom Brady behind center.
Hogan was solid with Jimmy Garoppolo behind center but disappeared from the game plan once Jacoby Brissett took over.  On Sunday he had four catches for 114 yards including 63-yard and 43-yard pass plays. At six-foot-one and 210 pounds, Hogan stands out among the New England receivers and gives them that outside the numbers and deep threat they lacked since Brandon LaFell fell off.
James White: White may be overlooked with Brady, Gronkowski, Edelman, Bennett, and Hogan getting all the attention. White had four receptions for 63 yards and a 36-yard catch-and-run in the first quarter. White added 26 yards on five carries as the most effective running back in squeezing through the offensive line.
White has improved as he has grown into the offense at last after a slow start. This mirrors the development of Shane Vereen who did not make a consistent impact until his third season. White will likely step aside when Dion Lewis returns, but until then he has shown an ability to make defenders miss, line-up anywhere in the formation as a receiver, and his growth as a runner has been impressive.
Stats are for losers
1.2: The Browns top ranked rushing offense was held to just 27 yards on 22 carries for an abysmal 1.2 yards per rush. Isaiah Crowell had been averaging over six yard per carry and had just 22 yards on 13 rushes.
2.1: LeGarrette Blount–after a number of strong performances in the first four weeks of the season–was held to 37 yards rushing on 18 carries. That is a 2.1 yards per rush average.  
53%: The New England third down efficiency as they were 9 of 17 on third down. Having Tom Brady back at quarterback provided a spark to the offense and extending drives early was a huge boon to the offense.
38%: The Cleveland Browns converted just 5 of 13 third down chances on Sunday. The Patriots' defense had struggled to get teams off the field and hopefully this is a trend to get their opponents off the field on third.
406: The number of yards through the air by Tom Brady on Sunday. Maybe there was some rust with a few overthrows but overall he completed 70% of his passes and threw three touchdowns. Of his twelve incompletions six of them were drops and throwaways under pressure (per NESN.com). Those six can be pinned on the wide receivers and offensive line. That means 34 of his 40 passes were on target (although three were broken up by defenders meaning there were a total of three "misses").
32: Defensive snaps played by undrafted free agent rookie cornerback Jonathan Jones. This was Jones' first extended action of the season and NESN.com had Jones allowing just one reception for 17 with two pass breakups. Unfortunately, the one reception was to Cleveland's recently promoted from the practice squad tight end Connor Hamlett for a touchdown. Jonathan Jones also had to step in because rookie Cyrus Jones was ejected in the third quarter. Jones got some work as a blitzer as well and had a quarterback hit and a hurry. Add in his work on special teams and it was an impressive display for Jones playing in place of Justin Coleman.
5 for 61: Penalties struck again for the Patriots as the flags at least were not crippling. Malcom Brown was called for an odd defensive holding penalty that extended Cleveland's first drive. Malcolm Butler had a sloppy pass interference penalty that got the Browns from the two yard line up past the 20. Cyrus Jones had an unsportsmanlike conduct penalty and ejection on a drive saved by Patrick Chung's interception. David Andrews had an offensive holding penalty that killed the following drive after the interception. Finally, Rob Gronkowski got a holding penalty on a fourth quarter LeGarrette Blount run.
63: Tom Brady's longest pass play was a long pass down the right sideline to Chris Hogan in the second quarter. Hogan got past Cleveland's top secondary player Joe Haden down to the six yard line. Hogan was dinged up on the tackle but returned. Unfortunately the drive stalled at the one as LeGarrette Blount was unable to punch it in on fourth down.  
7: Tackles (six solo) by rookie linebacker Elandon Roberts. Roberts actually played more than Dont'a Hightower on Sunday playing 31 snaps. Roberts stepped in at linebacker for Jonathan Freeny and was impressive flying around the field. A sixth-round draft pick, the University of Houston product beat out fellow sixth-round draft pick Kamu Grugier-Hill (who seemed much more hyped this summer than Roberts) for the final linebacker spot. With Freeny only playing on special teams and Shea McClellin out injured, Roberts made the most of his playing time on Sunday.
80: All five New England Patriots offensive linemen played all 80 offensive snaps on Sunday. The Patriots were down to their third-string right tackle with Sebastian Vollmer out (likely for the entire season) and Marcus Cannon with a calf injury keeping him from playing. Brady faced a lot of pressure, but they kept him from any big hits which is a key for the offensive line. The only sack was when Brady tripped over his own feet trying to move out of the pocket. Fleming was credited with both quarterback hits and the sack went to guard Shaq Mason.
2: The number of sacks the Patriots had–both credited to second-year defensive tackle Malcom Brown. Brown was strong at the point of attack and disruptive all day. He and Alan Branch were strong against the run in the middle. The Patriots got some pressure (nine credited to defensive ends Chris Long and Jabaal Sheard) while backup defensive end Trey Flowers added another pressure.
This article originally appeared on