DeVante Parker Hauls in Game-Winning Touchdown for Dolphins (Video)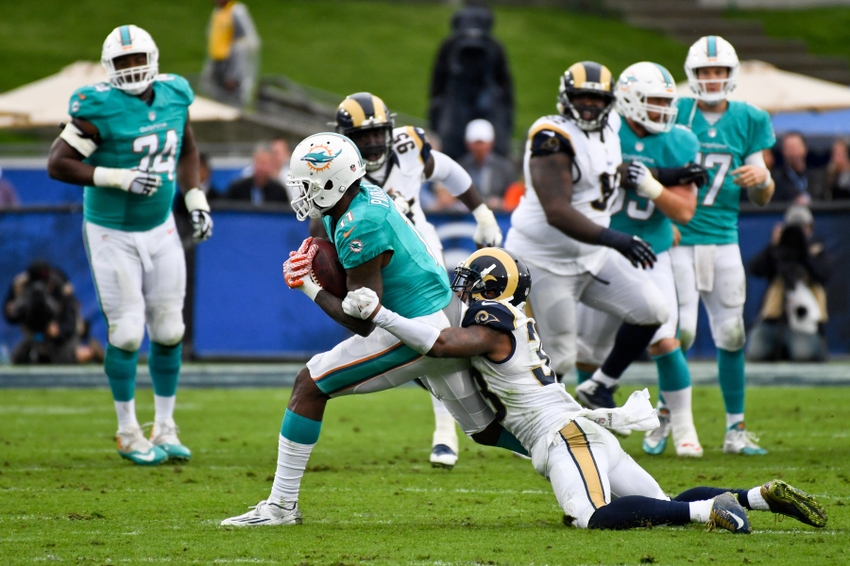 DeVante Parker made a fantastic catch in the end zone as the game-winning score for the Miami Dolphins against the Los Angeles Rams.
Coming into Week 11 absolutely red-hot, the Miami Dolphins looked like anything but against the Los Angeles Rams on the road. Ryan Tannehill struggled to find time with a makeshift offensive line in place. Moreover, Jay Ajayi couldn't fully get going for the same reasons. The struggles were so real that the Dolphins actually failed to score in the first 56 minutes of the contest. Of course, that all changed in the waning moments.
Tannehill got things started with time winding down by finding Jarvis Landry for the score. That brought the score to 10-7 in favor of the Rams, but the Dolphins needed a big defensive stand. Ndamukong Suh and company delivered just that. They came up big and stuffed Jared Goff and company down the stretch.
After a solid drive, Miami drove down the field with ease against a tired Los Angeles defense. Once  down in the red zone with under a minute to play, you wondered if Adam Gase would go for the tie to force overtime. However, he put his faith in the offense and they delivered. Tannehill dropped back from nine yards out and fired a bullet into the perfect spot in the front-right corner of the end zone. DeVante Parker was there waiting and made a wonderful grab for the decisive score:
TOUCHDOWN @MIAMIDOLPHINS!

After trailing the whole game, they take the lead with 36 seconds left. #MIAvsLA https://t.co/DmHAdY7Z1t

— NFL (@NFL) November 21, 2016
Scoring a game-winning touchdown is a big moment. But it looks even better when a player makes a grab like that to get the six points.
Though it's no longer safe to say that the Dolphins are "rolling," they are still winning games and staying alive in the AFC Wild Card race. If they can get their O-line healthy, they are playing well enough and coming up big enough in clutch moments to really be a factor in the postseason race.
This article originally appeared on