Detroit Lions Postseason Grades: Wide Receiver
Matt Urben/FanSided via SideLion Report

Fansided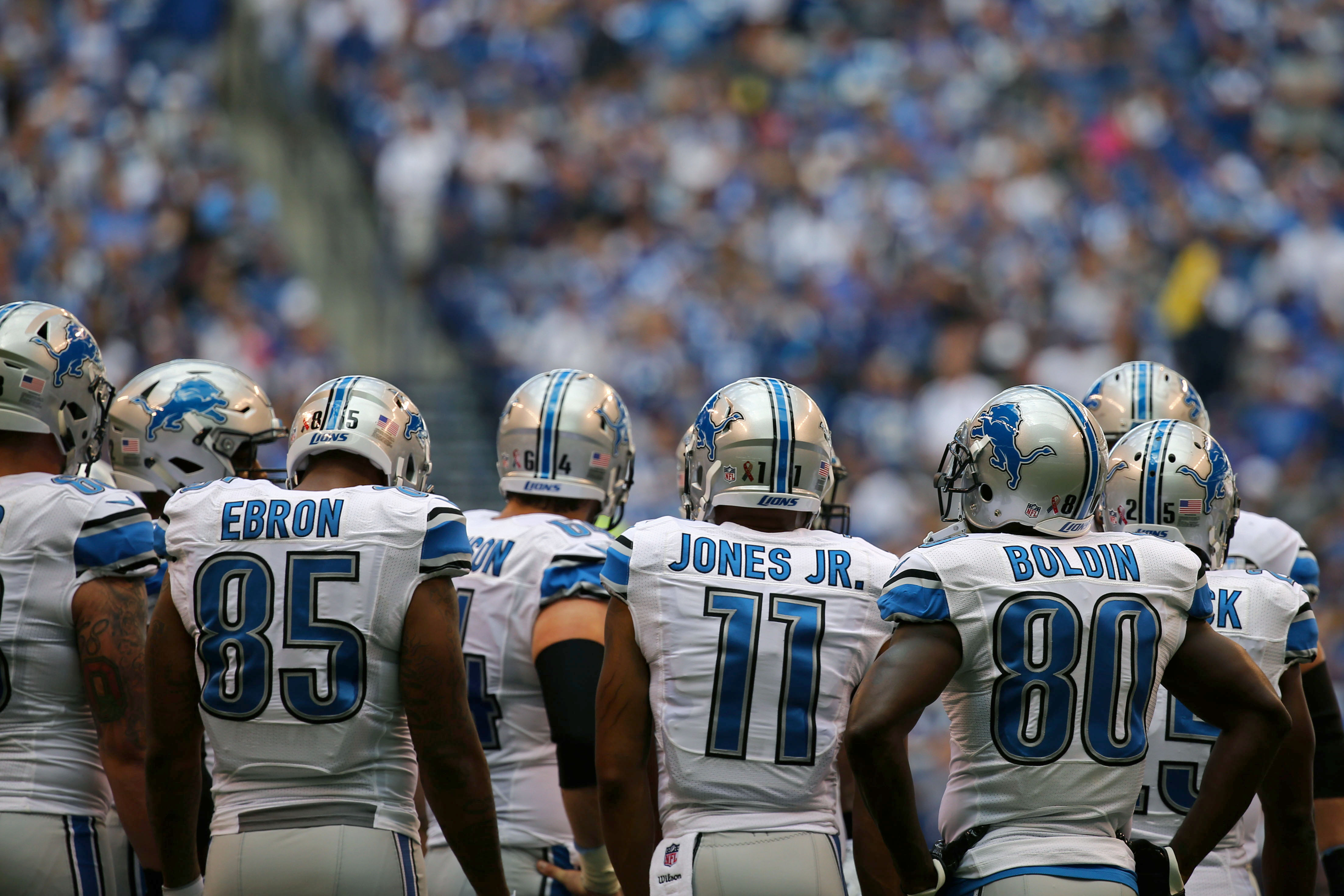 Detroit Lions Overall Wide Receiver Grade: "B"
It was certainly a roller coaster season for this Detroit Lions wide receiver group. They came into the season with extremely low expectations after losing Calvin Johnson to an unexpected retirement at the age of 30. Lions G.M. Bob Quinn replaced him the very next day, signing former Cincinnati Bengals wide receiver, Marvin Jones, and shocking many when he didn't select a single wide receiver in his first NFL draft.
However, it was the last-second signing of 36-year-old Anquan Boldin that was the biggest surprise. Boldin led the team in touchdowns (8). Golden Tate cracked 1,000 yards – the first Lions WR to do so in the post-Calvin Johnson era. Andre Roberts added something as the fourth receiver and was impressive in the kick-return game. So as the group overachieved in a lot of peoples' minds as a whole, the overwhelming theme of the 2016 season for Detroit's wideouts was dropped passes.
So, after giving the overall WR group a B, let's see how the top 4 receivers graded out individually!
NEXT GRADE: MARVIN JONES
Marvin Jones – 5th-year WR – California
Grade: B-
55 Catches, 931 Yards, 4 TDs
Jones started out as the best wide receiver in football through 4 weeks. But either opposing teams simply figured out how to stop Jones — mainly with physical, press coverage — or he just hit a slump based on the nagging injuries he fought all season. So, with career-high yardage (931), why did he fall to a B- for my grade? Drops, drops and more drops.
According to Sportincharts.com, Jones dropped 6 passes. He would often get separation and drop balls when he sensed a big hit was coming over the middle. Not to say it wasn't a very productive season for the 2012 5th-round draft pick – who finished second on the team in yardage to Golden Tate. His future is surely bright as someone who should regularly be around that 1,000-yard receiving mark. Must work on those hands, though!
NEXT: GOLDEN TATE
Golden Tate- 7th-year WR – Notre Dame

Grade: B+
91 Catches, 1,077 Yards, 4 TDs
Tate was primed for a breakout year in 2016, similar to his 2014 season – when he finished with 1,331 yards. He didn't quite have the season many predicted with Calvin Johnson retiring, but he still surpassed 90 catches and over 1,000 yards. Tate got off to a very slow start, which makes his strong finish all the more impressive.
During Detroit's eight comebacks, Tate was extremely valuable, particularly in the two Minnesota Vikings wins. Who can forget Tate flipping into the end zone for the win in overtime? The problem? Similar to Jones, Tate struggled with drops. Could some of these have been a result of Matthew Stafford's overly powerful, laser-rocket arm, as Ty Finch suggested? Sure, they could, but four drops are too many for the normally sure-handed Tate. I still felt Tate was worthy of a B+ for making big plays in a Playoff season. Plus, 91 grabs is impressive in this league.
NEXT: ANQUAN BOLDIN
Anquan Boldin- 14th-year WR – Florida State
Grade: A-

67 Catches, 584 Yards, 8 TDs
Anquan Freaking Boldin. Who would have thought the 36-year-old would end up signing late and leading the post-Calvin Johnson Lions in touchdowns? He was an absolute force over the middle. Eric Ebron cut into his targets late in the year, but it was clear that Stafford felt a certain comfort and confidence with Boldin he hasn't yet developed with Ebron.
His lack of speed and ability to get separation somehow didn't hinder him the amount it would've hindered a normal human. His season was a true testament to how good route running and football intelligence can make up for average physical attributes. If Ebron had Boldin's intangibles, he'd be the best tight end in football. Yes, he dropped a few passes, (4 to be exact) which is why I didn't have him with a higher grade. Boldin was maybe the most important player other than Stafford, converting seemingly every third & long. Detroit would be lucky to get him back for another season.
https://www.youtube.com/watch?v=mcG9AlwwR1I
Andre Roberts – 7th-year WR – Citadel

Grade: C+

Yards: 14 Catches, 188 Yards, 1 TD
Roberts drove some Lions fans crazy by constantly taking kick returns out of the end zone and getting tackled well before the 25. However, he had a couple of touchdowns, plus came up with some big catches during Stafford's many comebacks. Roberts was valuable in his willingness to do anything that was asked of him.
Production from veterans like Roberts and Boldin made it easy to see why Bob Quinn chose to ignore the wide receiver position in the NFL Draft. It would likely be wise for Quinn to add a wide receiver late this draft, just to inject the position with some youth and create more depth/competition.
https://www.youtube.com/watch?v=oycxjcmrpU0
Like SideLion Report on Facebook! and follow Matt on Twitter @MattUrben88
More from SideLion Report
This article originally appeared on