Detroit Lions: Ezekiel Ansah injury update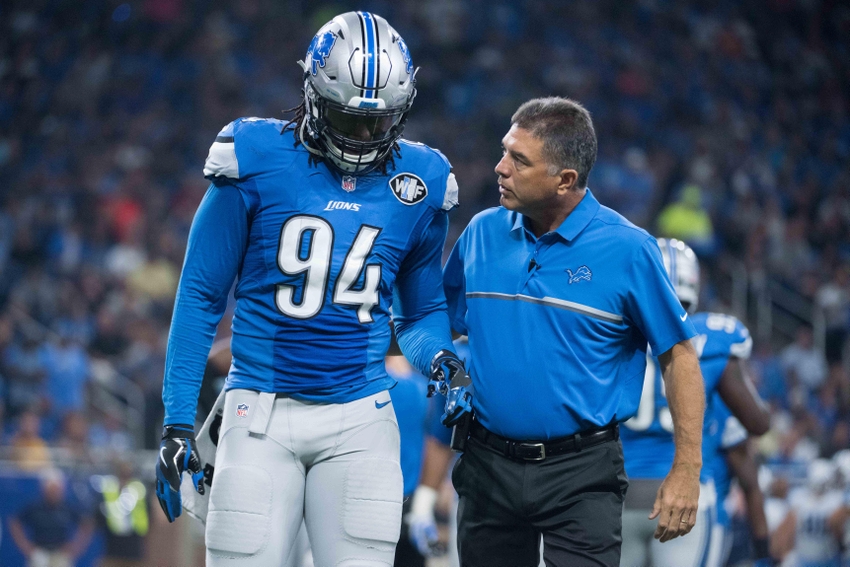 The Detroit Lions suffered a tough loss to the Tennessee Titans in Week 2, and they also saw their star defensive end get injured. How long will Ezekiel Ansah be out for?
Despite holding a lead for most of the game, the Detroit Lions lost on a late touchdown by Tennessee Titans wide receiver Andre Johnson. Earlier in the game, the Lions saw defensive end Ezekiel Ansah leave early with an ankle injury.
#Lions DE Ziggy Ansah suffered a high-ankle sprain in Sunday's loss, source said. He'll miss an undetermined amount of time. Not ideal.

— Ian Rapoport (@RapSheet) September 19, 2016
The news on the severity of the ankle injury isn't good. According to Ian Rapport, Ansah will be missing an undisclosed amount of time due to the ankle injury. This is certainly awful news for the Lions defense, as Ansah is arguably their best defensive player.
Last season, Ansah had a breakout season, as he totaled 14.5 sacks to lead the team. The emergence of Ansah helped lessen the blow of losing Ndamukong Suh in free agency to the Miami Dolphins.
The injury to Ansah doesn't come at a good time at all for the Lions, as they will be playing two games on the road against division opponents the next two weeks. In Week 3, the Green Bay Packers will be back at home and hungry to redeem themselves after a loss to the Minnesota Vikings.
The absence of Ansah will surely be felt in that game, as Aaron Rodgers can tear a defense apart if he is given time. If the Lions are going to make the playoffs in 2016, they will need to get Ansah back on the field quickly.
Furthermore, a sprained ankle can be one of the trickiest injuries to deal with for a player. Depending on the severity, Ansah could be out for multiple weeks. The Lions simply don't have enough talent on their defense to make up for the potential loss of Ansah for an extended period of time.
More from FanSided
This article originally appeared on