Destruction In The Capital: Why Green Bay Packers lost to Washington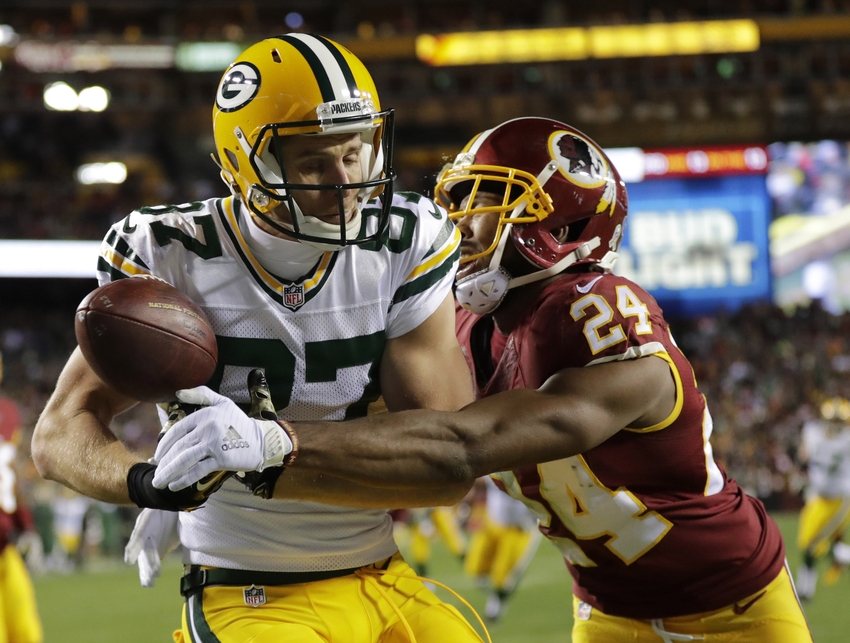 Another week, another blowout for the Green Bay Packers. This time, it was to Washington by a 42-24 margin.
Each week it appears the team cannot fall any lower than it previously had. Somehow, the team saw bar of expectations set so firmly underground, and managed to limbo beneath it anyway.
MORE ANALYSIS: Packers stock up, stock down following Week 11
There were of course factors which obviously made some level of difference here — injuries and swirling winds among them — but even with these factors in play, the opposition had to deal with them in their own way as well; due to that, I'm not going to give the team a break in my thinking for those.
They failed to perform, and it puts them at 4-6 and needing some miracles to even begin to hope for the playoffs at this point.
What areas of this shellacking were most notable?
No pressure
Earlier in this season when the defense was doing a much better job at stopping their opponents, the pass rush was a staple.
Even with Clay Matthews missing time, Nick Perry had stepped up to become a consistent pressure-forcing monster; behind him, there were a litany of players who would get in on the action as well. This helped the team survive a depleted secondary to still be a terror, with eight different players contributing sacks to make this a top-10 unit in that regard.
They've more than levelled off at this point, however.
Perry and Julius Peppers did each get a sack in this contest, but beyond those two plays there wasn't a single quarterback hit registered by the Packers. This is a team that came in four games of 5+ quarterback hits on the year — including 12 in one of them — but they couldn't find their way to Kirk Cousins all night.
Cousins was able to have one of his best showings of his career due to the lack of pressure: 21/30, 375 yards, 3 TDs, 145.8 passer rating, and a 95.7 QBR. This was even with Matthews returning to action, as well as a rookie (Ty Nsekhe) starting in place of All-Pro caliber left tackle (Trent Williams) across from him.
The failings in this area allowed the dead-on-arrival secondary to be continuously victimized, and it was inseparable from the eventual blowout margin which came.
Second half scoring barrage
Speaking of the blowout, it didn't really start off looking like it would be one.
At halftime, Green Bay was down just 13-10 despite starting the evening with three straight three-and-outs. This was great to see after the gigantic deficit which was dropped upon them against the Titans, and it seemed like we might have a competitive contest right to the end.
Washington obliterated that notion with their offensive showing in the second half.
Every single one of Washington's non-kneel down drives in the final 30 minutes went for points. The first was a field goal, but it was followed by four straight touchdowns to provide them with 42 points even while leaving five points on the field through a missed PAT and two-point conversion tries.
PACKER PERSPECTIVE: Where is Ted Thompson?
Green Bay did have their own offense looking lively, but they would've needed to score every single time out just to stay in it and couldn't manage to do so. They missed a field goal down 16-10, and then after two TD scores they saw Jared Cook (who had a strong game overall) fumble away a late possession which effectively sealed it.
Even had they scored on that Cook fumble drive, they still would've been down at least two points with about two minutes remaining (though had the earlier field goal gone through they would've been up by one). At that point Washington seems likely to have done exactly what they did following the fumble, regardless of the score: plow in for another TD, giving Green Bay the loss anyway.
That defense is, as Danny Kelly of The Ringer noted in his article, broken. It really made no difference how well the offense played, the defense was going to keep hemorrhaging yards and points to Washington in this half, and it was a pitiful experience to behold.
Allowing the 2-for-1
I have mentioned for weeks now how Green Bay has continued to miss chances to convert these two-for-one chances into an advantage; this week, they had one fulfilled against them, and it was a turning point in what had been a close game.
When Green Bay finally started scoring in the first half, they ended up turning two straight drives into 10 points, putting them ahead 10-7 towards the end of the half. With Washington set to get the ball after halftime, a stop was needed to prevent yet another deficit forming on a team which has proven unable to survive them. At least at that point, behind forcing three punts to one touchdown, the defense did have some semblance of a chance to stop at least part of this opportunity.
Or not. Washington went and scored a touchdown (failed two-point conversion however) to go up 13-10 going into the half, with the ball coming back to them to start the 3rd quarter. They didn't punch the ball into the end zone on that drive, but they did add a field goal to put themselves up 16-10.
What had been a 10-7 lead became a deficit before Green Bay could have a meaningful shot at possession again — and in a game where the defense proved far from capable at making stops in the second half, it was plenty enough to help put the offense in a hole they wouldn't get back out of.
That alone wasn't why the Packers lost, but the impact should not be overlooked.
Gashing runs
Early in the season when the defense looked great, the run defense was the No. 1 reason for their success. They had the league's best unit in that regard through the first month of the year, and outside of their putrid showing again Dallas there were few instances of teams able to get through them in the early going.
Though most of their plays overall against the run have still been positive, they've begun showing an unfortunate inability to block out big plays from gashing them, and it has undone their efforts to an alarming degree.
For example: Tennessee racked up 154 yards on the ground in their contest two weeks ago, but most of that came out of three big rushing plays (75, 10, and 19 yards, respectively); past that, they had 28 carries for 40 yards.
Washington did things somewhat differently, but to basically the same conclusion.
On the night Green Bay actually forced Washington into 16 different rushing attempts which went for three yards or less (including four for negative yardage); outside of three big plays, they only managed a meager 57 yards on 27 carries. Because of those big plays though, Washington finished the night with 151 yards on 30 rushes.
While Tennessee managed their big plays through misdirection/fakes and using Green Bay's overeagerness against them, Washington used bashing the ball down the Packers' throat to get theirs. Robert "Fat Rob" Kelly acted as Washington's battering ram, bashing into the line and never stopping his feet. As stated before most of those runs didn't go for much, but as Cris Collinsworth kept mentioning on the broadcast, Fat Rob was turning losses into short gains and showing off an ability to churn through tackles effectively.
It had an effect as the game wore on, and on those big plays (especially the last one, for 66 yards) and his touchdowns (he had three) it was clear the Packers were unable to muster the power to stop him.
Those huge gashes undid what would have been a mostly positive effort which now will be lost in the abyss this defense (and season) has become.
Deep shots
With the normally-stingy run defense giving up some huge gains and the pass rush nonexistent, it shouldn't really surprise us that the weakest part of the defense — the secondary — would have some struggles.
Even if you bring the injury factor into the conversation too however, this was a particularly terrible showing from the much-maligned pass defense.
I already mentioned Cousins' stat-line earlier, but take a look at the seemingly endless list of large passing gains made by Washington in this game:
Pierre Garcon 17 yards
Maurice Harris 14 yards
DeSean Jackson 17 yards [TD]
Jordan Reed 26 yards
Reed 18 yards
Reed 28 yards
Jackson 17 yards
Jamison Crowder 44 yards [TD]
Garcon 70 yards [TD]
Jackson 11 yards
Crowder 53 yards
That's double-digit big plays through the air. Ten of those went for first downs. Six of those happened on third down plays, all for first downs. Five went for 20+ yards, with three of those for 40+ yards. Three of those directly became touchdowns, with a fourth coming just one yard short of another.
It doesn't matter who was out there or not, there was no excuse for any of this. Communication was lacking, to say the least. Coverages were blown in the same startlingly routine manner we've seen all season. Guys were getting burned seemingly every pass play– even by Washington players who are notably not burners.
This isn't likely to get any better as we go forward, either. Washington does have a relative gold mine of receiving talents, but we've seen this team fail to slow the opposition in every week this year.
Blake Bortles looked like a quality NFL quarterback against them. Stefon Diggs looked like peak-Julio Jones. They let Matthew Stafford almost come back from a 21-point deficit at halftime. They got lucky on multiple misses by Eli Manning. Dak Prescott threw 3 TDs on them, including one on a 98 yard drive before the half.
Seemingly all non-Julio receivers made major statistical impacts behind a huge Matt Ryan performance through the air. Donte Moncrief and Jack Doyle ate them up in key moments for Andrew Luck. Tennessee had not only Delanie Walker go off but the Tajae Sharpe/Rishard Matthews/Kendall Wright trio go for 3 TDs. Really, only the Bears didn't do something through the air on this failure of a unit, and Chicago ended up with their third-string QB playing most of that night.
There are many disappointments to be had with this team, but the way the secondary has been constructed (seriously, how much would having Casey Hayward have helped this atrocious group?) and performed should stand highest on that list.
Even with the lowly passing attacks of Philadelphia (routinely called one of the worst-assembled receiving groups in the entire league) and Houston (far better receiving talent, but infinitely worse quarterback) coming up the next couple weeks, it shouldn't shock any of us if they also blow away this catastrophically bad secondary.
This article originally appeared on