Deshone Kizer is Now Among the Top NFL Prospects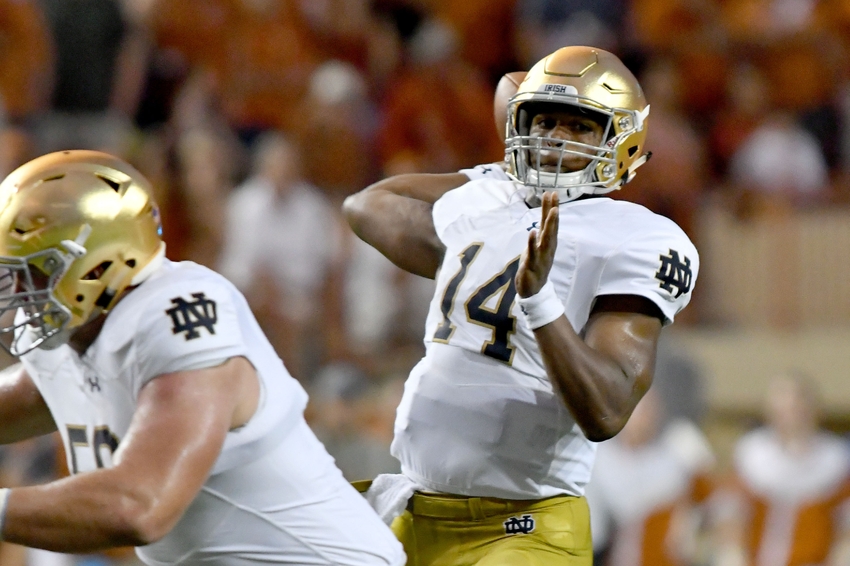 Put Notre Dame quarterback Deshone Kizer high on the quarterback prospect list now!
At 6'5″, 225 pounds, the red shirt sophomore has everything you want in a quarterback prospect. His prototypical size, big arm, accuracy, decision-making and the mobility are what NFL scouts want. He runs a pro style and Spread Offense so there's no big adjustment there.
What's not to like?
He nearly led the Fighting Irish to the College Football Playoff last season, red shirt freshman and all. So he should have at least been a person of interest before this season even started. But his performance in Sunday night's double overtime loss to Texas has the NFL's attention now.
That game was full of NFL scouts plus it was on national television. And Kizer was 15-24 for 215 yards and five touchdowns, showing the scouts what they wanted to see. He also had 77 yards rushing, 29 of it coming on the touchdown run.
He definitely belongs in the conversation for top quarterbacks in college football. And to think head coach Brian Kelly went into the season with Kizer sharing time with Malik Zaire. Kizer outthrew top quarterback prospect DeShaun Watson in a loss to Clemson last year.
Kizer was 19-34, 321 yards, two TDs and an INT to Watson's 10-21, 48 yards, two TDs and one INT. But Watson's 93 yards on the ground with a TD helped Clemson's cause in that game. Kizer is at least on par with Watson and Brad Kaaya as top prospects now.
So we should definitely look to see what he does for the rest of the 2016 season.
More from With the First Pick
This article originally appeared on