Deshaun Watson should be a first round pick in the 2017 NFL draft.
Tyreese Ingram/FanSided via Rubbing the Rock

Fansided
All season long there has been so much talk about Deshaun Watson and where he could end up in the 2017 NFL Draft. And even though he just led Clemson football to a National Championship, there are still questions about his future.
Both Mel Kiper Jr and Todd McShay project Watson to be selected in the second or even third round. The analyst don't expect a quarterback to be picked in the first round, and they have UNC's Mitch Trubisky and Notre Dame's DeShone Kizer rated higher than Watson.
In College Football analysis, some analyst use what they call a blind test to compare teams. Let's briefly compare the stats of Watson and a mystery quarterback's final season, but without revealing the total stats to help conceal the other quarterback's identity.
This quarterback won many awards, has a great win/loss record as a collegian, and was a high NFL draft pick. I chose the first 11 games of each player's final season, because they didn't play equal games. Here are the mystery quarterback's stats:
Passing yards 3285
Touchdowns 21
Interceptions 17
Completion % 65
Included in the stats above is a 12/25, 125 yard, 2 touchdown, and 4 interception late season home game.
Here are Watson's stats:
Passing yards 3279
Touchdowns 28
Interceptions 13
Completion % 65
Watson did have three interceptions versus Louisville and Pittsburgh. In the Louisville win, he had 306 yards, 5 tds, and in the Pittsburgh loss, 580 yards, and 3 tds.
Which quarterback would you choose?
Seems like an easy choice? The mystery quarterback was obviously turnover prone and had a terrible touchdown to interception ratio.
So did the mystery quarterback have an awful offensive line, average receivers, and a nonexistent running game.
No!! He was only sacked about 18 times, and he orchestrated an offense that included one of the best receivers, tight ends, and running backs in college football.
The mystery quarterback played on a national title contending team, and he was drafted #1 overall. He was selected #1? Watson projection to the 2nd round is baffling to me, and I will only believe it, when I see it happen.
In my opinion, Watson will be a 1st round pick and the first quarterback off the board. How could any GM or team owner ignore his career record of 32-3 and two national championship game appearances as a full time starter. The kid is a winner!!!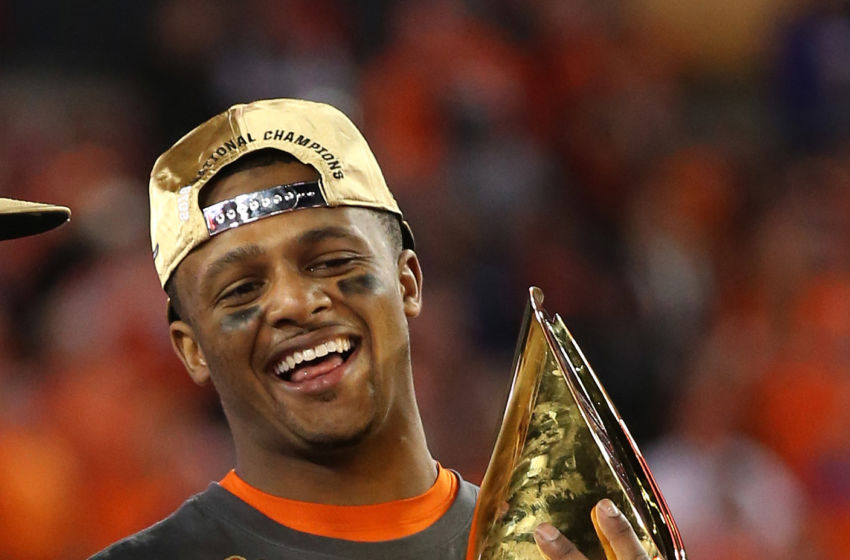 He will most likely do well in all the passing drills during the combine and Pro day workouts, and his last two games should also be major factors in his draft position. Against Alabama and Ohio State, the two best defenses in the country, he averaged 339 yards passing, 65 yards rushing, and a 64% completion rate. He also had 7 total touchdowns, 2 interceptions, and showed a willingness to put his body on the line for his team and not worry about his NFL future.
McShay and Kiper have their opinions, but neither will draft anyone on April 27-29th. If this quarterback can be drafted #1 overall, then Deshaun Watson can assuredly be drafted in the first round.
More from Rubbing the Rock
This article originally appeared on