DeShaun Watson Proving He's Not a Top QB Prospect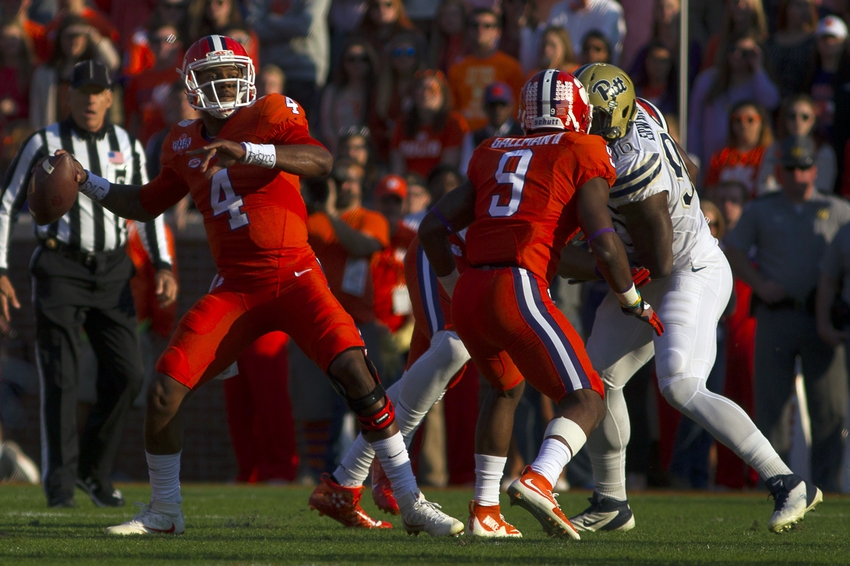 Big numbers and all, I never thought DeShaun Watson made a good pro QB prospect. And his loss to Pittsburgh is a microcosm of who and what he is.
Clemson QB DeShaun Watson was the No. 1 prospect and player on many draft boards to start the season. The reason why is because he ran for over 1,000 yards while throwing for over 4,000. He was the first in college football history to do so.
But Andre Ware and David Klinger put up big numbers in college back in the day and were busts. So you can't simply look at a quarterbacks stats and assume he's the next great thing. It takes a certain set of traits to succeed in the NFL.
Size and arm strength are good but they are the more glamorous, overrated traits NFL teams fall for. Accuracy, anticipation, decision-making and poise under pocket pressure are most important. In the game, he was 52-70 for 580 yards, three TDs and three INTs.
That's a lot of yards and a high completion percentage, which is usually a hint of accuracy. But Watson throws a lot of bubble screens and slants to pad his percentage. But in the NFL, you must have accuracy down the field and Watson showed he doesn't have that.
He also gets rattled when pressure comes and makes bad decisions. And on top of all that, he stares his targets down, which leads to a lot of INTs as well. This is why he's tumbling down draft boards and you better hope your team doesn't take him in Round 1.
More from With the First Pick
This article originally appeared on