DeSean Jackson Likely Out For Sunday's Game Against The Vikings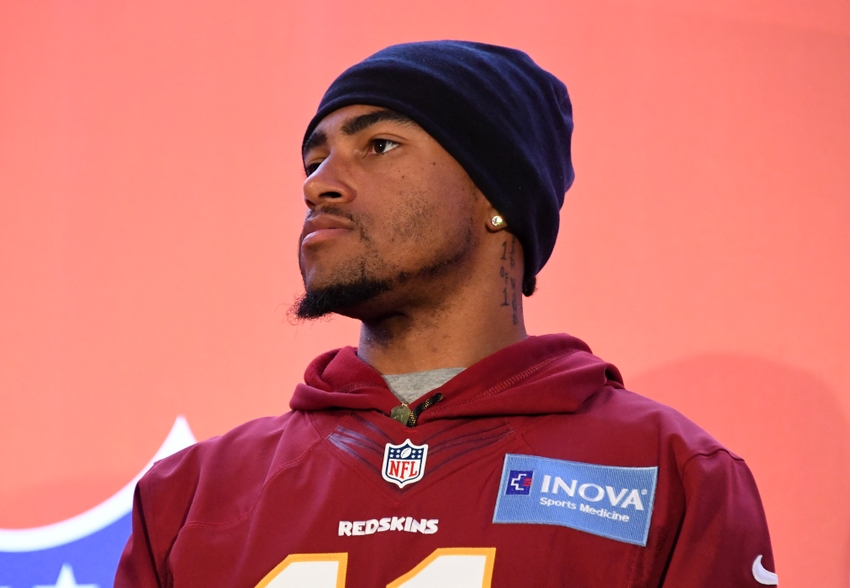 DeSean Jackson has been dealing with a shoulder injury over the last couple of weeks. It now appears that he will miss the team's first game coming out of the bye week.
The Washington Redskins got some bad news on Thursday afternoon when it was declared that DeSean Jackson would be out. The Redskins top receiver has a shoulder injury, and he had not practiced in the week. CSN Mid-Atlantic's Rich Tandler was the first to break the story.
DeSean Jackson out for #Redskins game vs. Vikings. https://t.co/hgMAwCfXiB

— Rich Tandler (@Rich_TandlerCSN) November 10, 2016
Without Jackson, the team will have to rely on their other receivers to produce against the Vikings. That could prove to be challenging due to the strength of the Vikings defense.
Jamison Crowder is probably going to have more trouble, as I would imagine the team will put Xavier Rhodes on him. Rhodes is one of the top corners in the NFL, and it would be logical for him to move to Crowder from Jackson. Terence Newman can stay on Pierre Garcon and that will be beneficial for the Vikings.
Really, the best chance for the Redskins to produce will be from their tight ends. Jordan Reed and Vernon Davis are going to play a lot on Sunday. The team should utilize a good amount of two tight end sets. Playing them together will allow them to create mismatches and maybe move Crowder around the field a bit more.
Overall, losing Jackson is going to hurt the team a little bit. They do not matchup as favorably with the Vikings without Jackson. They also lose some depth, and Ryan Grant could have to play more as a result. Still, it could force them to play an extra tight end, which will benefit the team. It will be interesting to see if the loss of Jackson helps or hurts them when it is all said and down.
This article originally appeared on