Derek Carr Tosses Filthy Dime for Amari Cooper Touchdown (Video)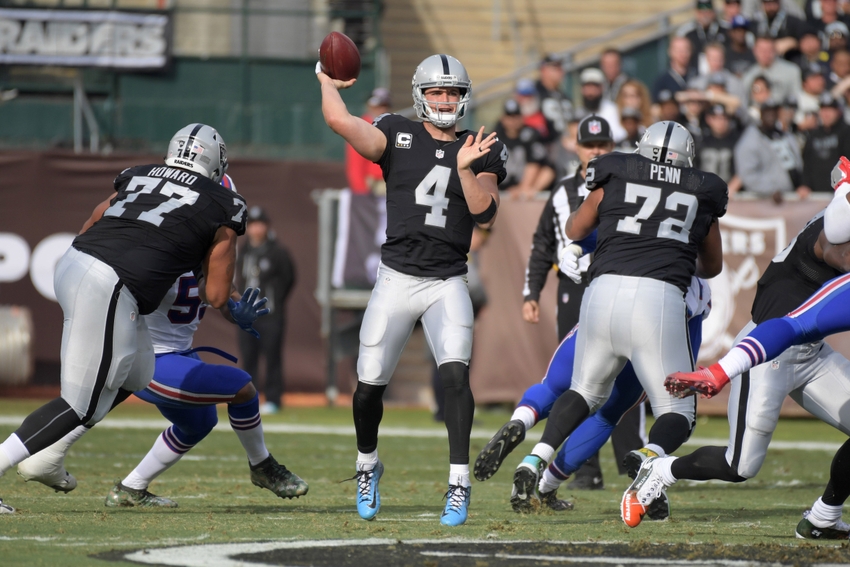 Derek Carr found Amari Cooper with a nasty deep throw down the right sideline for the go-ahead Oakland Raiders touchdown.
Derek Carr and the Oakland Raiders offense have been impressive 95 percent of the time in the 2016 NFL season. However, the way that they've performed late in close games or when trailing is borderline mythical. You can never count this team out in any game, a lesson that the quarterback taught the Buffalo Bills on Sunday in Week 13.
Behind a big performance from Tyrod Taylor and LeSean McCoy, the Bills came into Oakland and jumped out to a 24-9 lead. They were controlling the game in every sense and taking the ball out of the Raiders' hands. But once Carr, injured pinky and all, finally got the ball back, it was bad news for the Bills as it was time for the second-half beast to emerge.
Carr started off by leading two unanswered touchdown drives to pull his team within one at home. However, he was just setting up for the finale. The emerging superstar led another drive before taking the snap around the 36-yard line. Carr dropped back, pump-faked, and then let loose an absolute dime deep down the right sideline. Amari Cooper was ahead of his coverage and the throw hit him right in stride. He took off and, though his leg got caught by the defender, the electric wideout stretched to get across the goal line for the six:
It doesn't get much better than this…

A DIME from @derekcarrQB.
And a little MAGIC from @amaricooper9! 🔥🔥🔥 https://t.co/Eb5gIWtFAk

— NFL (@NFL) December 4, 2016
Objectively, the Raiders are the most fun team in the NFL—and it's not just because of the late-game drama.
Whenever you have a quarterback that can toss a throw that deep with that kind of touch and then a playmaker like Cooper to get under it and then get into the end zone, it's something special. And it feels like the Raiders have multiple guys making plays like this weekly. However, the constant is Carr, who only continues to bolster his MVP case.
This article originally appeared on