Derek Carr Splashes 3-Pointer at Warriors Game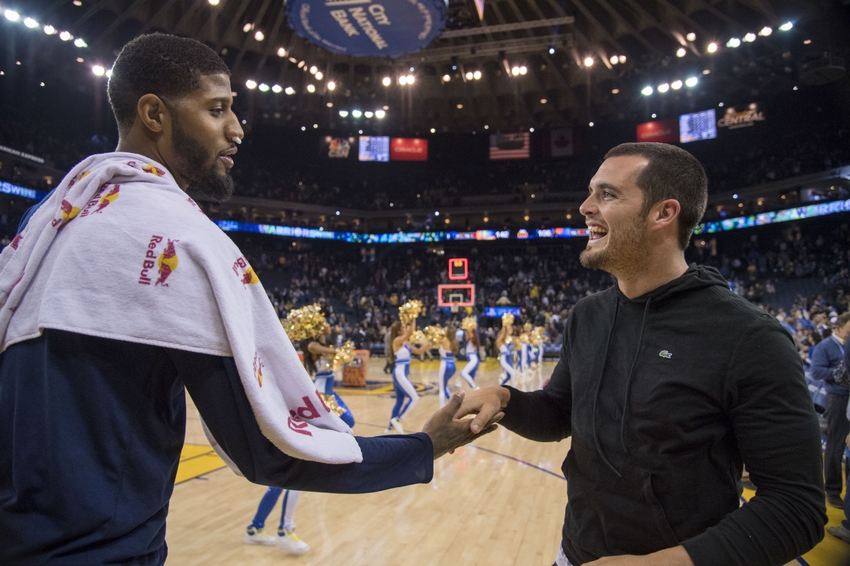 Derek Carr, Latavius Murray and the offensive line were at the Warriors game Monday night. Carr drained a three-pointer after the game was over.
Franchise quarterback by day, the 4th Splash Brother by night. It seems Derek Carr can do no wrong these days.
Carr treated his offensive line to courtside seats at the Warriors game Monday night, and after the game was over, Carr wanted to do his best Klay Thompson impression, who just dropped 60 on the Pacers.
You guys asked for some video. You all will be impressed with who made a three-pointer. #Raiders pic.twitter.com/CtuQFkdzve

— Bonta Hill (@BontaHill) December 6, 2016
Not bad.
During the game, Carr and the Raiders in attendance were shown on the jumbotron and given quite the ovation.
Derek Carr and a bunch of other Raiders shown on the jumbotron at Oracle, loud ovation pic.twitter.com/v3mZtYe1cI

— Anthony Slater (@anthonyVslater) December 6, 2016
Carr also did an interview with Warriors sideline reporter Ros Gold-Onwude, which for those who are both Raiders and Warriors fans, was cool to see.
And this wins tweet of the night.
More from Just Blog Baby
This article originally appeared on