Denver Broncos: What Needs to Happen to Repeat as Champs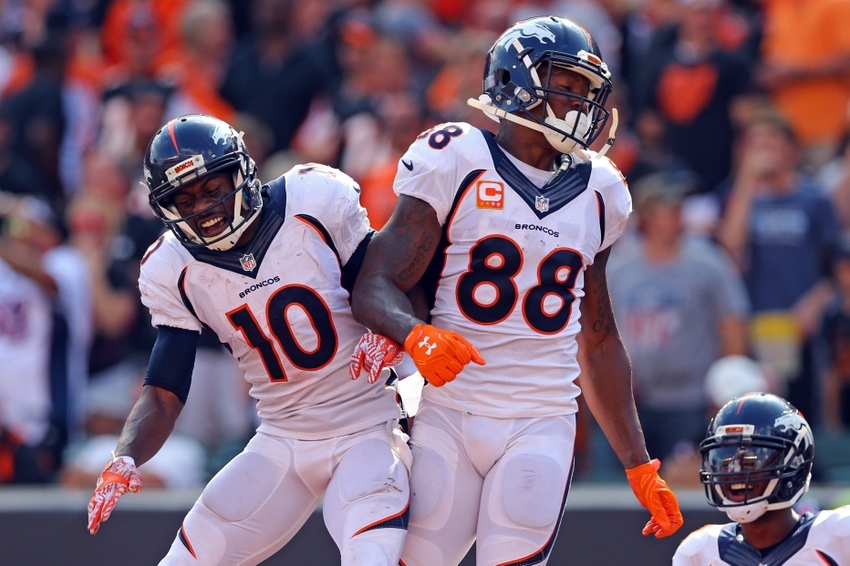 The Denver Broncos have hit the midway point of the season.  They will need to sure some things up if they want to make it back to the Super Bowl.
Wow. That flew by fast!  Hard to believe, but we are halfway through the regular season.  The Denver Broncos sit at 6-2 in what might be the best division in football.  It's been an interesting season thus far with plenty of ups and downs.  Granted it has been mostly ups, but if things don't improve, there will be no parade at season's end.
I think most of Broncos country knows what needs to improve the most, and it's the same problem as last year: The offensive line.  While you could argue that the O line has been upgraded as a unit, it has still been pretty bad.  They are extremely inconsistent.  There are far too many penalties that are killing drives.
When the flags aren't flying by, the opposing defenders are.  It has resulted in an overall mediocre offense.  In their defense, there have been injuries, and some swapping in and out, but every team has to deal with it.  It's the NFL, and if the Broncos can't come up with better performances in the trenches, I just don't see the season ending well.
The most important part of the Broncos overall game plan every single week is the running game. There have been flashes of what could be, but it needs to be the norm.  I've been pounding this point into the ground, (no pun intended) but I'll say it again.  Everything this team wants to do revolves around a strong rushing attack.
Productive Run Game
A productive run game does so many things.  First off it opens up the pass game.  We have seen Siemian look much better when the ground game is working.  The play book opens up, the bootlegs work better, the entire offense just gets a rhythm and a natural flow.  It's like poetry in motion.  That poetry will be harder to write without C.J. Anderson, but Booker is a very capable back.  Let's hope he can stay healthy.
The defense is impacted by the run game too.  It keeps them fresh, and while this defense is one of the best every week, a fresh Denver Broncos defense is a D that no team in the NFL wants to deal with. Long Bronco drives resulting in points unleashes the pass rush, and we've seen how that works out for opposing offenses.
While it is a problem, I'm not putting all of the Broncos struggles on the offensive line.  Part of what it will take to get back to the Super Bowl will be better quarterback play.  Overall I have liked a lot of things that Trevor Siemian has done.  He is usually smart with the ball.  He commands the huddle, and is a great leader, which has resulted in a freshly sewn C on his jersey.
More from Predominantly Orange
Trevor is a young guy just getting his feet wet.  Eventually we will need to see some growth, which I believe we will.  He hasn't been terribly accurate on deep throws.  Some of that could be attributed to his shoulder injury, or possibly it could be as simple as needing more time with DT and Sanders.
A lot of Broncos Country is calling for Lynch to start, but you really should trust the coaches when they say he isn't ready.  Some day I think Lynch is the answer, but probably not this season.  Siemian gives the Broncos the best chance to win now, cliche, but true.
Before this starts to sound like the Broncos aren't going anywhere this season, trust me that' s not what I'm saying.  The Broncos won the Super Bowl last year with similar issues, but I think it was a bit of an anomaly.  There are teams that can score points even on the Broncos defense.  The offense doesn't have to be great, but it certainly needs to improve.
Broncos Defense
Let's look at that defense.  The Broncos are probably a 3-5 team right now without an elite defense.  We should expect this unit to produce similar results.  There are a few holes in the defense, but you can't pick on them too much.  The run defense isn't as stubborn as it was last year.  Teams have busted off a bunch of long runs on the Broncos.
I've noticed something else that offenses are doing to Denver.  Teams are reluctant to throw on our corners, as it often results into 6 for the Broncos.  Backs out of the backfield and tight ends on crossing routes are the keys to opening holes.  They can't be perfect, teams are going to make plays, but you can bet Wade Phillips is trying to fill those gaps.
The Denver Broncos are still one of the top 5 teams in the NFL and one of the few teams with a legitimate shot at the Super Bowl.  I mean they are 6-2.  However in a tough division, you have to bring the A-game every week, or risk slipping down in the standings.
One of the things that makes me very optimistic is that this team has been there before.  They know how to win games multiple ways.  They are never out of a game, and that locker room is full of high character guys that seem to mesh together to get the job done.  The rest of the season should be fun, and it picks back up Sunday in the Black Hole.  This is a big one.
Feel free to leave me your comments below.  I always love to get the pulse of Broncos Country.
This article originally appeared on