Denver Broncos: What Does the Return of Virgil Green Mean?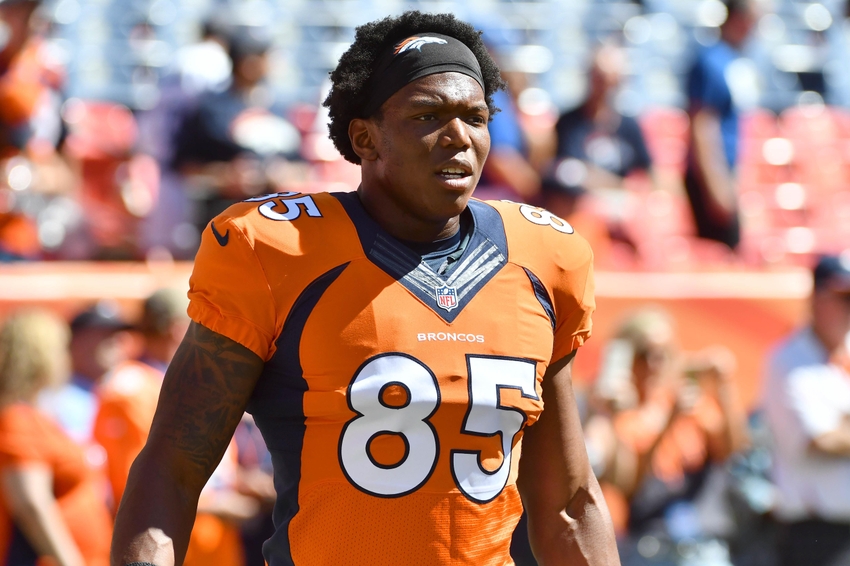 The return of Virgil Green might be bigger than many people realize.  Virgil Green can do things that makes this offense more dangerous and versatile.
This is a big week for the Broncos.  They are coming off a tough loss not only on the field but off of it with Gary Kubiak sidelined.  On top of that they only have a few days to prepare for the first divisional game of the season on the road.
Thankfully for the Broncos reinforcements are hopefully on the way!  Virgil Green, Donald Stephenson, and Trevor Siemian all believe they will be ready to take on the Chargers.  This news couldn't have come at a better time.
On that list of players returning there may be none bigger than Virgil Green.  That is probably not the name you expected me to say especially after the game that Ty Sambrailo just had from the right tackle position.
Many on here will probably think the return of Trevor Siemian will be the bigger difference maker.  Virgil Green though does so much more than fans ever give him credit for.  Honestly if I had to give him a nickname it would be "The Swiss Army Knife."
Why would I give him that nickname?  Well because no player on our team is asked to do more to impact every area of what the Broncos want to do on offense.  I would throw in there is no player on our team that can do all that he does on any given play.  When he is in no team can know truly what the Broncos are going to do.
Let me show you what I mean.  As a pass catcher the Broncos have used him as an outside WR, slot WR, in-line TE, and H-Back so far this season.  From all of these positions they have asked him to run a variety of routes from quick outs to help pick up the quick first down to the seam route.
As a route runner he has shown good speed (4.6 forty speed) and improved route running over years past.  So far he has not caught a ton of passes but when given the opportunity Virgil Green has shown he has very consistent hands.
What surprised me most though when watching him exclusively is how much teams respect him as a receiver.  There were plays where they had three players trying to cover him.
More from Predominantly Orange
The safety especially has shown more respect to staying in the middle of the field respecting that seam route that could be so dangerous.  This then means more one-on-one opportunities on the outside or the chance that the middle has cleared out for another receiver to find an opening.
As great as he is in the receiving game there is a big reason the Broncos don't always send him on a route when they pass.  He is an even better pass blocker than pass catcher.  In the Panthers and Colts game what we see is the Broncos completely trust Virgil Green to go one-on-one with some pretty good DE's.
He has enough strength and maybe more importantly great technique to handle the bull rush and he has the foot speed to beat a guy to the edge.  That kind of ability was greatly missed this past week as Sambrailo struggled on the right side.
Moving onto the run game again we see the importance of Virgil Green to getting this run game back on track.
The Broncos used him in a variety of ways to help open up holes for our running backs.  One of my favorites is they would actually pull him across the entire formation and use him as the backside cutoff man.
There was more than one time that he would actually take out two players on the backside opening a giant hole for the running back.  Other times they had him as the lead blocker of the play and he definitely did not disappoint when asked to do this either.
I do worry for Virgil Green that there might be a bit of rust and maybe more importantly the missed chemistry with sitting out a few weeks.  I still feel much better about both our pass and run game being much more versatile and dangerous with his return.  Teams have shown that when he is in the game they respect the fact that he can do it all and do it well.  I for one cannot wait to see him back out on the field wreaking havoc on San Diego Chargers.
This article originally appeared on