Denver Broncos: Week 6 Preview vs. San Diego Chargers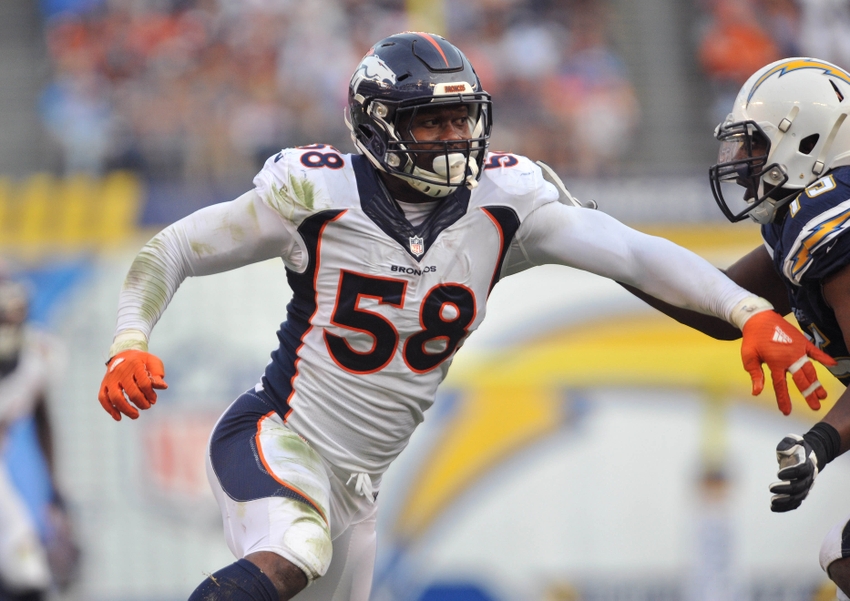 The Denver Broncos travel out west for their first divisional game against the last place San Diego Chargers. Can the team rebound after their first loss of the season? We preview the game here.
I have returned Broncos Country. I was on vacation last week in Colorado to see last week's game. And man, I was a bit disappointed that I witnessed the first loss of the season.
But the Broncos must right the ship. And Thursday Night could be a great time to do so.
The Denver Broncos have a quick turnaround after Sunday and go right to San Diego to play the struggling Chargers. The rivals from the AFC West could easily be 5-0 at this point. But late game heartbreak has them searching for more questions than answers.
This will also mark as a special game for both teams as the AFC West rivals will be participating in the Thursday Night Color Rush game. Both the Broncos and Chargers have special uniforms for this game.
The Broncos will be wearing all orange with a special helmet while the Chargers will wear all blue. There are a few questions going into this game, so let us take a look at them.
Who Starts at QB for Denver?
Trevor Siemian has been listed as questionable for Thursday's game. With the new rule, there are no more probable status for injuries. However, it seems like Trevor has been practicing for the majority of the week. It looks as if it might be a game time decision.
Some fans are really hoping he can go on Thursday. After Paxton Lynch's subpar performance on Sunday, it appears as if Siemian gives the team the best chance to win.
In no way am I knocking on Paxton Lynch, but seeing him play live was tough to watch. I am all for whomever the coach decides I am behind. But I believe Trevor Siemian gives the Broncos the best chance to win.
More from Predominantly Orange
Joe DeCamillis will coach on Thursday
Speaking of coaches, after Sunday's game, Gary Kubiak will not be on the sidelines on Thursday as he recovers from a complex migraine that he suffered after the Falcons game on Sunday. He was transported to a local Denver hospital and stayed overnight.
He is staying in Denver to recover for the week. John Elway announced that Special Teams Coordinator Joe DeCamillis will be the interim head coach for the Thursday night game.
We all wish Gary Kubiak the best in his recovery and hope to see him on the sidelines on October 24th.
Donald Stephenson, Virgil Green to suit up Thursday
The Denver Broncos running game has been a bit abysmal ever since Stephenson went down to injury back in Week 2. Now he along with Virgil Green are ready to go after suffering calf injuries against the Indianapolis Colts. Both men should help with the running game.
Not to mention there will be no more Sambrailo or Shofield at the right tackle spot.
Key Matchups
Melvin Gordon vs. Broncos Front Seven
Von Miller and Shane Ray vs. Chargers O-Line
Phillip Rivers vs. Broncos Secondary
Key Notes
Denver Broncos edge rusher Von Miller's most sacked quarterback is Phillip Rivers. In his career, he has sacked the San Diego quarterback 11 times. The second most sacked quarterback in his career is Tom Brady.
Von Miller has sacked Philip Rivers more than another QB, 11 times in his career. Tom Brady 2nd with 7 1/2.

— Cameron Wolfe (@CameronWolfe) October 12, 2016
The Broncos will be debuting the old school logo. Fans that remember the old school "D" logo with the horse in the middle will remind fans old and new of what the team looked like back in the day. The last time I remember seeing the Broncos wear that logo on the helmets was in 2001 when the team played on Thanksgiving against the Dallas Cowboys.
A win against the Chargers on Thursday would mark the 16th win in a row against an AFC West opponent on the road. The current 15 wins is the longest such streak in NFL history.
Game Information:
Who: Denver Broncos @ San Diego Chargers
When: Thursday October 13th
Time: 8:26 PM EST/ 6:26 PM MST
Where: Quallcomm Stadium
Network: CBS/NFL Network/Twitter
Announcers: Jim Nantz/Phil Simms
Prediction:
This is a game that the Broncos could really use to bounce back from a somewhat shocking loss to Atlanta. It could all depend on who plays at QB on Thursday. Either way, I see the Chargers trying to comeback, but another late game heartbreaking play dooms San Diego.
Broncos 26 Chargers 17
This article originally appeared on