Denver Broncos: Some Key Match-Ups vs. the Saints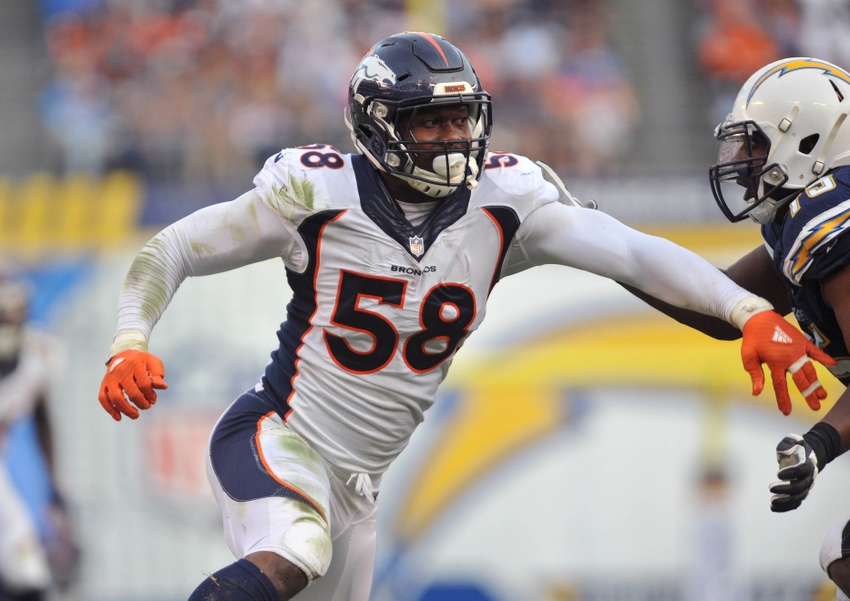 The Broncos head into New Orleans Sunday with a bad taste in their mouths. Key match-ups could determine the outcome against the Saints.
The last time the Saints beat the Broncos I was probably rocking some Huggies, and an orange Broncos onesie.  It was 1988.  Our great country had also just elected a new president, George Bush, George H.W. Bush, the dad.  This week the "Big Easy" will be anything but that, let's just say it won't be a "Brees."
The Saints come in with a 4-4 mark on the year, but are going to be a tough out for the Broncos. Their high powered offense will be a big test for an extremely beat up Broncos defense, who could be missing some key pieces, including one of the best corners in the game Aquib Talib for a third straight week.  He has yet to practice.
Von Miller vs. Zach Strief
Von has continued on his path of destruction so far this season.  Coming in the "Vonster" has 9.5 sacks (the Saints have 11 as a team).  He typically lines up against the opposing team's right tackle.  New Orleans has a very solid one in Zach Strief.  Coming into the game Strief is Pro Football Focus' number 1 overall right tackle.  He's only relinquished one sack all season.  This should be his biggest challenge yet, maybe Miller can expose some weaknesses with his ridiculous speed and ability of a contortionist.
Coby Fleener vs. Linebackers and Safeties
Even with banged up corners, and despite New Orleans having some of the top receiver talent in the league, I think Denver can keep these guys in check.  A potential problem lines up at tight end in Coby Fleener. The Broncos are giving up 10.8 yards per catch to tight ends this year.
In addition to running backs on pass routes, Denver shows a vulnerability against talented tight ends.  Expect a lot of formations where the Saints spread out 4 and 5 pass catchers.  This can expose a huge hole in the Broncos defensive game plan.  They most likely won't have the luxury of Roby covering 3rd and 4th options due to injury.  This could be a problem for linebackers and safeties.
Sean Payton vs. Wade Phillips
Payton against Phillips is going to be straight up strategic chess.  No checkers here.  I anticipate Sean Payton and Drew Brees trying to confuse the defense with switches, check offs, and audibles.  Wade Phillips will be transmitting to linebacker Brandon Marshall until there are 15 seconds left on the clock when the helmet speaker goes quiet.  After that, coaching and film come into play.
It can be hard to read tendencies of an offense as potent as the Saints.  I bet the battered and bruised Wade Phillips has some nice rebuttal packages for what Payton tries to throw at the orange and blue.  This might mean backing off on pressure to drop into coverage.
More from Predominantly Orange
Interior Line vs. Nick Fairley
So you guys read my stuff (hopefully).  You know I always stress the importance of the run game. The Broncos MUST get it going this week.  Hopefully our stud Center Matt Paradis is a go on Sunday.  He has been nursing a hip injury, and has played with it before, still looking like the NFL's top Center.  The Saints line up Nick Fairley inside, who can disrupt both the run and pass.  He is their leading sacker with 3.5, not much, but this guy can be a force.
Max Garcia, and Michael Schofield need to step it up.  The Broncos O line has been bullied this year.  Fairley is a bully himself, know to stunt and disrupt your rushing attack.  That being said, if the Broncos cannot finally establish the identity they want to this week, start to worry a little bit.
The Saints are middle of the pack in run defense.  However, they have given up the second longest rush at 75 yards, and the second most rushing touchdowns at 12.  Denver has to be persistent, almost annoying and boring at running the ball.
Wrap-Up
Look for these match-ups on Sunday.  While this is not do-or-die, this is a big game.  You lose this one, you risk falling 2 games back in the division going into a bye.  It's a challenge all around the field.  Let's be honest, Denver has one of the worst offenses in the NFL lately.  The constant 3-and-outs can't happen against one of the best offenses in the league.  Any defense will wear out. The Orange Crush 2.0 defense has sprung leaks lately due to sharp game plans and injuries.  It's strength vs. strength, and something's got to give.
This article originally appeared on