Denver Broncos: Right Back to Work After Tough Loss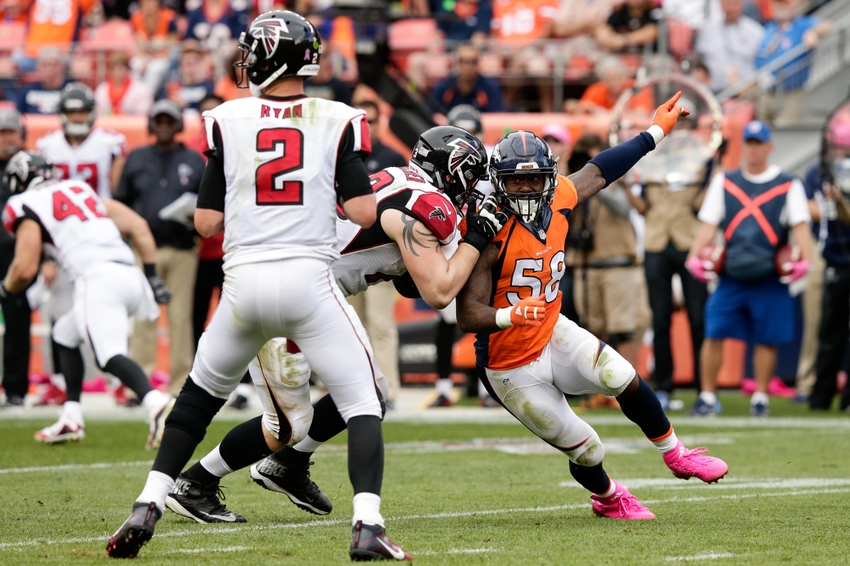 Denver Broncos need to get right back to work after a tough home loss. Next up is the San Diego Chargers on a short week.
Sunday the Denver Broncos welcomed the Atlanta Falcons to town for a match-up of great offense vs. great defense.  What happened in reality was a great game plan that exposed some vulnerabilities in Denver's punishing defense.  We'll take a look at what went wrong, and then, just like the Broncos will do, we will move on to San Diego.
The Broncos defense is at it's most formidable on the outside, and in the secondary.  How do you take that away?  The Falcons may have provided a blueprint for how to do so.  By starting with their running backs in the backfield, the Broncos lined up in their base defense.  They would then often motion their backs out to a receiver position, giving them one on one match-ups vs. linebackers.  Atlanta has two very special and versatile backs.  They run great routes and are extremely effective pass catchers.  The backs won this battle time and time again.
Secondly, the Falcons decided to hit the run game right up the middle.  Denver has shown some struggles against the run all year, and they knew where to go.  Other times, the Broncos pass rushers would lose the edge, while the backs ran right around them.  Pair that with poor tackling, and it was sure to be a long day.
More from Predominantly Orange
Offensively the Broncos couldn't give their rookie quarterback the protection he needed.  The right side of the line is pretty beat up.  Both Sambrailo, (who doesn't look healthy yet) and Schofield are better suited at guard.  Playing them at right tackle has proven to be sketchy.  Atlanta abused that side of the line for 4 quarters.  Other times Paxton Lynch admittedly held the ball for too long.  All things considered, for a guy in his first start, I think Paxton played OK.  What really would have helped the youngster out would have been a run game.
For the third consecutive week, the Broncos have had trouble getting a good run game going. When that happens you find yourself in predictable 3rd and 12's, which are difficult for most veteran of QBs to convert.
It's important to remember that the sky is not falling on the Defending Champs. They're 4-1 and you know they have a point to prove on Thursday Night.  Sunday was a tough game, many factors went into the outcome.  I'll chalk it up to what I mentioned above, and hey, everybody has days they aren't themselves at the office.  I'm guessing this is an anomaly for how the rest of the season will go.  This is a team used to winning.  It's an addiction for them, and one they're not willing to soon give up.  They'll be ready to get back to their true form.
On to San Diego
Moving on now, let's look at Thursday Night's game.  Hey, who's ready to see those fancy color rush unis with the old school logo?  The game vs. the Chargers will be like most divisional rivalries. Throw the records out — these games are usually pretty competitive.
The Chargers are coming off yet another heart-breaker.  They can't seem to get it together down the stretch.  You know how you feel as a Broncos fan that no matter what, somebody is going to make a big play at a pivotal time for an exciting win?  That must be how Chargers fans feel, only they are waiting for their team to make mistakes and give the game away.  Sunday vs. the Raiders it was a botched snap on a potential game-tying field goal.
With a frustrated team like that, they are bound to catch some breaks eventually.  I think they'll need more than a few to get past the Broncos.  San Diego is pretty talented offensively.  I'm guessing they will try to get their backs into some one-on-ones with linebackers like Atlanta did. Fortunately those backs aren't as talented as Coleman and Freeman. Those dudes are studs. Wade Phillips will be ready for it.
Broncos defenders have a permanent chip on their shoulder.  They don't feel they ever get the respect they deserve as one of the all-time great units.  They are a driven bunch, and they can't wait to get the bad taste out of their mouths.  In some ways, it's a good thing it's a short turn-around.
Offensively the Broncos will hope to get RT Donald Stephenson, and TE Virgil Green back, both from calf injuries.  They would help out immensely in the run game, as well as pass protection.  As far as who they'd be protecting, the Broncos are hopeful Trevor Siemian can go.  If not, they are still comfortable with Paxton Lynch.  By the way, don't be surprised to see the Broncos run the ball with some authority.
This is a battle of two ticked-off teams. The Broncos will have extra motivation to win one for their Head Coach Gary Kubiak, who was hospitalized after the game Sunday.  Kubiak should be fine, as he was diagnosed with a complex migraine condition.  Doctors want him to take it easy for the next week.  Special Team's Coordinator Joe DeCamillis will fill in as interim head coach.  I think I speak for all of Broncos Country when I say get well coach, we're thinking about you.
This article originally appeared on