Denver Broncos: Playoff Picture Entering Week 7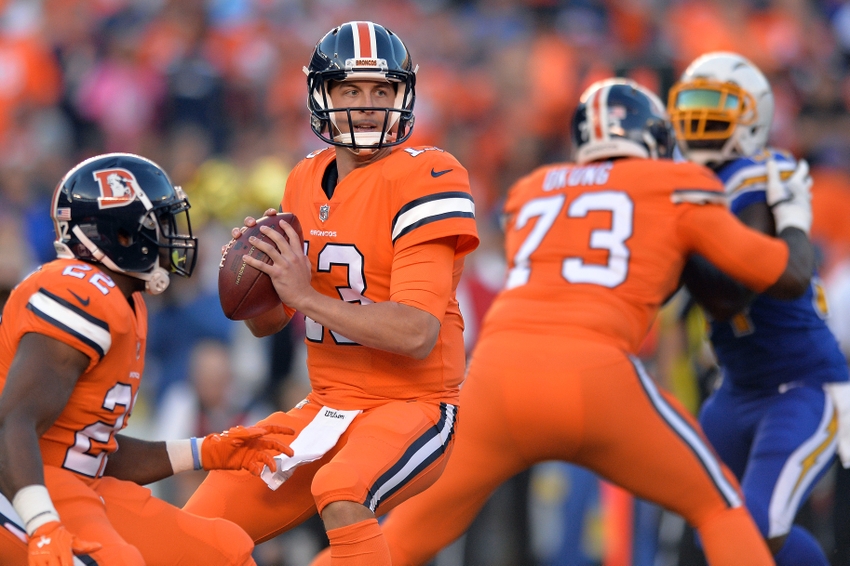 In one of my new segments for the season, I will be looking at where the Denver Broncos are in the playoff race going into their Week 7 showdown with the Houston Texans.
The defending Super Bowl Champs are now six games into their title defense. Sitting at 4-2, it is a bit early to start talking about the playoffs since there are still ten more games left to be played.
However, there are writers and analysis over the world who enjoy a little game of what-if. I figured why don't I get into the mix?
With the Denver Broncos six games into the season, the team would secure a playoff birth if the season did end today due to their tiebreakers. How so do you ask? Let us take a look at the playoff picture.
For reference, I will be using the NFL.com playoff picture.
AFC:
New England Patriots

Oakland Raiders

Pittsburgh Steelers

Houston Texans

Denver Broncos

Buffalo Bills
NFC:
Minnesota Vikings

Dallas Cowboys

Seattle Seahawks

Atlanta Falcons

Washington Redskins

Green Bay Packers
Some pretty compelling matchups in the Wild Card Round to start the playoffs. If the season ended today, the Broncos would have a date with Brock Osweiler and the Houston Texans at the site of Super Bowl 51, NRG Stadium.
It would be pretty cool to play in the same stadium twice in the same postseason. But analyzing the Wild Card Matchup against the Texans, this could be quite an interesting matchup.
If I were to give a winner for this game right now, I have faith in the Denver Broncos to win a road wild card game, which they have had little success in doing in franchise history.
With that being the case, the Broncos would most likely have a date with the New England Patriots in the Divisional Round. However, if the Buffalo Bills were to pull off a shocking upset in Pittsburgh, the Broncos could also travel to their AFC West rivals in Oakland to take on the Raiders in the Divisional Round.
Anything can happen in these next ten games. But if I were to look at the playoff picture now, I would be confident that the Broncos would be sending Brock Osweiler and the Texans home.
This Monday's game could very well be a playoff preview. Interested to see how the two teams match up.
More from Predominantly Orange
This article originally appeared on