Denver Broncos mock offseason: Projecting major moves
Sayre Bedinger/FanSided via Predominantly Orange

Fansided
After dissecting the Denver Broncos' free agents, team needs, and potential targets, we put together an ideal offseason blueprint…
The Denver Broncos don't have a long way to go to become legitimate Super Bowl contenders again. While there are clear areas of deficiency on this team, there is also a lot of flexibility to get better.
Armed with nearly $40 million in cap space, the Broncos are primed to make the type of significant impact on the free agent market they made in the 2014 offseason when they signed big name free agents like DeMarcus Ware, T.J. Ward, Aqib Talib, and Emmanuel Sanders. All four of those players helped the Broncos win their first Super Bowl since the late 90s, and all four have been instrumental in shaping the new culture of this team.
With a changing of the guard at quarterback came some inconsistency for the Broncos. Trevor Siemian performed well at times, but there are questions of whether or not he is capable of being a long-term solution. Last year's first round pick Paxton Lynch will need to step up and win the job this offseason over Siemian, and the Broncos are doing everything in their power to make sure their young quarterbacks have the best of the best teaching them.
New head coach Vance Joseph hired Mike McCoy as the team's offensive coordinator, a position he held from 2010-2012. He also hired Bill Musgrave, the former offensive coordinator in Oakland, to be the team's quarterbacks coach. Needless to say, Lynch and Siemian will have no choice but to get better this offseason.
With the quarterback position expected to make a big jump, the Broncos turn their focus to the trenches, which we outlined in this post. After identifying their needs as a team, we take a look at some potentially big moves the Broncos could make in free agency and the first three rounds of the draft.
1. Restructure Russell Okung
The first big domino to fall for the Broncos this offseason will be Russell Okung. Will the team pick up his four-year option at $12 million per season? Will they try and restructure his contract? Will Okung simply have his option declined and become a free agent?
There are options here, but the ideal scenario for the Broncos would involve Okung sticking around at a cheaper price. Okung didn't play well enough in 2016 to warrant a $12 million price tag per season, but he's still relatively young and played through some injuries this past year.
With a full offseason of preparation and physical conditioning, it's reasonable to think that Okung could get back to playing at a top 10 level for a left tackle. The other thing the Broncos don't really have control of is the fact that the free agent market at left tackle isn't really deep.
It could be a big financial risk, but they may be stuck between a rock and a hard place with Okung, and if they could come to terms on a smaller cap hit, it would be wise to keep him around.
Re-Sign DeMarcus Ware
Ware won't be making a ton of money no matter where he goes next. He's planning on playing one more season in the NFL and has a serious history of injuries. Even worse, they are back injuries which Ware has really struggled through.
He's still in phenomenal shape for his age, and when he's healthy, he's still really explosive. As a leader in the locker room and someone who can still play at a high level when healthy, this is a move I would seriously consider making.
The Broncos would have to find a way to get Ware to play for very little money, but that might be something he's willing to do. He has expressed his desire to play in Denver again, but it will be up to the Broncos to decide whether or not to keep him.
Sign Ricky Wagner
When the Broncos get to the open market of free agents, the first area they should look to upgrade is the offensive line. That also begins with getting the best right tackle available, which is likely to be Baltimore's Ricky Wagner.
Unless the Ravens come to terms on a long-term deal with Wagner, he would be one of the most coveted free agent linemen in the league. The good news with right tackles as opposed to left tackles is, the market value isn't nearly as high. The Broncos could get Wagner for somewhere around $8 million per season, perhaps $9 million if his agent really works at it.
That's a smart deal for the Broncos to make. This would eliminate the possibility that either Ty Sambrailo or Michael Schofield could lock down a right tackle job, which they clearly cannot. It would also spell the end for 2016 free agent pickup Donald Stephenson.
Sign Kevin Zeitler
Keeping with the theme of Wisconsin offensive linemen, the Broncos make another big move up front to get the 26-year old Zeitler, a former first round pick and one of the better guards on the open market this offseason.
He could cost a pretty penny, but look at what has gone on with the Oakland Raiders over the last season or two. Look at the progression of the Dallas Cowboys offensively. The Broncos need to make necessary investments in the offensive line to improve on that side of the ball.
With Wagner and Zeitler on board, the right side of the Broncos' offensive line would be solidified. They would have Russell Okung taking the left tackle spot, and Matt Paradis at the center. That would leave one question at left guard, where I think Max Garcia is going to progress. They could also see what they have in Connor McGovern.
Adding Zeitler would be a huge move for Denver's hopes offensively.
Sign Calais Campbell
Perhaps my favorite idea of the whole offseason is signing Denver native Calais Campbell, who is the type of leader John Elway loves to have on the team.
The Broncos have a need on the edge opposite Derek Wolfe, and Campbell would be a phenomenal piece for this defense getting back on track in the run game. Campbell is 30, and is playing at an incredibly high level still. The Cardinals could certainly try to keep him around, but if he hits the open market, a homecoming to Denver makes a lot of sense.
This is someone who — at 6-7, 300 plus — is a major disruptive force against both the run and the pass. He can set the edge and clog running lanes. He is a playmaker and would be a great investment for this team after losing Malik Jackson a year ago.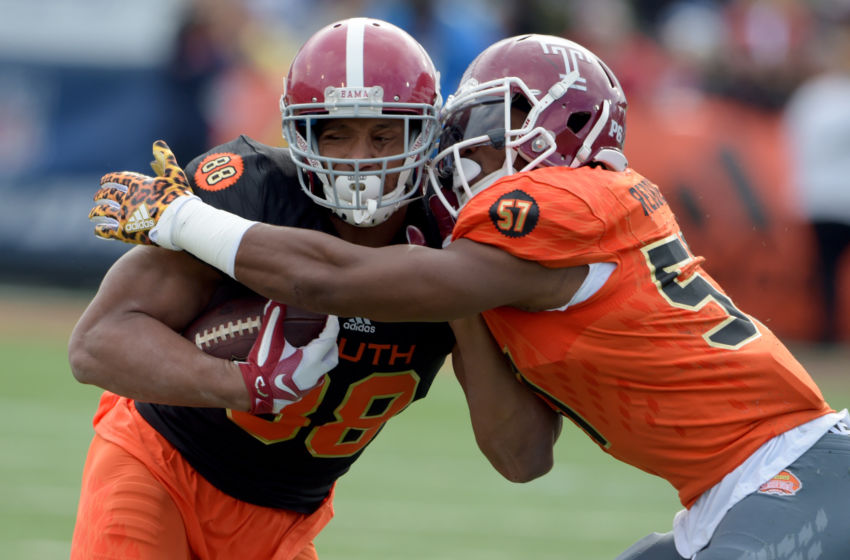 First Round: O.J. Howard, TE, Alabama
One of my favorite prospects in the 2017 NFL Draft is O.J. Howard, the tight end from Alabama. There is nothing this guy cannot do. He has the athleticism of a wide receiver, but the body of a tight end. He blocks extremely well, which shouldn't be a huge surprise for tight end prospects but it is.
Howard has a complete game, is NFL-ready, and would be a great third option in the passing game for the Broncos. One thing Mike McCoy and Adam Gase liked to do when implementing their offense in Denver was move the tight ends around the formation, and use multiple players at the position. With A.J. Derby and Jeff Heuerman showing some signs of potential last year, the Broncos would have great options if they add Howard to the mix.
This would be the ideal first round pick, but Howard is not guaranteed to last past the top 15 picks.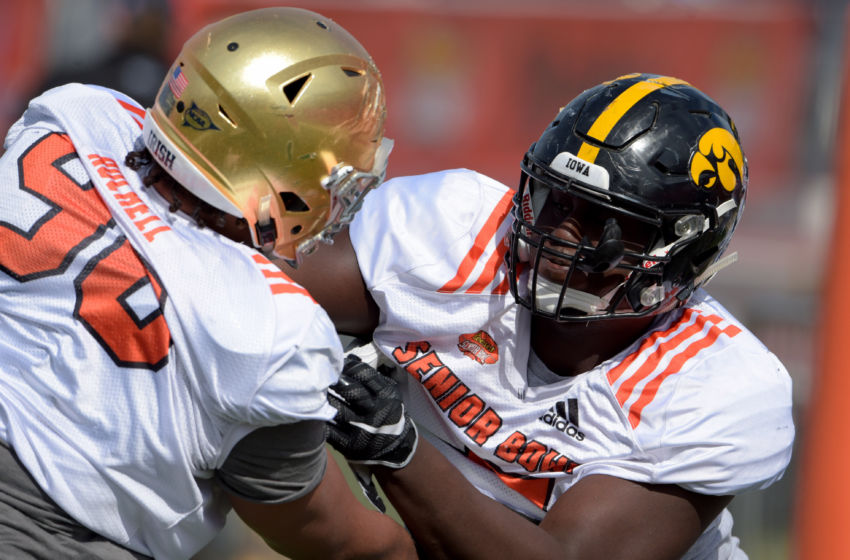 Second Round: Jaleel Johnson, DT, Iowa
Jaleel Johnson has steadily improved over the last few years at Iowa, and could be the ideal nose tackle to replace Sylvester Williams. The Broncos might look to a veteran for some help there as well, but they also have Kyle Peko waiting in the wings.
With Johnson and Peko, I think the Broncos would have at least the flexibility up front to play a three or four man front whenever they wanted. Johnson played in a four-man front at Iowa, but would obviously be coming in to play in a primarily three-man front in Denver.
The Broncos will play to the strengths of their players, however, and Johnson is a guy that can not only take up blockers, but he can penetrate and make plays in the backfield. If he lasts to the Broncos' second round pick, he would be a phenomenal fit.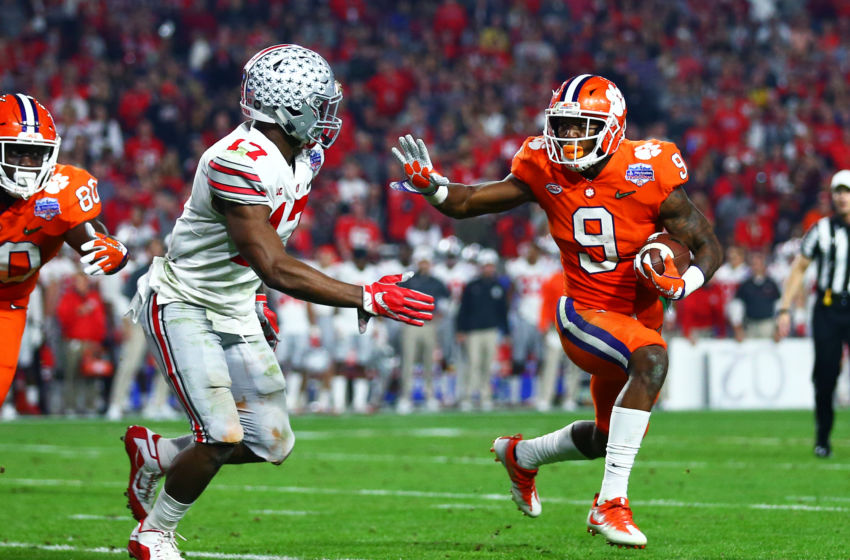 Third Round (1st Pick): Wayne Gallman, RB, Clemson
Gallman is one of the toughest running backs I've scouted this year. He might not have game-breaking ability like Leonard Fournette, Dalvin Cook, or Christian McCaffrey, but he has the ability to grind out tough yardage, hit the occasional home run, and be effective as a receiver and blocker on third downs.
This guy would be a valuable weapon for the Broncos in tandem with C.J. Anderson and Devontae Booker.
More from Predominantly Orange
Third Round (2nd Pick): Taywan Taylor, WR, Western Kentucky
Taywan Taylor is one of the best big-play threats in the entire NFL Draft. Over the last three seasons at Western Kentucky, he's averaged over 17 yards per reception. He caught 34 touchdown passes in the last two seasons combined.
As the Broncos move into a primarily shotgun oriented offense, this is the type of guy that could line up out wide or in the slot and be an explosive playmaker from anywhere on the field. This would be a fantastic value pick.
Third Round (3rd Pick): Alex Anzalone, LB, Florida
When healthy, Anzalone is probably a high second round pick. The problem is, he hasn't been able to consistently stay on the field. He's so gifted physically, and when he's playing, he's always around the ball.
The Broncos missed Danny Trevathan this past year, and Anzalone could come in as a third round pick and compete for a starting job right away.
This article originally appeared on