Denver Broncos: Late Rounds and Beyond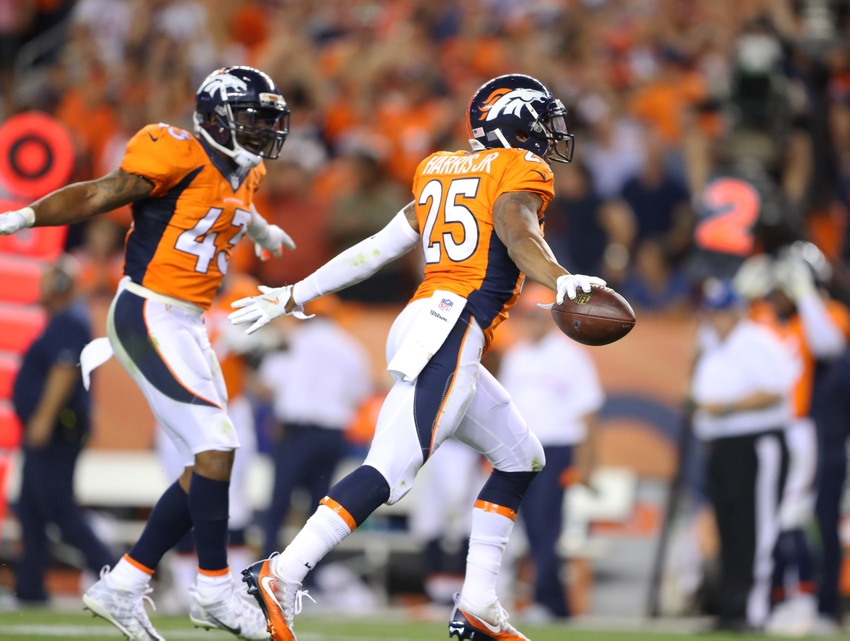 More from Predominantly Orange
Chris Harris Jr and C.J. Anderson are two of the best talents on the Denver Broncos roster, they also are two examples of great scouting by the team…
Nobody can doubt the talents of Von Miller, Demaryius Thomas, Bradley Roby, and Shane Ray — all of which were first round picks. However, we sometimes overlook the humble beginnings of those drafted late or those not drafted all together. The Denver Broncos roster has some of the best depth in the entire league and is riddled with talent at every position. What we don't often see is where this depth comes from.
The Broncos' front office and scouting department has done an excellent job of finding these talents beyond the first few rounds of the draft. Many of these players coming out of college were not graded as elite talent ready for the NFL level. These players are now key components of the Broncos' 2-0 roster.
On offense you have starters like quarterback Trevor Siemian (7th round), running back C.J. Anderson (undrafted), tight end Virgil Green (7th round), fullback Andy Janovich (6th round) and center Matt Paradis  (6th round) are all major players  for the offense.
Siemian has made enough plays and limited the mistakes enough to lead the team to a 2-0 start. Anderson has been responsible for three of the four offensive touchdowns, while averaging 4.2 YPC. The likes of Green and Paradis often may be overlooked but they have each have had major roles in the offense. Paradis has been the most efficient center in the NFL according to Pro Football Focus. Janovich accounted for the Broncos first touchdown of the season and has constantly been creating running lanes for Anderson.
The defense is led by Super Bowl MVP Von Miller but it also has it fair share of players drafted late or not at all. All-pro cornerback Chris Harris Jr went undrafted in the 2011 draft and reserve linebacker Shaquil Barrett was undrafted in the 2014 season.
Barrett had a breakout season last year starting six games in Demarcus Ware's absence, racking up 5.5 sacks and forcing four fumbles. Harris Jr a member of the vaunted "No Fly Zone" now widely known as one of the top cornerbacks in the NFL.  He is a two time pro bowler and a second team All-Pro. Arguably the second most important important piece of the defense.
Along with the steals the Broncos found on their own, they have also brought in some of these steals from other teams. Brandon Marshall (5th round), Todd Davis (undrafted), and Darian Stewart (undrafted) have turned into good players for the Broncos.
All these players have helped the Broncos improve to 2-0 so far this season. Up next for this team is a tough match-up in Cincinnati. Siemian will face another tough defense in his first road game. Paradis will have to deal with All-Pro Geno Atkins for  the majority of the game. Barrett will see more action helping to cover for the injured Ware. Harris Jr. will see some action against AJ Green one of the leagues best.
These players will play a big role for the rest of the season and will be keys to the Broncos attempt to repeat.
Roster by the Rounds Drafted
First Round Picks-9
Second Round Picks-5
Third Round Picks-6
Fourth Round Picks-3
Fifth Round Picks-4
Sixth Round Picks-6
Seventh Round Picks-5
Undrafted Players-15
This article originally appeared on