Denver Broncos: Keys to Leaving Jacksonville With a Win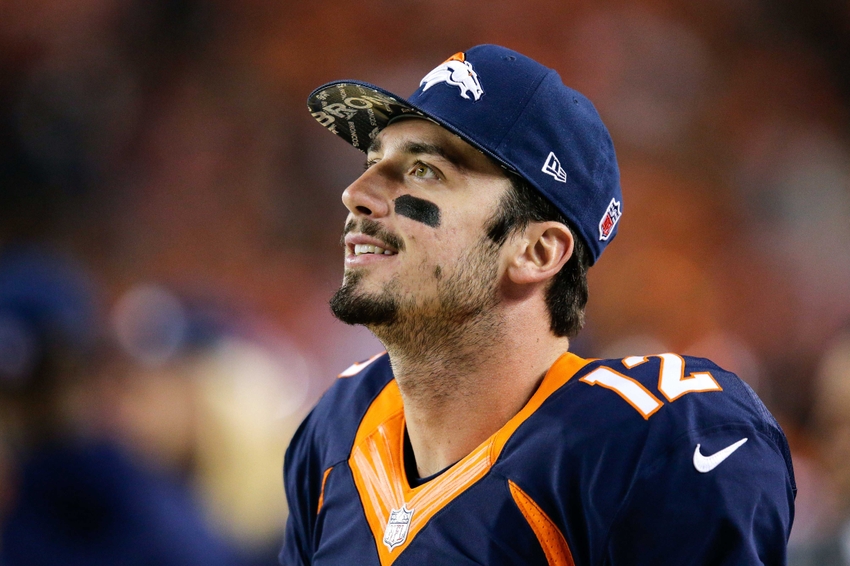 The Denver Broncos come into week 13 off an absolutely heartbreaking loss. They are bringing a banged up team, and are sitting at 7-4 in arguably the best division in football.  A victory this week is absolutely essential.  Here are my keys to leaving Jacksonville with a must-win…
Think back to April.  The NFL schedule was released, and us die hard fans that encompass most of Broncos Country looked at what the big games would be. Division games, Patriots coming back to town, those were the biggies.  Let's be honest, nobody circled a visit to Jacksonville as a must win. If anything it was a "trap game." That is no longer the case my friends.  Get the W, or fall back further into the pack of desperate teams thinking of what could have been.  Let's highlight some major factors in this game.
Siemian or Paxton?
So unless you've been too busy with cyber savings week, you know that Trevor Siemian has been in a walking boot all week.  Kubiak has been playing it close to the vest about if Trevor can play or not, suggesting they are hopeful he can play.  They are even reporting they are working on inserts for him to help him be available.  We know better.
I'm 90% sure Paxton Lynch is starting this week.  So, what changes?  I don't think a lot does, but I think there are some plans that should be made if the rookie does get the start.  First of all, keep committing to the run.  They should be able to run on the Jags. If not, keep dialing up plays here and there, because I think Lynch is absolutely perfect for bootleg plays.  He throws accurately on the run, and if nobody is open he can cut it loose running for positive yardage.
Kubiak also needs to get Paxton going early.  Get him some easy throws, build his confidence, and after that… Unleash him.  Let him throw deep, let him run a little, and basically take the chains off this kid.  John Elway invested a first round pick in Pax, and it's time to see what he can do without too many limitations.
I think Lynch will be much more comfortable in multiple ways, and so does he.  He knows the play book better, it won't be his first start, and basically he's been in the NFL for awhile now.
"I'll be a lot more comfortable out there than I was for the first time. I feel a lot more comfortable [now] than where I was when I started that game, so we'll just see day-to-day what happens. I'll just take the reps and whatever happens this week happens."- Paxton Lynch
Win the Special Teams Battle
Hey, you can't blame a loss on any particular player or phase of the game right?  Win as a team, lose as a team, I get it.  That's usually the case, but guess what; you absolutely can blame losses on those areas.  Man I love Jordan Norwood, I do.  I also love to be honest, and I put a large portion of the Kansas City loss on him, as well as the entire special teams unit.
Jacksonville hasn't had much of a special teams either.  I highlight this area because if there is any way possible the Broncos lose to the Jags, poor special teams will play a huge role.  The Broncos haven't had an exciting return man since Trindon Holliday was here.  Why was he let go?  Every time it was like 50/50 exciting play, or turnover.
Could I really give 3 paragraphs to special teams.  Yeah dude, you're reading it, this is real.  So it must be important.  No muffed punts, no bad decisions to take it out of the endzone, and make a few field goals=W.
Take Care of the Ball, Take Care of Business
Look, I can't sit here and make a case for the Jaguars.  They are talented, they are pros, but they shouldn't be a threat to the Broncos.  That being said, if the Broncos aren't ready for this game, strange things can happen.  The Jags have a talented quarterback in Black Bortles, paired with awesome wide receivers.
From all accounts this year the defense is gaining traction, while the offense is struggling, an opposite from previous years.  The Broncos should be able to move the ball all day.  Donald Stephenson will be a big factor.  He looked good in relief of a struggling Ty Sambrailo in the second half of the Chiefs game.  Hopefully his previous benching lit a fire up under him, and he realizes what is at stake.
The defense should be able to shut their offense down.  They've had only a few snafus in 2 years of championship-level play.  The Jaguars like to target their wide receivers, while the Broncos' corners have shut down elite receivers all year.  Remember when some Broncos' fans were mad about not re-signing TE Julius Thomas?  He has played the role of ghost for the most part in Jacksonville, only a few people have had sightings.
Time To Go On a Run
After the KC loss, many people gave up hope.  It's not over guys.  Sunday could be the beginning of a Super Bowl run.  Get hot at the right time, and who knows what can happen.  Can Lynch provide a spark for such a run?  Can everyone finally get on the same page?  Who knows, but the little week 13 game we overlooked in April could turn out to be something huge, or the beginning of 2017.
More from Predominantly Orange
This article originally appeared on