Denver Broncos: Just Admit It, Trevor Siemian Isn't Good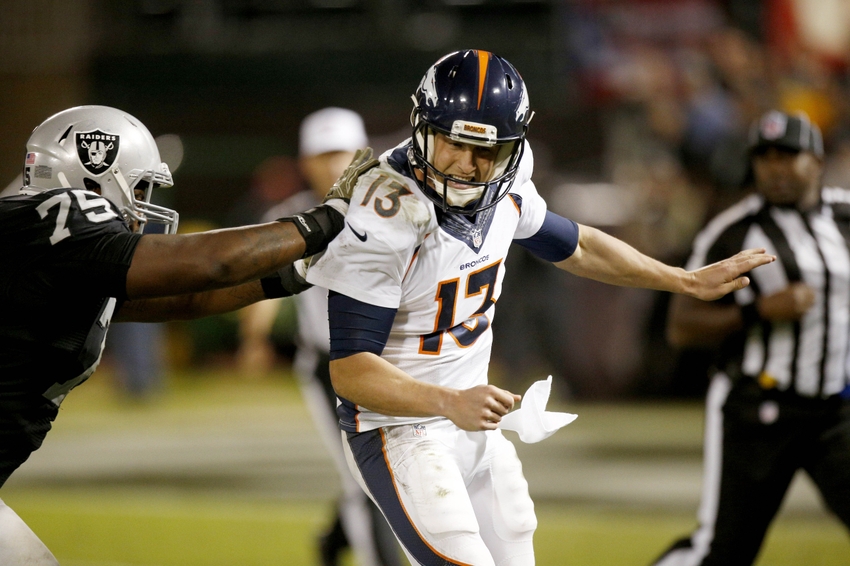 After another pathetic performance by Denver Broncos quarterback Trevor Siemian, Gary Kubiak says he's sticking with the below-average player.
NFL teams live and die by the quarterback, even when they don't have to. Such is the case with the Denver Broncos and their less-than-impressive starter, Trevor Siemian. Early in the year the former seventh-round pick somehow managed to win the starting job despite never throwing the ball downfield. He then found some early success as the team was winning thanks to their stellar defense.
Siemian was getting tons of credit as the team raced off to a 4-0 start, but no one was pointing out the fact that his offense consisted of passes that never traveled more than five yards down the field. Anything beyond that was a lame duck that often floated yards short of the intended receiver.
Since the 4-0 start though, things have been rocky. The Broncos have gone 2-3, although one of those losses was with Siemian sidelined. Still, his last three games have yielded a completion rate of under 60 percent, including a sad 18-of-37 outing against the Oakland Raiders on Sunday night in Week 9.
Fear not, Siemian defenders; head coach Gary Kubiak says that, despite the lousy effort that resulted in a loss and a drop out of first place, the Broncos will stick with the guy who simply can't get it done.
Kubiak said Siemian is their guy, but needs to get better (via Troy Renck of ABC 7 in Denver):
#Broncos Kubiak on QB change. "I feel really good about what Trevor's doing, but Trevor's like any other player — he's got to get better."

— Troy Renck (@TroyRenck) November 7, 2016
Renck also reported that Kubiak says the offense needs "to find a way to stay on the damn football field."
Here's an idea coach: maybe find a quarterback who can throw it seven yards on third-and-7. Countless times on Sunday Night Football, Siemian panicked at the first sign of pressure (as bad quarterbacks often do) and dumped it off for just a few yards on third-and-long.
Siemian is content to punt. With that mentality, the Broncos will never go where they want to go. He won't magically get better and, in fact, he is getting worse the longer he plays. Continuing to play this quarterback is ridiculous. Continuing to play him with a first-round pick on the bench is even worse.
As Denver has now fallen to third-place in the AFC West following the Raiders loss, they have work to do. If they want to make that work less cumbersome to finish the year, they'll push forward with Siemian on the bench.
This article originally appeared on