Denver Broncos getting reinforcements for week 12 matchup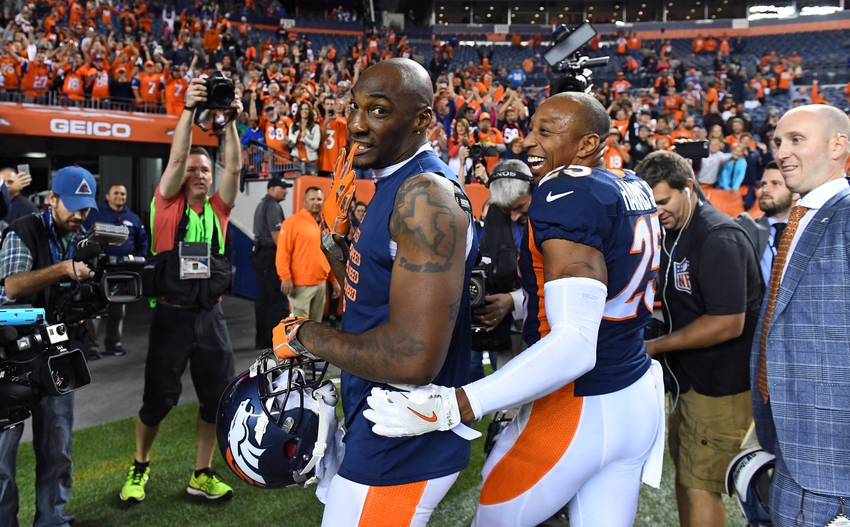 The Denver Broncos are getting some major reinforcements for their week 12 matchup against the Kansas City Chiefs — Aqib Talib, Derek Wolfe, & more…
Just over a week since the Broncos' big win over the New Orleans Saints, the team is getting back some critical players for the defensive side of the football. Defensive end Derek Wolfe and cornerback Aqib Talib both returned to practice, and fullback Andy Janovich got rid of the club on his hand.
Head coach Gary Kubiak talked about what the return of Wolfe and Talib means for the defense.
"[Derek] and Aqib practiced full and both looked good," Kubiak said. "They were moving around pretty good. It's great to have those guys back as expected. They both had a good week while the other guys were getting a break, too. They made up some ground."
Talib himself spoke on his current health status:
"The back feels great. It'll just be conditioning. [When] you sit out three weeks and you don't play football for three weeks, it doesn't matter what you're doing, you're going to be tired. The more that you can do the better you will be."
In addition to reinforcements on the defensive side of the ball, the Broncos are getting a fully healthy Andy Janovich, which is critical to their running game. Janovich has been a phenomenal addition as a sixth round pick out of Nebraska.
More from Predominantly Orange
"He's back and he's normal today without it," Gary Kubiak said. "He's catching the ball well. That's a positive moving forward."
Even last week against the Saints, Janovich made a fantastic one-handed catch with a club on his other hand. He's joined as a full participant in practice by quarterback Trevor Siemian, who apparently had a good week off and getting back to 100 percent.
"He's good. The break did him some good. He threw the ball really well today and took all of his reps. I just think it's good for everybody. Obviously he was a little beat up and got an injection before we took the break. He looked like himself today."
After the number of times he got hit against the Saints, that is certainly good to hear.
The Broncos are coming off the bye week with some great news Sunday afternoon. The Kansas City Chiefs, who had a home game against the Tampa Bay Buccaneers, lost the game and now have a record of 7-3 going into their matchup with the Broncos. If the Broncos win this weekend, they will improve to 2nd place in the competitive AFC West.
They now have some key pieces to getting that done.
This article originally appeared on