Denver Broncos get incredible win vs. New Orleans Saints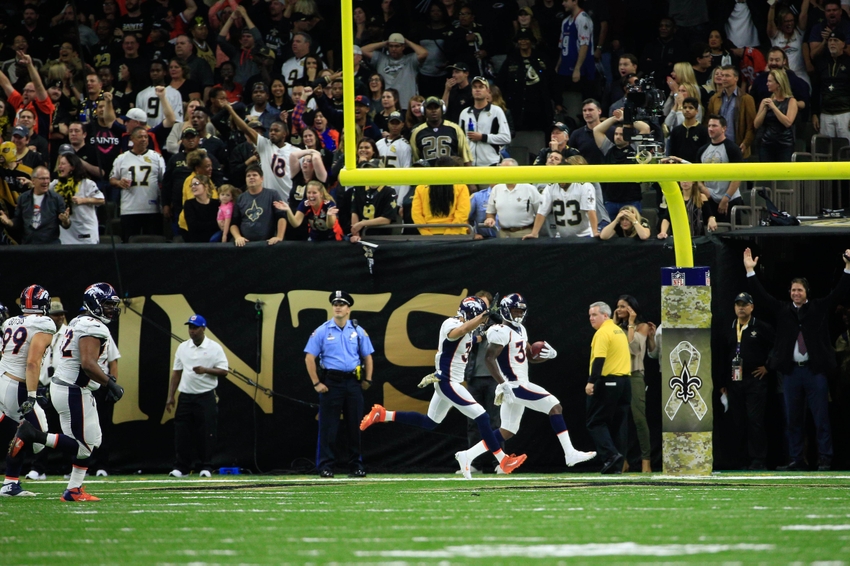 The Denver Broncos came into New Orleans and stole a win against the Saints off of a huge blocked extra point.

25

23
I am still in shock at how that Denver Broncos game ended. I could have sworn I was in a state of shock.
More from Predominantly Orange
Somehow, someway, Justin Simmons leaped over the long snapper and blocked a Saints' extra point that would have given them a 24-23 lead with 1:22 left.
Will Parks returned the blocked extra point all the way back for a two point conversion and the Broncos perhaps stole a win in the Big Easy with a 25-23 win.
For the first time this season, the Broncos got off to a strong start. They led 10-0 going into the two minute warning of the first half and then for about 15-20 minutes it began to swing towards the Saints way.
In the fourth quarter, where the Denver Broncos play their best football, they scored a nice touchdown from Siemian to Demaryius Thomas to tie up the game.
Brandon McManus got two field goals to give the Broncos a 23-17 lead until the Saints drived down for the touchdown.
Enter Justin Simmons who blocked the extra point. Will Parks returned it for a two point conversion.
My three players of the game are Darian Stewart, Justin Simmons, and Will Parks. All three members of the No Fly Zone secondary made enormous plays that led to points for the Denver Broncos.
Darian Stewart had three turnovers record, two interceptions and one fumble recovery. Simmons blocked the extra point and Will Parks returned it for the winning points.
As far as Trevor Siemian is concerned, he had 15-20 minutes to forget. But he bounced back and got the win. Perhaps the biggest switch that Gary Kubiak made was taking out Donald Stephenson and putting in Ty Sambrailo.
Trevor Siemian did finish the game with 25 of 40  passing for 258 yards and two touchdowns. But he did throw two interceptions. Could have been more.
Drew Brees became the first quarterback to throw for over 300 yards against the Broncos defense, barely breaking it with 303 yards.
All I can say is, What A Win! The Broncos go to their bye next week before they come back home for a big matchup against the Kansas City Chiefs.
Enjoy this win Broncos Country!
This article originally appeared on