Denver Broncos: Derek Wolfe Out A Month Due to Injury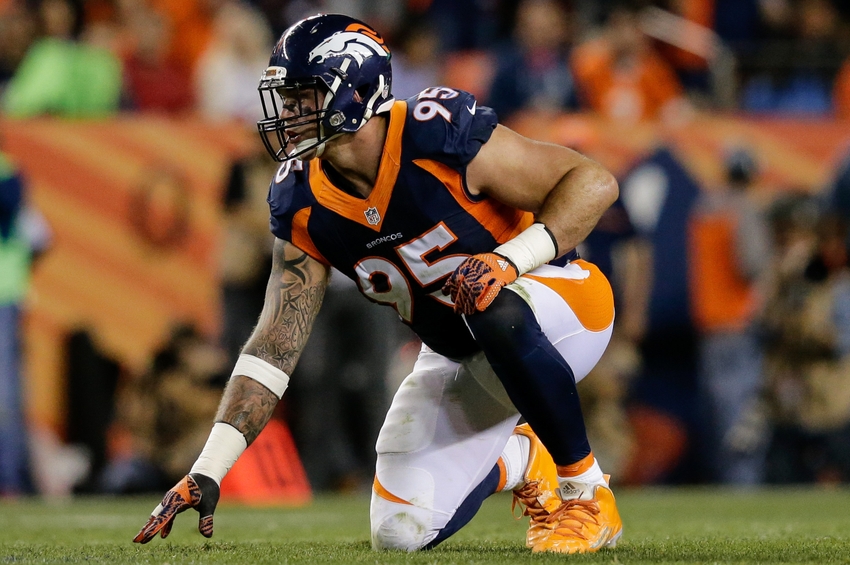 Denver Broncos defensive end Derek Wolfe will not need surgery on the hairline fraction in his elbow, but will miss the next month.
The Denver Broncos injuries just keep piling on. This time, another member of the defense will be forced to miss time due to a long injury.
Derek Wolfe, who is the team's best defender against the run, will be forced to miss at least one month due to a hairline fraction in his elbow.
If there is any positive to this story, it is that he will not need surgery on it. If that was the case, he most likely would be out for much longer.
Some good news on #Broncos DE Derek Wolfe and his hairline fracture of his elbow: I'm told no surgery, a month is the longest he'll be out.

— Ian Rapoport (@RapSheet) November 7, 2016
Derek Wolfe suffered the injury in the third quarter of a 30-20 loss to the Oakland Raiders.
In my opinion, this could be a huge loss for the Denver Broncos defense. The team is down to Adam Gotsis and Billy Winn with Wolfe's injury.
More from Predominantly Orange
We have seen limited action between the two players. Billy Winn had a solid preseason and has recorded six tackles so far this season. Adam Gotsis has been quiet with no tackles this season.
Wade Phillips is going to need to rely on them both to help pick up the slack. The Broncos have already lost Vance Walker earlier in training camp with a knee injury.
Another route the Broncos could take is looking at free agency. This would require the team to release a player already on the roster.
Unless John Elway doesn't think the defensive ends on the roster can get it done, it may not hurt to call Terrance Knighton. However, I'd tread carefully due to his physical shape.
The injuries have not been easy for the Denver Broncos. The team goes up against the New Orleans Saints on Sunday before they get their long awaited bye.
Wishing Derek Wolfe the best in his recovery.
This article originally appeared on