Denver Broncos: DeMarcus Ware Not Expected To Play Monday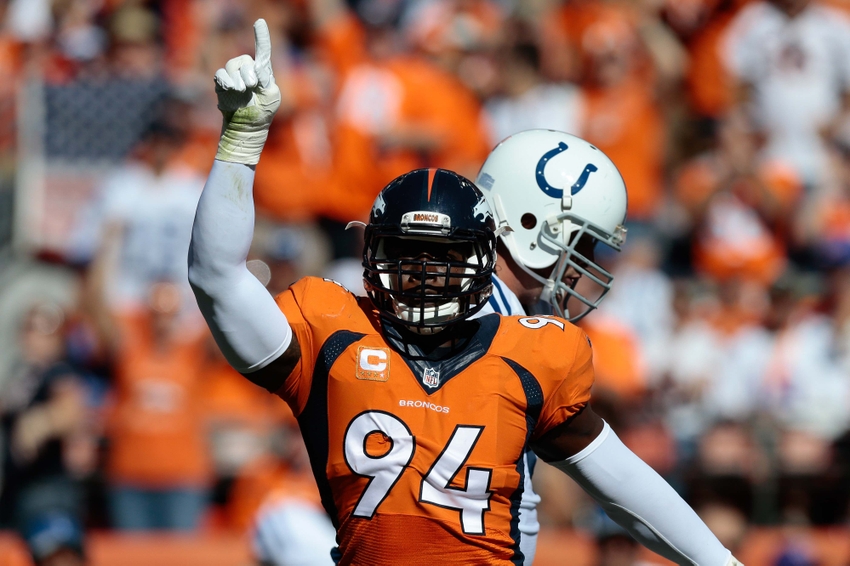 As the Denver Broncos' defense continue to see stagnant play from their inside linebackers, it is the pass rush that has to wait a week on DeMarcus Ware.
DeMarcus Ware said this afternoon he does not expect to play this coming Monday night in Brock Osweiler's return to Denver. He continued did add positive news stating his X-Rays are good, but does not feel 100 percent to play.
#Broncos DeMarcus Ware said X-Ray good but it's unlikely he plays this week. Had to be smart. Has 9 games after this @DenverChannel

— Troy Renck (@TroyRenck) October 18, 2016
Sometimes, a single player sometimes can lift the momentum of an entire unit: enter DeMarcus Ware. It is also his leadership that gives a team the extra bit of nasty, which is lacking on a Broncos defense. Perhaps, Adam Gotsis receiving extra reps will send the unit to new heights; however, no one can replace Ware.
More from Predominantly Orange
Ware's absence from the starting lineup is nothing new to the team's defense that rested the veteran to save him for the playoffs and he delivered. This season may see the same result. The Broncos are deep even with out Ware right now at pass rush, but Von Miller needs his Robin back.
The best thing for the Broncos is to do as stated above. Ware needs to be 100 percent healthy to be ready to come back giving the team the boost it needs.
After two-game losing streak, it is safe bet the franchise will be in Osweiler's face in Monday's contest. Despite no Ware, Shane Ray, Miller and Shaquille Barrett will feast on ex-Broncos quarterback like a Reese's peanut butter cup that is handed out on Halloween.
It is a shame that Demarcus Ware will not be available for perhaps one of the biggest games for the Denver Broncos, but having him for the big time games down the road will be critical. So, hopefully he will be a force when December football rolls around.
This article originally appeared on