Denver Broncos: Complimentary Players that Need to Show Up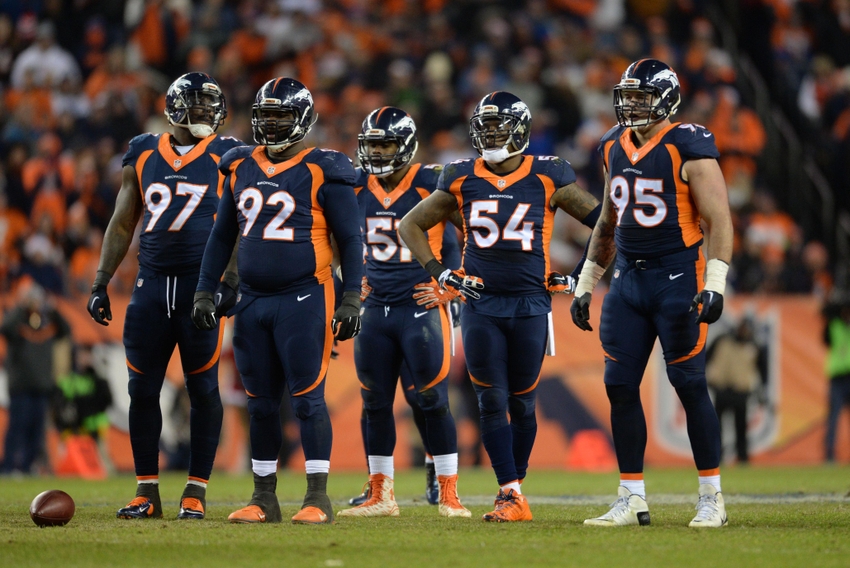 When it comes to a Super Bowl run it isn't always about the super stars. For the Denver Broncos, those unsung heroes can push you over the top.
Every year we see the teams that separate themselves are the ones that have some complimentary players emerge. Sometimes this happens because of injury. Other times it is because they have grown throughout the year where the team gives them more opportunities to shine. Last year for example in the playoffs we saw Owen Daniels make some big catches to help put us over the top. Maybe the biggest player last year to emerge was that of Shaq Barrett where his play not only earned him extra snaps but even got him a few starts when DeMarcus Ware was injured.
That brings us to this season. Are there any players that we can maybe see showing some signs of emerging down the stretch to get us over the top? So far we haven't had anybody emerge quite like Barrett from last year. I want to though throw out a few names that I think could be huge down the stretch and into the playoffs. If just a couple of these names takeoff I do think our team stands as good a chance as any in the league of winning the Super Bowl. This team is so close but it just feels like something is missing. I hope that one or more of these players can emerge and be that missing piece.
Understand this is not an exhaustive list. I would love to hear from others maybe some names they are thinking could emerge to close out this season. Just from my eyes and some of the things I have heard over the last few weeks these are the four players I think stand a very good chance of getting an opportunity to really step up and make an impact.
Jordan Taylor
Maybe the biggest missing piece of this team is a 3rd receiving option on offense. Teams have keyed in to trying and take away both Sanders and Thomas. Those two guys are good enough they can still win even when covered well but a 3rd option would be huge to making this offense a bit more dangerous. Here is where a guy like Jordan Taylor could enter the conversation.
We just saw him have his best game as a Denver Bronco with two big catches. If he can continue to prove that he can be a go to target that can be trusted, he could emerge as a very nice option for Siemian down the stretch. There is a lot to like about his game and some things to be concerned about.  If he has fixed or at least improved on some of his earlier weaknesses, then I think there is a strong chance the Broncos give him more chances to prove himself.
There have always been two main concerns when it comes to Taylor.  The first is that of route running.  We heard from training camp of his making some spectacular plays but it always seemed to be when he ran a go route. I kept waiting to hear that he was making these same types of great plays on other routes and it just wasn't happening. Thankfully when watching him the Broncos are giving him more route options as of late. This is a big reason I do think he will start seeing the field more. Teams have to prepare for more when he comes into the game.
The other weakness for Taylor has been his inconsistent hands. He will make the spectacular catch like we saw this past week but then struggle to make the easier catches. There are times he is trying to already think about making a play up field and will drop some passes. So, can he prove that he can be a trusted target? If so, then this could be huge down the stretch for the Broncos. With his size and speed combination added to better route running he could be the weapon we have been missing.
AJ Derby
Another name along the same lines of Jordan Taylor is that of AJ Derby. This is a player that not many knew a lot about coming out of college. He switched back and forth between TE and QB and finally settled on TE. When New England drafted him, it was with the thought that it would take time for him to develop. They have had success in the past though of turning QB's into great players at other positions. My guess is they figure a QB knows every position on the field so it is just a matter of teaching them the core basics of the position.
I have reached out to a few Patriots fans about Derby when we traded for him. I just couldn't believe the Broncos were willing to give up a 5th round pick for a player that hadn't done anything in the NFL. Every single one of them said the Broncos ripped off the Patriots on the trade. They called him a future star in this league that the Patriots gave up on too early.  I'm hoping all that is true and that he can be one that emerges sooner than later for us. We have been trying to figure out this TE position for quite some time with little to no success.
I do think the Broncos have loved what they are seeing in this kid. Kubiak has spoken very highly of how quickly he has caught on to the offense. Other coaches have said they think he will be an impact player for us this season. I would say that isn't just the coaches giving us coach speak.  The reason I say that is this past game he was in on over half of the offensive snaps. There is no easing this guy in. He went from six snaps his first week to 44 this past game. Adding to that thought is the fact that they used him in a variety of ways.
More from Predominantly Orange
As a receiver, they were using him in a variety of ways. Maybe my favorite that I am hoping we see more down the stretch is him running the seam route. We just haven't had a player that has threatened the middle of the field consistently this year.
Part of that is Siemian struggles some throwing over the middle but also nobody has been getting open enough. I watched Derby in this past game run the seam route four times. All four if the OL could have held up just a hair longer were with him breaking open over the middle.
One of them the safety didn't drop back at all and there was no one between Derby and the end zone. They also left him covered one on one quite a bit throughout the game.  With his size and speed combination this should be a huge mismatch that we need to exploit.
Something else on Derby that I want to hit on quick is his blocking. One of the big weaknesses that people have pointed to with Derby is his blocking. With him being new to the position it is an area he has had to work on quite a bit.  At least against the Saints though blocking was not an issue for him.
I did not see him miss a single block that he was called on to execute. He won't be pancaking anybody any time soon but he does well of keeping his body over his feet and not getting caught off guard. If we can run more of the 2-TE type sets this should keep teams guessing of what is coming at them. We can force some great mismatches across the formation. Honestly if I was a betting man this is the one player out of my list that I have the highest hopes for emerging down the stretch.
Corey Nelson
There is no way around it, we miss Danny Trevathan on this defense. He was the one guy this off season that I wished we would have pushed harder to try and keep. The way he plays the game is just so much fun to watch. Unfortunately, he is gone and the Broncos have been left with a bit of a void. So far this year the Broncos have tried a few different things to try and get highly quality production from an ILB not named Brandon Marshall. Todd Davis has done an adequate job but has had his struggles at times. He especially has struggled in the passing game as teams have exploited him with some mismatches.
This is where I turn to a guy like Corey Nelson. He is a bit undersized and can get caught in traffic trying to stop the run, but one area he has done decent at is in coverage. He is a bit more of an athlete than Todd Davis and just seems to not get as caught off guard when a RB makes a move on him in the open field. I keep thinking of the Raiders/Texans game on Monday night where the Raiders moved the RB out of the backfield near the goal line to get him a nice mismatch with a LB.  It then led to a nice easy touchdown. I could see the Raiders doing the same thing if Davis is in the game when we play them week 17.
If we are to repeat as Super Bowl champs, then to me we need another player to emerge that can help stop this from happening to us. RB's have been an issue in coverage this year. I look at teams like the Raiders, Patriots, and Chiefs that all have RB's that can beat you multiple ways. If Nelson can continue to improve then I think we maybe could help stop this from being our downfall in the playoffs. He must prove that he can be trusted in the big moments of the game and that he isn't a huge liability to have in on run plays.
Ty Sambrailo
The final player that I want to talk about is that of Ty Sambrailo. After the Saints game coach Kubiak made it very clear that Sambrailo and Stephenson will be in a competition for the RT spot. Neither has done well this year if we are being honest in our evaluation. Both have been dealing with injuries that have left them a bit limited. Even with that excuse it just is not good enough if we want to win a Super Bowl. This will be the competition to keep an eye on for the next few weeks.
I do not know if Sambrailo will emerge as our new starter. He will get some playing time over the next few weeks and stands a good chance if he plays well of becoming that player. Still even if he doesn't win the job he could still be an impact player for this team by helping light a fire under Stephenson.
Players are human and we must remember this.  Sometimes the focus just isn't there week in and week out that it needs to be and they need a little motivation. The Lions just a little over a month ago benched Golden Tate for his play. Tate has talked since then that getting benched was that eye-opening moment that made him realize he needed to reevaluate what he was doing.
Since then he has emerged once again as a quality target for the Lions. That is my hope in this situation is that either Sambrailo is finally healthy and plays at a high level giving our OL a nice boost or that he at least helps light a fire under our current starter in Stephenson.
If nothing else the Broncos will at least get a bit more tape to evaluate the growth of Sambrailo and know going into FA and the Draft how much they need to look at the OL. That is getting a little down the road but as always with the NFL you must be evaluating for now and the future.  For the now the OL must improve if we want to win the Super Bowl.
There is no getting around it. Last year Manning's quick release could help cover up some of the issues but this year our QB and RB's need the OL to help cover up some of their issues.
I do believe the talent is there with this group, but it is time to show it on the field. Then obviously for the future to know how much more do the Broncos need to devote to this OL or can they move forward with what they have.
This Broncos team is loaded with super stars. As a Bronco fan, I do not feel that to be a homer type statement. We have household name type guys on both sides of the ball. As great as those players are for this team it does take an entire roster of players making plays for a team to win the Super Bowl. Time for these complimentary players to step up and show they can contribute and maybe be the future household name players for this team moving forward. I for one cannot wait to see how these four players and this entire team do moving forward. It has been a fun season that has shocked many around the country that we are doing so well. The Broncos are primed to show the world once again why they have the title of Super Bowl Champs!
This article originally appeared on