Denver Broncos 2016: AFC West Recap – Week One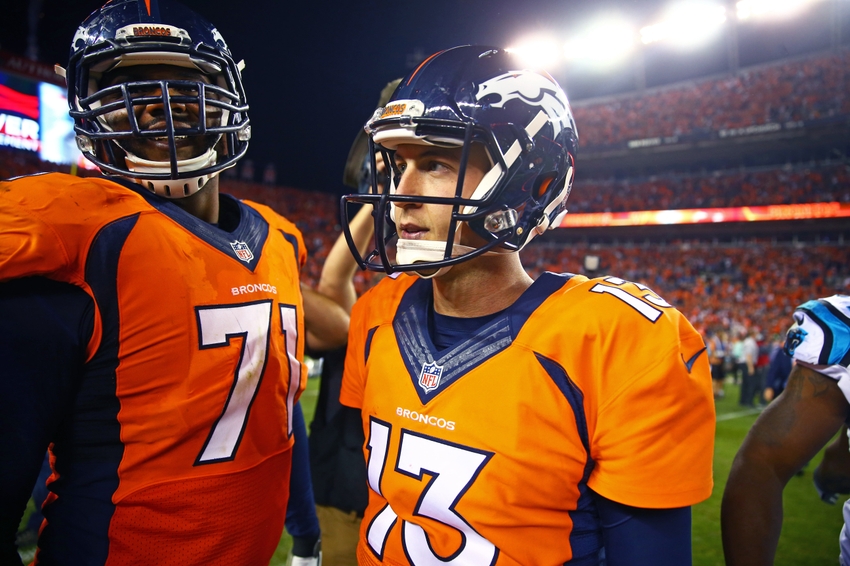 The Denver Broncos weren't the only team that won in dramatic fashion in the first week of the NFL season, certainly not the only one in the AFC West…
After week one, the Denver Broncos and two other AFC West teams find themselves undefeated, which is the best case scenario (depending on how you view the other AFC West teams) considering two AFC West teams played each other.  Without question, the three games featuring the AFC West were all exciting, and if not the best of the weekend, they have to be near the top.  For my random thoughts on these three games, please continue reading…
Carolina Panthers at Denver Broncos: It wasn't the prettiest games by far, and if it weren't for a missed field goal by Carolina Panther kicker, Graham Gano, the Broncos would be sitting at 0-1, rather than 1-0.   But because of that missed field goal the Broncos escaped with a 21-20 victory over the defending NFC champions.  
Going into the game I had many questions because it was the first game of the season and let's be honest, preseason doesn't reveal a lot about a team or the individual starters!  As expected, the defense stepped up and played a major role in the victory.  
More from Predominantly Orange
Down 17-7 at half, the Broncos defense only gave up a field goal in the second half, albeit the Carolina Panthers did drive into field goal range at the end of the game setting up the field goal attempt that was fortunately for the Broncos was wide left.  I am sure Wade Phillips spent a lot of time with the defensive players reviewing that final Carolina drive.  Regardless how you feel about Cam Newton, he is a dominate player and while the Broncos Defense didn't totally shut him down, they contained him enough to allow for a victory and that is enough.  
Overall, Trevor Siemian pleasantly surprised me despite two interceptions.  Looking back on the game, I thought he showed a lot of poise considering this was his very first NFL start.  What impressed me the most was his decision making when considering to run out of the pocket.
It definitely appeared to me Siemian stayed calm in the pocket and didn't resort to scrambling each time things broke down; when Siemian did decide to run, he ran just enough to get the job done or achieve what he needed to do – in other words, he didn't try to score a touchdown on every play.  
While Siemian has a long way to go, and I am sure there will be future games where he struggles, for now, I am content with him leading this offense.
San Diego Chargers at Kansas City Chiefs: I don't know what disappointed me the most, the fact that the San Diego Chargers let a 24-3 lead evaporate, or the fact that so many diehard Chief fans, either left Arrowhead early or quit watching on tv and missed the greatest comeback in the Chiefs history!  
I have a rule that I never leave a Bronco game early or quit watching because you never know what you may miss.  I even sat through the entire Super Bowl XLVIII debacle!  Oh well, I will make mental note of this and bring it up when Chief fans claim to have the best fans in the league.  
Don't get me wrong, I am frustrated in Denver when Bronco fans leave early because it appears the game is over. What are you going to do, beat the traffic?  
Look around you, a lot of people are leaving early.  Be a fan, even if your team is getting blown out – they can't win them all!  Kudos to this Chief fans who stuck it out and witnessed a fantastic comeback/finish.
Why Trevor Siemian Can Thank Tyrod Taylor For Shot
While I may have hinted that San Diego lost this game, more than Kansas City won it, I will give credit to the Chiefs players for not giving up (like some of their fans) and battling back, not only to get back in the ball game, but to ultimately win it in overtime 33-27.  I am sure at some point in this game, players and fans alike probably felt the momentum switch once and for all, making it appear like San Diego couldn't stop Kansas City, and Kansas City couldn't be stopped.
As if the day wasn't hard enough for the Chargers due to this loss, losing Keenan Allen for the season due to a torn ACL may sting a bit longer.  Allen suffered the injury as halftime was approaching when he planted his right knee.  Last year Keenan Allen's season also came to an early end in week eight due to a lacerated kidney.
Oakland Raiders at New Orleans Saints:
At the end of the third quarter the Raiders found themselves trailing the Saints 24-13.  At that point in the game it certainly appeared that the high expectations put forth by Raider Nation would somewhat be dampened by a loss to open the season.  
Thanks to three touchdowns (two on the ground and one in the air), the Raiders found themselves trailing the Saints by a point 34-33 late in the fourth quarter.  Following the touchdown that put the Raiders within a point, the easy way out would have possibly been to attempt the extra point and tie the game, but Jack Del Rio made the decision to go for two and take the lead.  
Derek Carr's pass to Michael Crabtree was successful and no doubt, and will be included on the 2016 Raiders highlight film once this season concludes.  It is only week one and there is a lot of football left to be played but the decision to go for two, and the fact that the Raiders were successful, could propel this team, which is unfortunate considering they are the Broncos biggest rival.  
I will point out though that after the two point conversion putting the Raiders up 35-34 New Orleans did get the ball back and drove down the field and attempted to kick a 61-yard field goal to win the game but it was wide left.  
This was only week one and what a week it was for the AFC West – a rematch of last years Super Bowl coming down to a missed field goal, a comeback and overtime in the only game featuring two AFC West teams head-to-head, and a comeback plus a gutsy call to take the lead followed by a missed field goal that would have changed the outcome of the game.  If the remaining sixteen weeks are remotely close to week one, football fans are in for a treat.
Go Broncos!
This article originally appeared on