DeMarcus Walker Emerges as Edge Rusher Prospect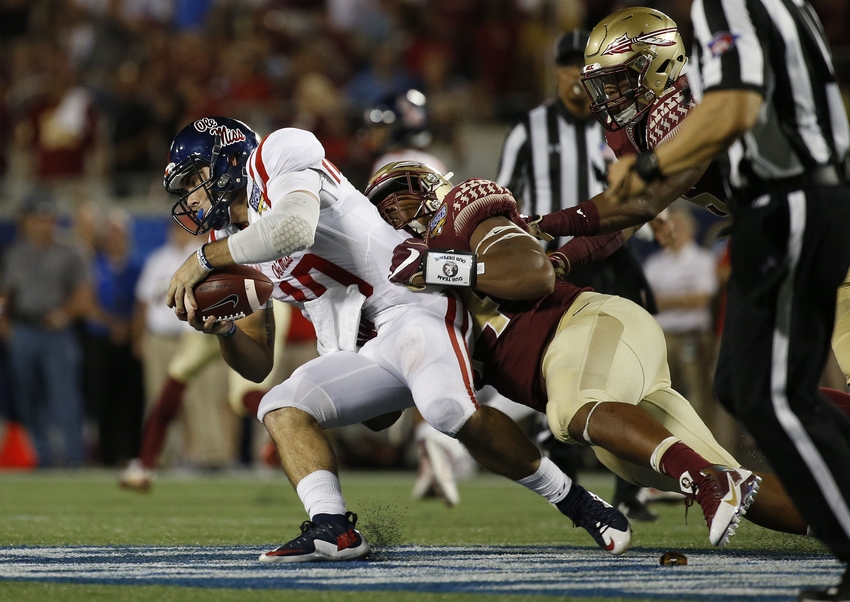 DeMarcus Walker is a top NFL prospect now!
Florida State Seminoles defensive end DeMarcus Walker broke out as a junior last year. He finished the 2015 season with 15.5 tackles for loss, 10.5 sacks and four forced fumbles. But the Draft Advisory Board didn't tell him what he wanted to hear afterward.
So he senior returned to school to show NFL scouts that he is indeed a top NFL prospect. Going into this season, he still wasn't very high on a lot of draft boards. But Monday night against the Ole Miss Rebels, Walker put the whole scouting world on notice.
The 6'3″, 280-pounder showed a combination of power, speed and hand-usage that makes him intriguing. When he lined up inside at tackle in passing situations, he was virtually unblockable. He was too strong and to fast for Ole Miss' guards.
On some plays, he used his outstanding quickness and hand-fighting moves to slip past them. On others, the used his unusual power for a man that size to simply toss these guards to the turf. The results for the interior defensive lineman was the stat-line of and edge rusher.
On the night, he had six tackles, 4.5 tackles for loss, 4.5 sacks and a forced fumble. And this is against No. 11-ranked Ole Miss on a national television stage. So he is definitely a player to watch for the rest of the season as his skill set is a lot like Aaron Donald's. 
More from With the First Pick
This article originally appeared on