Delusional Jeff Fisher Blames Defense for Rams Offensive Woes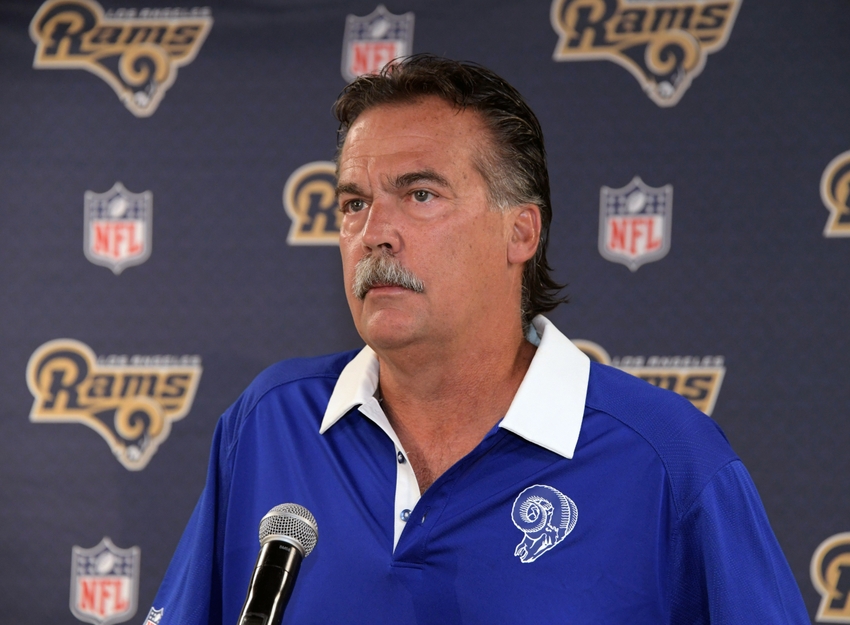 Los Angeles Rams head coach Jeff Fisher has laid some of the blame for the struggles of his offense at the feet of the team's defense.
Los Angeles Rams head coach Jeff Fisher showed delusion at its finest on Thursday when he partly blamed his defense for the struggles of his offensive unit.
Fisher was on the Mason and Ireland Show in Los Angeles when he was asked about the offense keeping up its end of the bargain this season. Instead of bashing his inept offense, Fisher actually mentioned the defense as a reason the offense isn't doing well:
Well, you've got to tell them they've got to play better. We've gotten one turnover in the last three weeks defensively. So you can imagine, had we been able to pick up two or three here or there…you know short fields for offense, extra possessions for offense when it's struggling, it's the difference. You know, you can't ever say your defense is playing good enough to win, because they can always play better. So that's what we've been stressing.
Shoulda, woulda, coulda.
That's just insane. The fact that Fisher is even going into that long of an explanation as to why the defense is hurting the offense is ludicrous, especially in the past two weeks.
The Carolina Panthers and New York Giants scored a combined total of 30 points against the Rams in those two games, while Case Keenum and company have only mustered up 20. How about the offense just does its job and score some points?
Yes, the Rams defense ranks 14th in takeaways, but that isn't exactly horrible.  It also doesn't hurt that the team's best player, Aaron Donald, resides on defense as an elite lineman in the NFL.
Let's also talk about defensive ranks. Los Angeles' per game ranks are as follows: 12th in points allowed, eighth in total yards, ninth in passing yards and 11th in rushing yards. On offense: 32nd in points, 31st in total yards, 23rd in passing yards and 29th in rushing yards.
Have there been some bad games on defense? Absolutely, as is the case with even some of the best defensive teams in the league.
But hey, Jeff, let's not talk about Case Keenum being dead last in total QBR, Todd Gurley's declining number of carries and his average of 3.1 yards per carry, and the poor offensive line you've built.
None of that is important; the defense just needs to step up.
Nothing else needs to be said about this. It's hard to believe anything that comes out of Fisher's mouth nowadays. The #FireFisher crowd may have just gained some new members.
This article originally appeared on