Day 2 wrap: Uh, are the Texans going to get a quarterback?!
Day 2 of the NFL Draft revealed something NFL fans already knew: The NFL is a passing league. In the first three rounds, teams took 15 wide receivers and five quarterbacks compared to just seven running backs.
Let'€™s recap what went down on Friday:
Houston was not all that excited about this year'€™s quarterbacks
The Texans desperately need a passer. You may have read somewhere that the three quarterbacks they had in minicamp were Case Keenum, T.J. Yates and Ryan Fitzpatrick. The good news was that Houston had the No. 1 and No. 33 overall picks.
And the Texans took a defensive lineman and an offensive lineman.
You can hardly rip Houston for taking Jadeveon Clowney at No. 1, and it'€™s not like there'€™s something wrong with taking UCLA guard Xavier Su'€™a-Filo with the first pick of the second round. It'€™s just that they missed out on Blake Bortles, Johnny Manziel, Teddy Bridgewater, Derek Carr and Jimmy Garoppolo; that just seems like an undeserved show of confidence in the Keenum-Yates-Fitzpatrick trinity.
Jacksonville is supporting Blake Bortles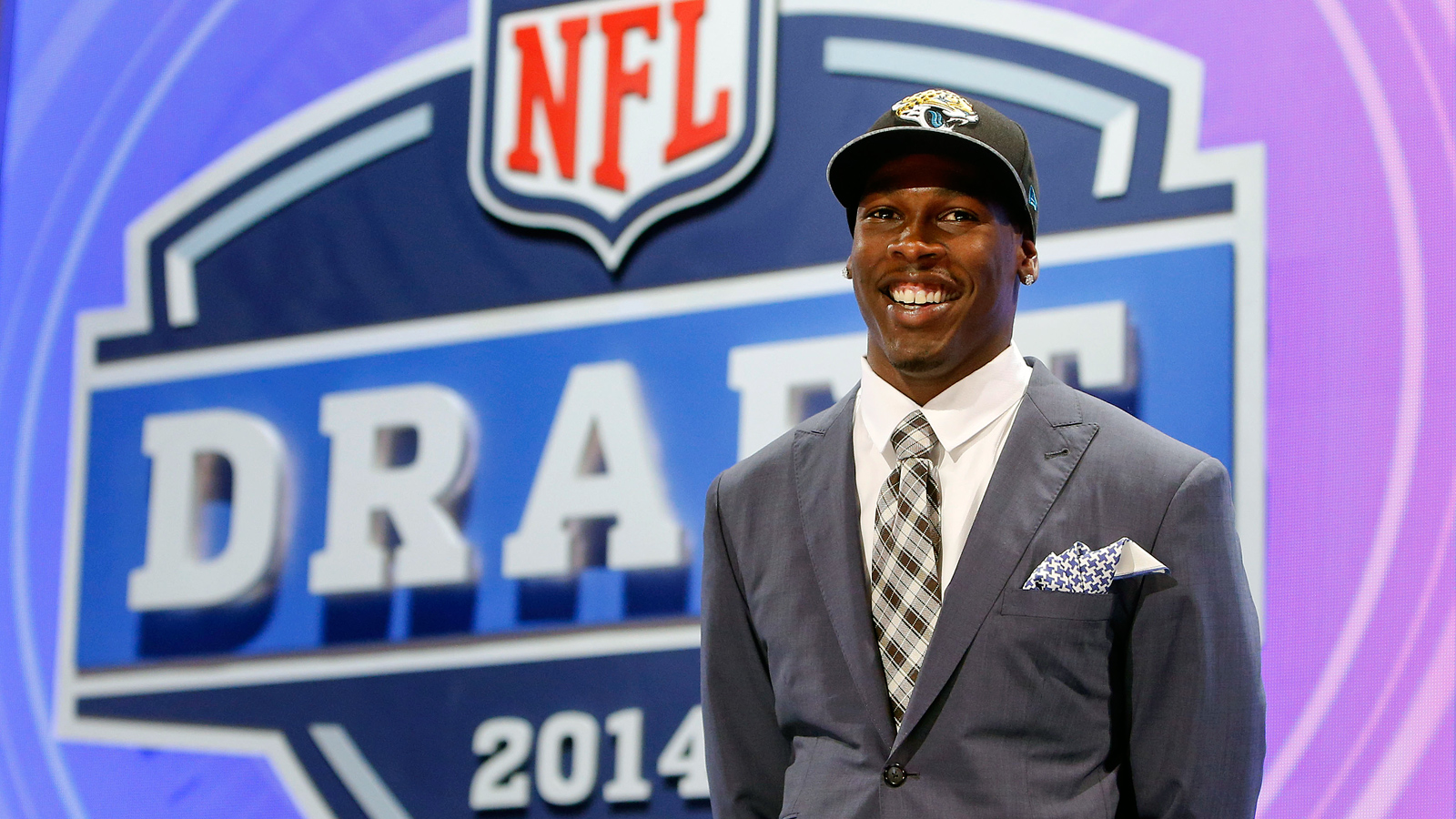 Remember when Marqise Lee was obviously the best wide receiver in America? That was true as of early 2013, which you'€™ll notice was not long ago.
Unfortunately for Lee, he played at USC, which was more or less a top-to-bottom debacle in 2013. Like everyone else associated with the program, his stock fell and here he is, a second-round draft pick.
Taking a receiver was a logical move for Jacksonville as it grabbed Bortles with the No. 3 overall pick. The Jags have holes all over the field, but Bortles must be happy to have a playmaker to work with.
Then the Jags did it again, taking another big-play receiver in Penn State'€™s Allen Robinson late in the second round.
Brad Meester wore a camo sport coat.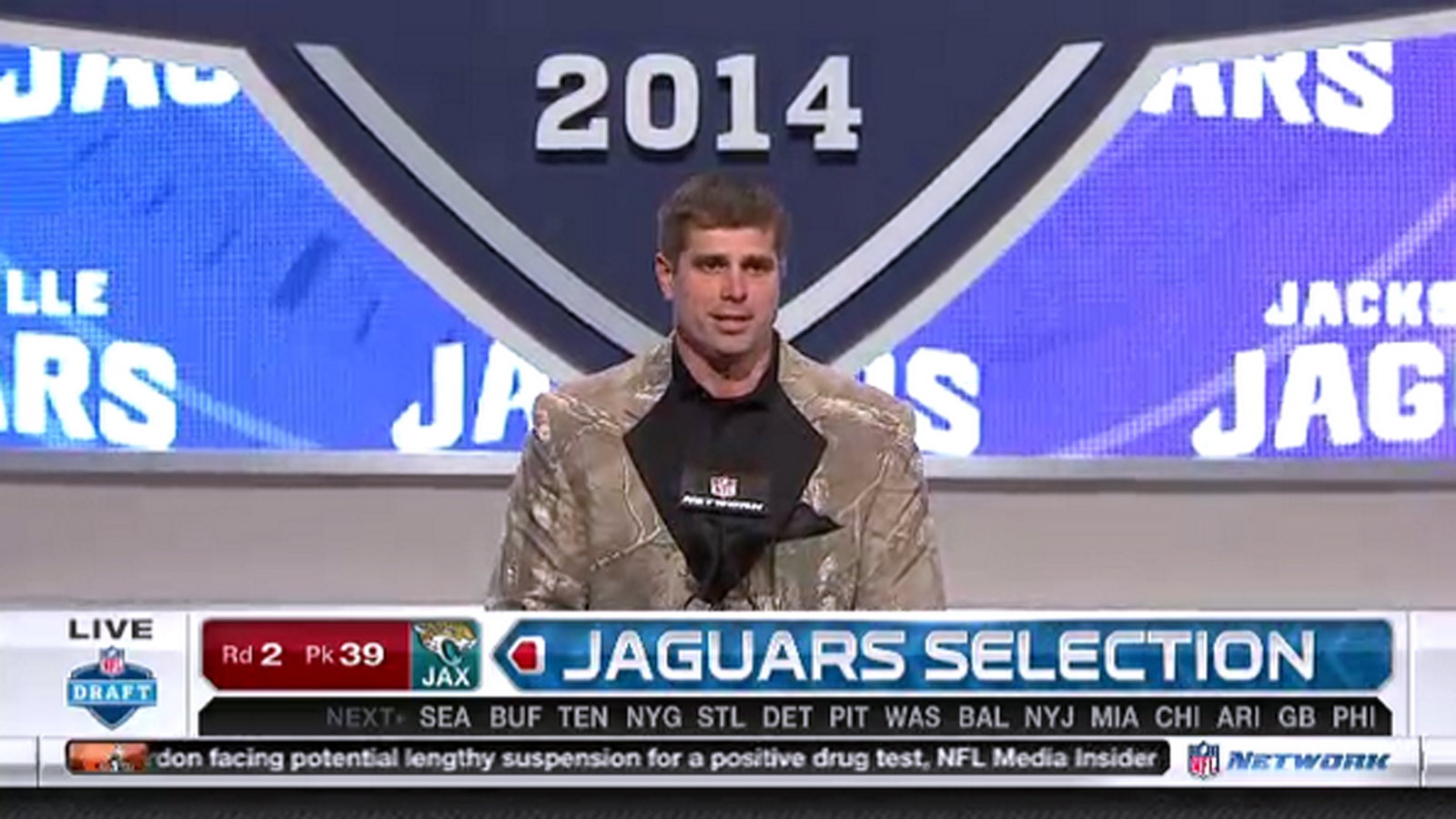 Wooooooooo hooo! Play somethin'€™ country.
It took 54 picks for a running back to come off the board.
Running backs have seemingly been tumbling down draft boards every year since 2003. Last year, the first running was taken at No. 37, which was a record. Tennessee set a new mark by taking Washington'€™s Bishop Sankey at No. 54.
Running backs have short careers and they are increasingly seen as interchangeable in a league that skews more toward the passing game every year. But there is something incongruous about this. Once the games start getting played in September, running back immediately becomes a glamor position once again.
It could just be that this was a particularly weak draft for running backs, but that feels like an inadequate explanation. A decade worth of rules changes and offensive evolution has put the market for the position in the tank.
Cody Latimer didn'€™t wear a suit.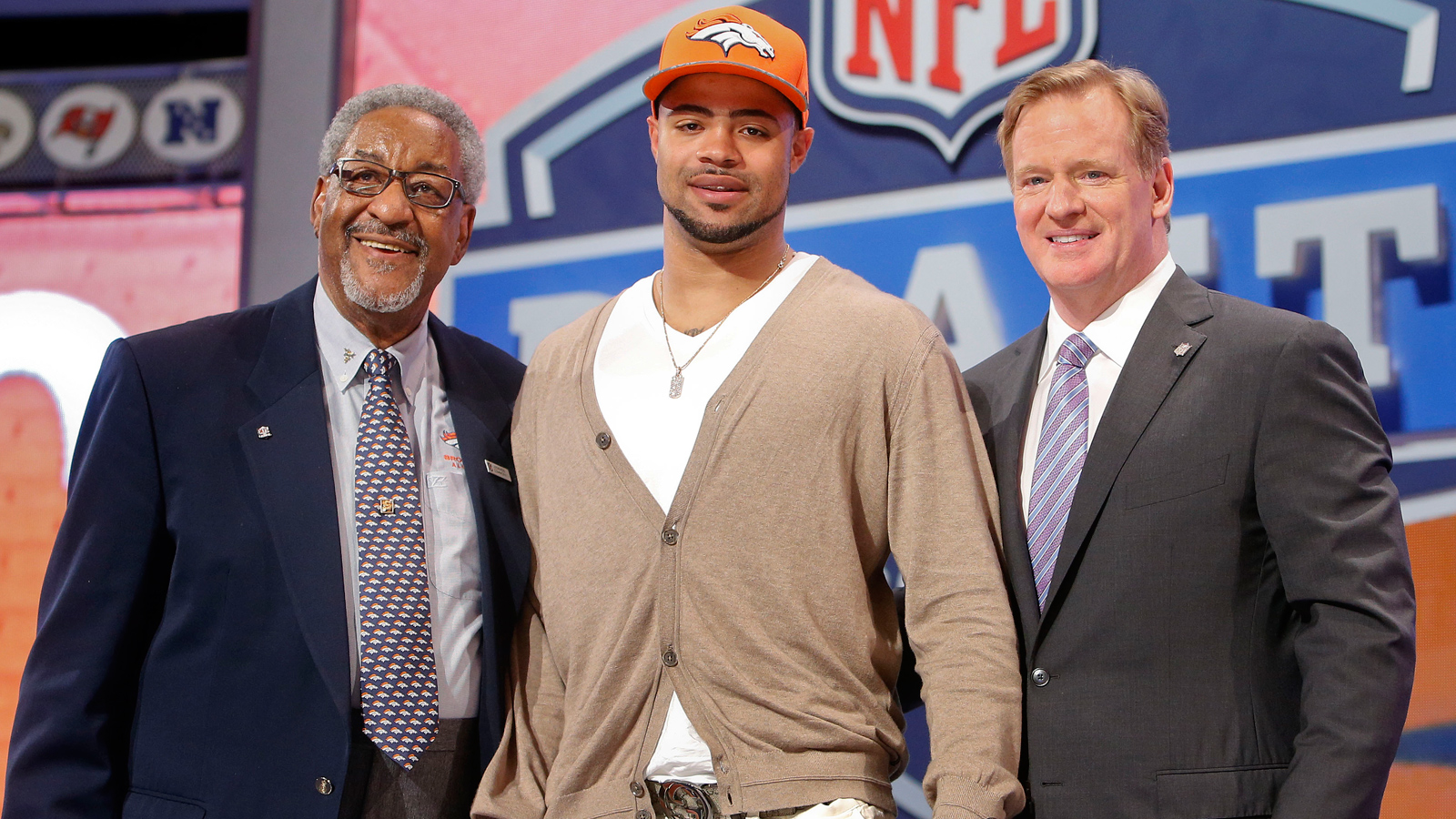 Latimer, a wide receiver from Indiana who Denver took in the second round, went with a cardigan over a t-shirt, and looked stylish doing so. Extra points for not taking himself or the event too seriously. This is a football event, after all. This isn'€™t Wall Street.
Texas A&M coach Kevin Sumlin is having a great draft
Three Aggies players went in the first round before Charles Sims, a running back Sumlin coached at Houston, became the fourth running back taken when he went 69th overall to the Bucs.
Derek Carr stayed closed to home, kinda.
You remember David Carr, right? That'€™s Derek'€™s older brother, who was the first overall pick in the 2002 draft as well as the first pick in Houston Texans'€™ franchise history.
David'€™s time in Texas did not go well.
Most people thought the Texans wanted Teddy Bridgewater, and that group apparently included the Minnesota Vikings, who knew Houston had the first pick of the second round and traded up to get Bridgewater with the last pick of the first round.
That left Derek Carr as the logical choice for Houston, which is where he spent his teens when his family moved to Texas to be close to David.
Well, there was a lot of baggage with David, and the Texans passed. Derek ended up being taken by Oakland on Friday, and it'€™s a stretch to call this a hometown pick. Sure, he went to Fresno State and his family is native to California, but calling it '€œhome'€ is a little misleading.
Tre Mason finally got drafted
Mason ran for 1,800 yards and 23 touchdowns in the country'€™s best football conference, helping Auburn to the BCS National Championship Game and becoming a Heisman finalist.
None of this means anything.
The Rams took him with the 11th pick of the third round, making Mason the fifth running back taken and making four NFL teams the only people in the world who thought there were four college running backs better than him.
The Steelers got the fastest guy in the draft.
Dri Archer ran a Combine-best 4.26 in the 40-yard dash. That'€™s pretty good, but he'€™s a classic Little Fast Guy. Archer, who played running back (and not all that productively) at Kent State is 5-foot-7, which makes him more of a return man/slot receiver/gimmick dude.
If you follow the Steelers you'€™ll read a bunch of stories about '€œgetting Archer touches'€ and '€œfinding Archer a spot in the offense,'€ but it won'€™t work out because it never does with these guys. That is, unless they return punts for touchdowns.
At that point in the draft, the Steelers figured he'€™s worth a shot. Just don'€™t get your hopes up.
A Division II guy got drafted!
It was John Brown, who coincidentally shares the name of a famous Abolitionist. Brown went to Pittsburg State. That'€™s Pittsburg, Kansas, not Pennsylvania. You can tell because it doesn'€™t have the H. Anyway, Brown is a small, fast guy. He'€™s 5-10 and runs the 40 in 4.3, so you can imagine him returning kicks and catching bubble screens and such.
This is a big leap from D-II to the NFL, but for whatever it'€™s worth the conference Brown played in — the MIAA — is the best D-II conference in the country. Cary Williams (Philadelphia) and Michael Wilhoite (San Francisco) both played in that league, so this pick didn'€™t come out of nowhere.