Darius Slay Proving Worthy of Extension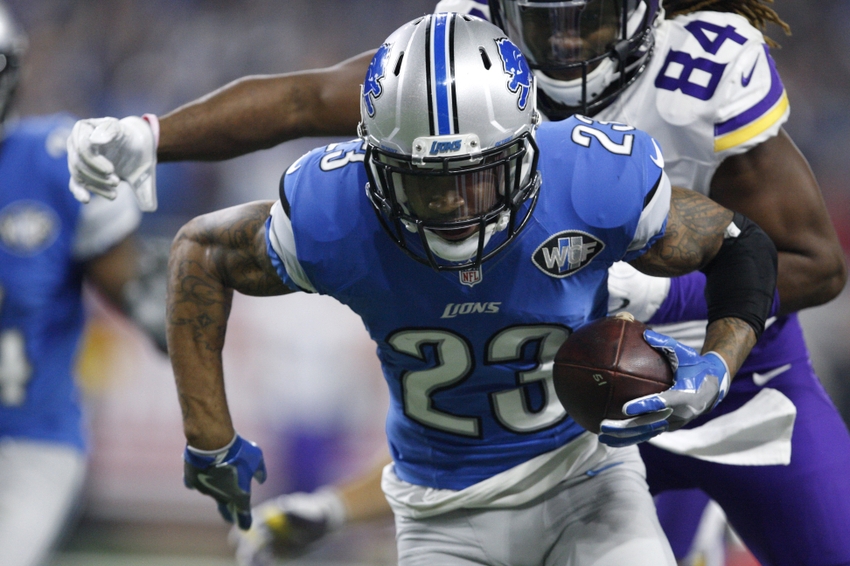 "Big Play Slay" has lived up to his nickname in 2016.
Darius Slay was given a 4-year, $50.2 million dollar extension before the season, ensuring the young corner will a Lion through the year 2020. The Lions sit at 7-4, in large part due to Slay's high-level play at defensive back. In last week's win over division-rival Minnesota, Slay picked off Sam Bradford in the final minute to allow Matt Prater to kick the game-winning field goal.
It was a huge play but something that has become expected for the 25-year-old who seems to be bordering on elite. Earlier this season, he picked off Carson Wentz to give the previously undefeated Philadelphia Eagles their first loss of the season. People around the NFL have taken notice.
It's not just the big plays that have made Slay's 2016 campaign so impressive. He's making the routine play, something he didn't do consistently during his first season and a half in Detroit. Teams have been targeting him less as a result. Through the nine games he's been active this season, he has 29 tackles, 2 interceptions, 10 passes deflected, 1 sack and 1 forced fumble.
For years, the Lions struggled to find a competent corner. Alphonso Smith had moments but never seemed to recover after Tom Brady embarrassed him on Thanksgiving. Bill Bentley never developed into what the Lions were hoping and Rashean Mathis played well but was at the tail end of his career when he arrived in Detroit. Finally, the Lions have some young pieces at corner, with Nevin Lawson and Quandre Diggs both improving as this season goes on as well.
Giving Slay the extension was one of the first major moves that new GM Bob Quinn made in the offseason. He signed Marvin Jones, who's been a welcome addition with a team-leading 730 yards and 4 touchdowns. Both free agent moves are proving to be wise investments. You can say the same thing about Quinn's first NFL draft. Most of his draft picks have played important roles in 2016.
1st-round pick Taylor Decker looks to have a bright future at left tackle. 3rd-rounder Graham Glasgow has stepped in at left guard and helped take over for a struggling Laken Tomlinson. A'Shawn Robinson has been up and down, but is looking increasingly comfortable. And as I wrote last week, Miles Killebrew has made some major plays over the past two weeks. All of these players have been better than expected this year. Darius Slay, however, was expected to be great and thus far, he's made the monster extension look like money well spent.
Follow SLR Editor Matt Urben on Twitter @MattUrben88
More from SideLion Report
This article originally appeared on