Dallas Cowboys: Will Tony Romo Play in Week 10?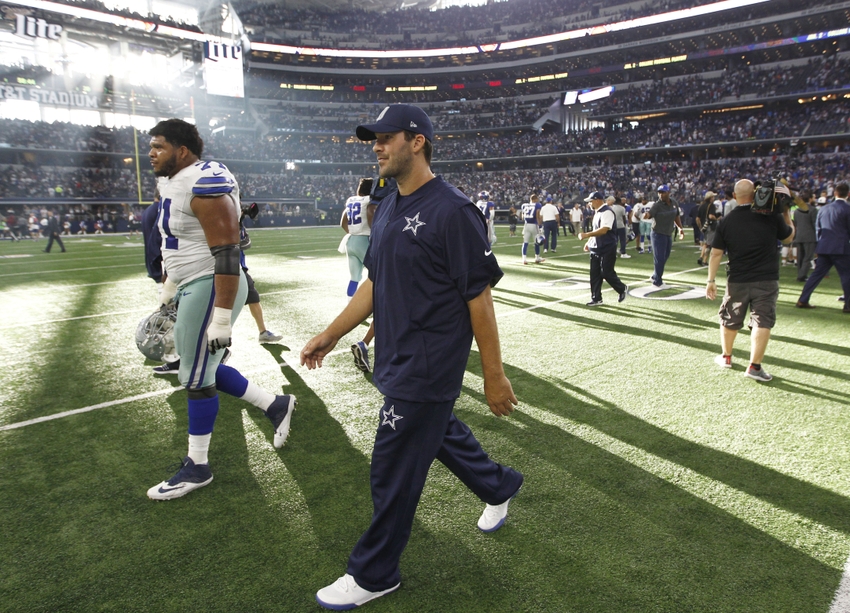 It's looking more like the Dallas Cowboys could face their quarterback controversy with Tony Romo sooner rather than later.
The Dallas Cowboys have been rolling. When they started Week 1 of the 2016 NFL season with a heartbreaking loss, everyone thought it was about to be more of the same without Tony Romo. Seven consecutive wins later, that was just the prelude to rookie Dak Prescott's coming out party (in addition to Ezekiel Elliott's). However, the dark cloud over all of this has been the potential return of the veteran Romo.
Romo injured his back in the preseason and has been out ever since, recovering and rehabbing to try and get back on the field. But as the wins have piled up and Prescott has improved at an exponential rate, the need for Romo's return has lessened tremendously. Now, it's to the point where the Cowboys have a viable quarterback controversy on their hands. And they could be forced to make a decision quite soon.
On Wednesday ahead of Dallas' Week 10 matchup with the Pittsburgh Steelers, Romo practiced as a full-participant for the first time since his injury (per Ian Rapoport of NFL.com):
For the first time since his back injury, #Cowboys QB Tony Romo was listed as a full participant in practice.

— Ian Rapoport (@RapSheet) November 9, 2016
Obviously this is a sign that his health is back to playing-level, but the Cowboys now wait for him to get to 100 percent. This assumption was confirmed by ESPN's Ed Werder. Werder reported that the decision to play Romo is now based on when the coaches clear him, not the doctors:
Sources: When Tony Romo dresses in uniform and available to play for #Cowboys has moved from medical decision to coaching decision.

— Ed Werder (@Edwerderespn) November 9, 2016
Of course, this now begs the question of if Romo will be active and play in Week 10 against the Steelers.
As far as playing goes, I doubt he's going to see any action. Simply for the sake of rust, you'd have to say that wouldn't happen—and that doesn't even factor in the Prescott controversy. However, it's looking increasingly that he could be active. For now, though, it's just something to keep an eye on as things heat up for America's Team.
More from NFL Spin Zone
This article originally appeared on