Dallas Cowboys will not rush Tony Romo back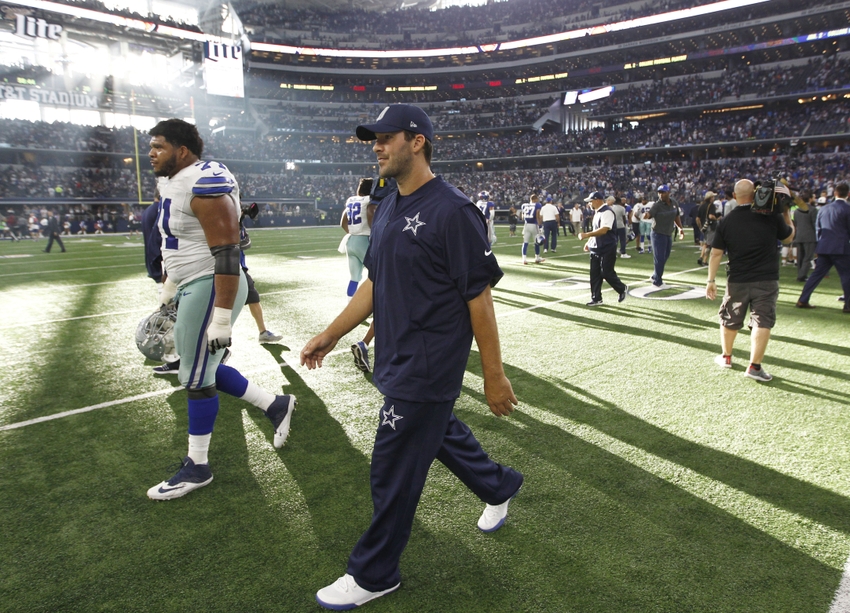 After trying to rush veteran quarterback Tony Romo back too soon after an injury last season, the Dallas Cowboys will not make the same mistake again in 2016.
Last season, the Dallas Cowboys tried to rush then 35-year old starting quarterback Tony Romo back onto the playing field following a collarbone injury he suffered in Week Two. The result was Romo being placed on IR after suffering yet another shoulder injury in Week 12, having played in only two games in his return and just four total contests for the season.
So when Romo suffered a compression fracture to his L1 vertebra in his back in their third preseason game this year, the Cowboys adopted a different mentality. Instead of banking their season on the veteran's return, they decided to move forward, in a sense, without him. Dallas refuses to pine over what they have lost, instead focusing on the present and the future.
Making that possible has been the excellent play of rookie quarterback Dak Prescott. Over three preseason games, the fourth round pick out of Mississippi State shocked the NFL world. Throwing for 454 yards and posting seven total touchdowns, Prescott's maturity and poise in the pocket was the talk of the league heading into the regular season. His steady play has afforded the Cowboys the opportunity not to repeat their mistakes from last season.
"Every injury is different," Cowboys executive vice president Stephen Jones told the Dallas Morning News. "Everybody wants to say, 'Well, we rushed [Romo] back last time and he got hurt.' I think unfortunately it was a tough lick there that happened to hit him just right again. At the same time, unless he's ready and the doctors feel like he's ready to go, we won't push it."
If Prescott continues to play well, the Cowboys shouldn't be in a rush to install Romo under center. But make no mistake, this is Tony's team. It would take an Pro Bowl-caliber season from the rookie passer in order to dethrone Romo this season. But Dallas will not be pressed to start the veteran too soon as long as Prescott keeps improving…and winning.
This article originally appeared on