Dallas Cowboys vs. Vikings: Six Things To Watch For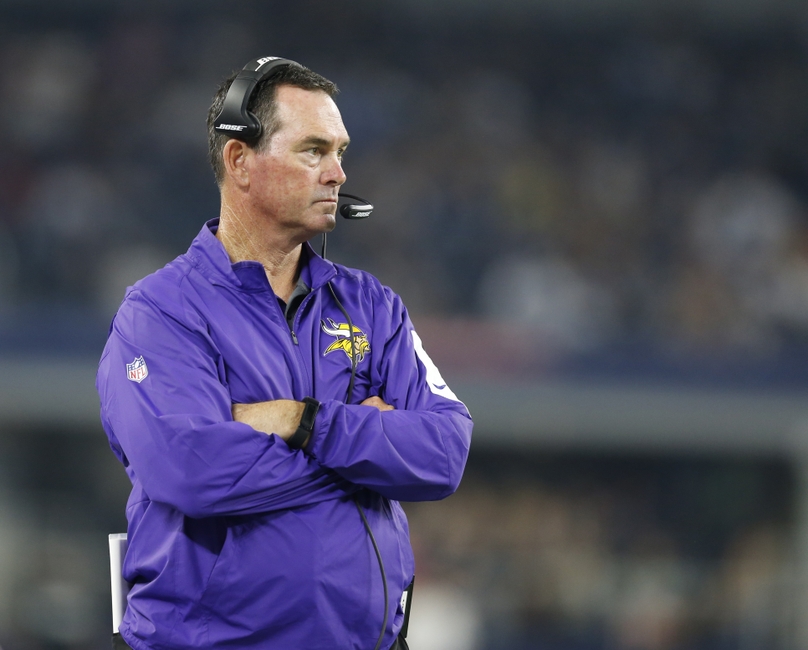 It's December NFL time! Here are six things to watch for as the 10-1 Dallas Cowboys battle the 6-5 Vikings in Minnesota's new digs, U.S. Bank Stadium.
Football is an incredible sport.
With 16 games on the docket, anything can happen. The Dallas Cowboys started out with a scare back in August. Quarterback Tony Romo was out; the future was uncomfortable to predict, to say the least.
For the Minnesota Vikings, head coach Mike Zimmer confronted journalists about losing his quarterback, Teddy Bridgewater, for the season. In comes Sam Bradford from the Philadelphia Eagles at the cost of a first round pick.
The Vikings go 5-0 to boot the season. The Cowboys have a hot streak of their own during that period of time, going 4-1.
The two squads are now in different timelines.
Dallas is reaching for history markers, looking at a 11-1 start and a firm grasp on the NFC home field advantage pass.
Meanwhile, the Vikings are battling the Detroit Lions and Green Bay Packers for the NFC North crown. A win would push Minnesota to a 7-5 record, while gaining on the current division leader, the Lions, who have a 7-4 record.
The Vikings need this one more than the Cowboys do.
Dallas has set themselves up nicely heading into December football. But that doesn't mean they'll take a week off, especially against a team loaded with wide receiver talent and a defense coached up by one of the NFL's premiere gurus.
Once thought as the NFC Championship Game preview (it could still roll that way too), this Thursday night game between the Vikings and Cowboys could be a real big draw for the NFL since, well, the last Thursday game between the Redskins and Cowboys on Thanksgiving.
Now on to the list. Here are six things to watch for when the purple and blue clash.
Enjoy the list.
1. Mike Zimmer can't go home, so the Cowboys will come to him
I've always thought coach Zimmer was head honcho material. What took the rest of the NFL so long to recognize this man's talent is beyond me.
But oh well. Here we are.
There's no other way to put it: Zimmer made the Cowboys defense great during his span with America's Team from 2000-2006. He knows Tony Romo. He knows Jason Witten.
We know Terence Newman, the Cowboys former first rounder in 2003 during the Bill Parcells era, who will be facing his former team.
Zimmer knows great offensive lines. Unfortunately right now, he knows bad ones too.
Look for this coach to scheme against the great wall, finding seams and holes to get to Ezekiel Elliott and Dak Prescott.
I'm interested to see if Zimmer somehow channels what the Eagles did previously to Prescott — make the young quarterback antsy and play like a rookie.
Chess match!
I wish things would have gone better for Newman in Dallas. Not that his days were bad, but I never considered him worthy of the fifth overall pick in 2003. But still, he was a solid player for the Cowboys.
Let's see who has a better day: Newman or the Cowboys' cornerbacks. I think this game will come down to turnovers, and the Cowboys haven't got one of those things since…
I can't wait to see the 38-year-old Newman run around. Zimmer has found a way to stretch his legs and keep those tires inflated. Newman has held his own over the years.
The last time he faced the Cowboys was on December 9th, 2012. The Cowboys stole that game, 20-19. He had three tackles that day.
Dez Bryant and Newman will be fun to watch. Bryant has really turned it on as of late; it'll be interesting how the old man squares his shoulders against an elite wide-out on primetime television.
With all the Mike Zimmer talk already, this game will be about rookie Dak Prescott against guru Zimmer.
Since "earning" the QB one spot in Dallas as Romo mentioned in his speech, Prescott for the year has nearly 3,000 yards passing, 18 touchdowns against two interceptions and a rating of 108.6.
Dak averages 8.34 yards per pass, completing 67.9 of his throws.
He also has a QBR of 87.0. 180 rushing yards and five rushing scores helps his stat lines too.
Prescott. Zimmer. Rookie against the master.
I like Prescott booting left and right all day.
Dak earns a pair of rushing scores, boosting his stats to seven overall rushing TDs.
I see a lot of play-action.
4. Cowboys' secondary get playoff tested, but will they get approved?
We talk so much about Dallas passing test after test, week after week.
But specifically this Thursday, the Cowboys' secondary will have to come up with a great game to cover the Vikings receiving core.
And they'll need to step up considering how Kirk Cousins earned some money off them last week during the Thanksgiving rumble.
The final score was 31-26, Cowboys over the Redskins, but Cousins sliced and diced the defense.
Want your voice heard? Join the The Landry Hat team!
He finished the game with 449 passing yards and three touchdowns.
The Cowboys secondary can't have another week like that.
Sure, a little quarterback pressure would be nice. But you know what else would be nice?
Morris Claiborne back in uniform.
That won't be the case for Thursday, so let's see how this secondary changes it up, if even at all.
Gasp!
5. Sam Bradford: The story of Two-Face
The quarterback is having a good year. Here's what his ratings were in his last five games:
• 88.6 | @Bears
• 103.4 | Lions
• 104.9 | @Redskins
• 98.7 | Cardinals
• 80.6 | @Lions
For the year, he has thrown for 2,415 passing yards, 12 touchdowns against three interceptions, and owns a quarterback rating of 98.3. He's completing 71.3 percent of his passes.
But he is 5-5 as a starter this year. He's been sacked 26 times.
This could spell trouble for Bradford. The Cowboys are on the look out for some sacks and turnovers. Bradford might have the Dallas defense hungry and thirsty at the wrong time.
6. Ezekiel Elliott goes over 1,300 yards against the men in purple
He is the talk of the town.
The marquee player.
And the Vikings better find a way to plug the holes or else it's a long, long night for Minnesota.
Elliott missed the 100-yard mark the last two games against the Ravens and Redskins, earning 97 rushing yards in both of those contests.
That changes against the Vikings.
Prescott uses Zeke to best Zimmer.
Zeke will run.
Zeke will catch.
And there's not much anyone can do about it.
Ezekiel will reach the century mark, crossing the 1,300 rushing yard needle in 12 starts.
He currently has 1,199 rushing yards to his name.
This article originally appeared on