Dallas Cowboys vs. Chicago Bears: A Quick Game Preview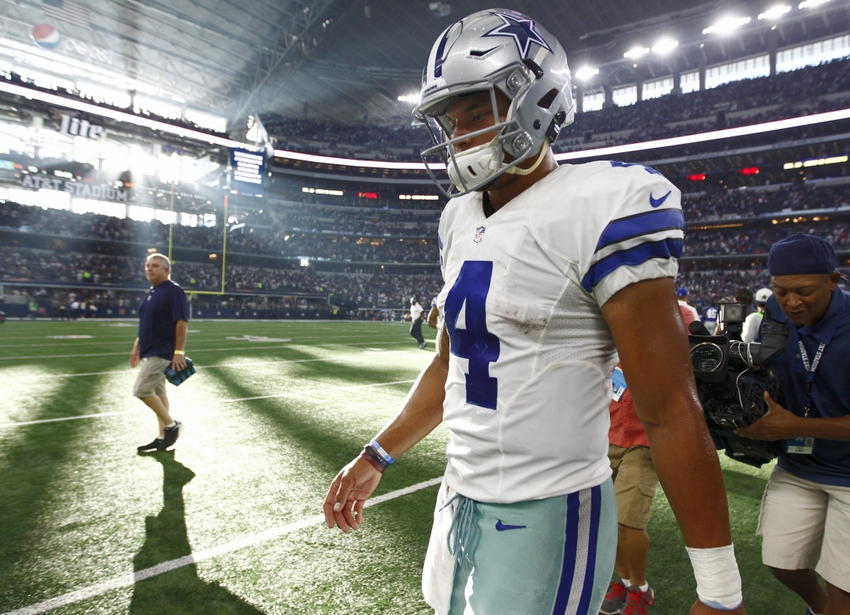 We preview the Dallas Cowboys Week Three matchup as they host the Chicago Bears on Sunday night at AT&T Stadium in Arlington, Texas.
The Dallas Cowboys will host the Chicago Bears on Sunday, in a game between two teams that are heading in different directions to start the season. The Bears put on an uninspired performance on Monday night against the Philadelphia Eagles, losing several key players in the process.
On the other side, the Cowboys won ugly in their road trip to the nation's capital, coming away with a 27-23 win over the Washington Redskins. We take a look at the storylines for both teams heading into Week Three.
Starting with the Bears, their underwhelming performance against the Philadelphia has them sitting at 0-2 with no relief in site. Starting quarterback Jay Cutler and running back Jeremy Langford each had poor showings capped with a turnover apiece. Their defense gave up 29 points to a rookie quarterback in Carson Wentz, and couldn't force a single turnover.
On the other side, the Cowboys managed to score 27 points on the road with a rookie-led offense. They learned from their mistakes of Week One, taking a few more aggressive risks, and actually making Dez Bryant a key part of the offense.
Bryant rewarded that adjustment by racking up 7 receptions for 102 yards, giving the offense a jolt that didn't have in the season opener. If the team wants the offense to run close to it's potential, Dez needs to be the centerpiece of this unit.
Looking at Chicago's offense, the Cowboys won't have to game plan for quarterback Jay Cutler, but they definitely should not look past backup Brian Hoyer, who was solid last season, and can't possibly play worse than Cutler has in his limited playing time this season.
Langford has been average so far, and stud wide receiver Alshon Jeffery is questionable with a knee injury. The Cowboys defense has been impressive so far this season, so hopefully a softened up Bears offense will help them continue their hot streak.
Speaking of the Dallas defense, they managed to stand up when it counted last week, showing the "bend, don't break" mentality when the Redskins were in the red zone. The defensive unit also came up with a key stop at the end of game to seal the win; a situation many Cowboys fans have seen their team let slip away in the past.
That's a testament to defensive coordinator Rod Marinelli, who's put an emphasis on forcing turnovers, the team already has two interceptions this season, compared to eight total last season.
Changing gears to how the Cowboys offense matches up against Chicago's defense, the injury bug has bitten that side of the ball as well. Arguably their best defender; linebacker Danny Trevathan hasn't practiced due to a thumb injury. Their top cornerbacks Tracy Porter and Kyle Fuller have been limited in practice this week. Hopefully this defense will be nice and softened up for the young Cowboys offense, and hopefully Dallas can make it back to back wins Sunday night in Arlington.
This article originally appeared on