Dallas Cowboys: Top 5 Midseason Performers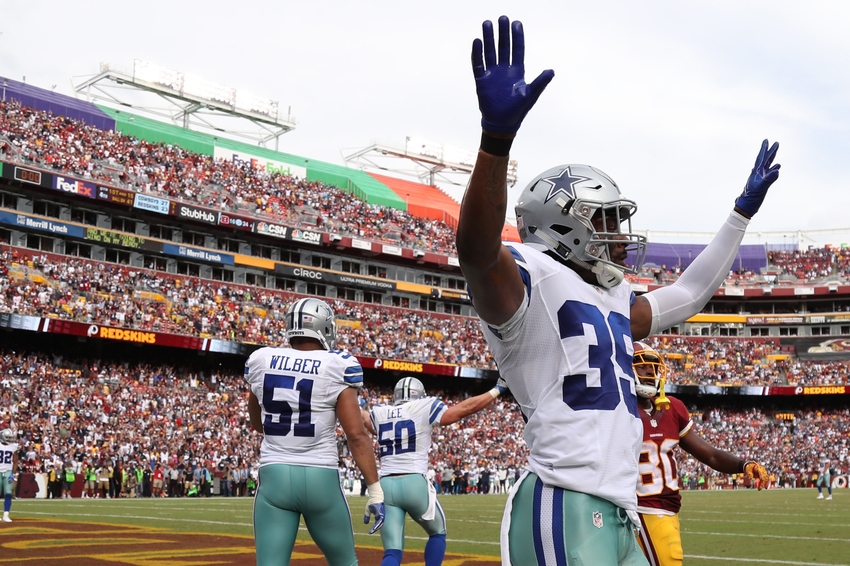 Sitting at 7-1, the Dallas Cowboys have a lot of players who have exceeded expectations. But who are the top-five performers at midseason?
The Dallas Cowboys are officially halfway through their 2016 campaign after finishing up their game against the Cleveland Browns in Week 9. The win against the lowly Browns was expected, but their record through eight games was not.
The road win was the seventh-straight for America's Team on a season in which many prognosticators were predicting complete disaster for them. Those predictions looked to be coming to fruition when starting quarterback Tony Romo went down with a broken bone in his back.
Cries were louder than ever as everyone destroyed the Cowboys executives for not getting a better backup quarterback option. The attention turned to them needing to make a trade for a veteran backup (like Josh McCown, who hasn't been dressing much himself in Cleveland due to injuries). The belief was there was no way they should they go into the season with rookie Dak Prescott as the starter.
A one-point loss to start the season against the New York Giants proved to satisfy those who prey on the Cowboys failures. It meant that head coach Jason Garrett should lose his job and that Prescott was simply a preseason wonder destined for failure. Also, their fourth-overall pick, Ezekiel Elliott was a bust as he had just 51 yards rushing on the day.
Of course all that noise is quiet now as Dallas is sitting pretty at 7-1—sorry about that, doubters. There are a lot of players to thank for this hot start, but here are the top five performers at midseason.
5. Brandon Carr, CB
Not a name Dallas Cowboys fans have been speaking of too highly in recent years. That is changing this year as former free agent prize cornerback Brandon Carr is having one of his better seasons while wearing the star.
He is playing in a secondary that seems rejuvenated after years of being berated. His fellow starter Morris Claiborne is also having a rebirth as the two of them have done well against big names at receivers like Alshon Jeffery of the Bears, A.J. Green of the Bengals, Odell Beckham, Jr. of the Giants and the duo of Jordy Nelson and Randall Cobb of the Packers.
Carr's numbers aren't exceptionally higher than Claiborne's. Carr has the edge in tackles (32 to 26) and pass deflections (six to five), and they are even with one interception apiece. For Carr, it was his latest pass deflection that really drew some praise. He followed explosive rookie Corey Coleman into the end zone and swatted the ball away at the last second possible.
What separates Carr from Claiborne, and ultimately lands him on this list, is his immense durability. While Claiborne has yet to make it through a full season, Carr has yet to miss a game in his nine year career. This fact also gives him the edge of saftey Barry Church for number five on this list as both Church and Claiborne are currently injured.
4. Cole Beasley, WR
Just like everyone expected. 5-8 receiver Cole Beasley is leading the team in receptions, yards and touchdowns. Okay, so maybe not everyone expected that, but on a team with receivers like Dez Bryant and Terrance Williams as well as tight end Jason Witten, it's Beasley who has been the most dependable so far in 2016.
With Dez Bryant sidelined for a few games with a hairline knee fracture, the Cowboys were in danger of struggling to move the ball through the air, much like their 2015 campaign when Bryant missed time with a broken foot. This season, Beasley jumped out of the gates trying to prove that the issue was the guys throwing the ball, not the ones catching it.
Beasley has recorded at least 53 yards receiving in every game this season. Through eight games, he has brought in 43 receptions for 499 yards and four touchdowns. He has been amazing over the middle of the field and is becoming one of the biggest third-down weapons in the league.
He needs 10 receptions, 37 yards and two touchdowns to set all-new career highs for himself. Should he continue to make so many great plays it will only open up the field more for deep plays to guys like Bryant and Williams.
3. Sean Lee, LB
Let's stick with team leaders here. Linebacker Sean Lee has been outstanding so far in 2016. After spending much of his career on the sidelines thanks to various injuries, Lee finally made it through most of the season last year as he played 14 games and notched 128 tackles.
In 2016, he's picked up right where he left off. Lee has played in all eight games for Dallas and has recorded a team-high 77 tackles. He has become the face of their defensive front seven. This group has seen a lot of change, and suspension as well.
Middle linebacker Rolando McClain and defensive end Randy Gregory are still serving long suspensions and they just got another defensive end Demarcus Lawrence back from his own suspension. Through all that uncertainty they have had to shuffle throughout the front seven, the calming force has been the veteran second-round pick out of Penn State.
Lee even proved that he isn't just helpful on defense. After rookie quarterback Dak Prescott threw the first interception of his career against the Green Bay Packers, Lee let the young signal-caller know he was in good hands according to Jon Machota of the Dallas News.
"I said, 'Hey, we got you. We're good. Just get ready to roll. We're going to get you this ball back,'" Lee recalled. "He's played at such a high level. He's made so many plays. Defensively, we know, don't worry about that. Move on because we're going to come out, we're going to find a way to get a stop and get you back. And you're going to have to go out and make plays, which he did."
Should Dallas be able to move forward in 2016, they will  need their defense to continue to shine. They also will need leader like Sean Lee to continue being a positive influence all over the field.
2. Ezekiel Elliott, RB
What a pick this was. Draft experts did the norm and laughed at Dallas for it, saying he was a good player taken at the wrong time. Such a statement makes no sense. If he's the guy you want, he fits your system, and will help you win—draft him.
That's exactly what Dallas was thinking when they selected running back Ezekiel Elliott fourth-overall out of Ohio State. They knew he would help the running game because he's a beast, the passing game by forcing defenders into the box, and even the defense by extended drives and keeping them fresh.
Elliott was the best running back in the draft by a landslide and that had to do with his relentless running style, ability as a receiver, and his pass protecting as well. Zeke is an all-around back who's already making a huge name for himself.
After eight games he has a league leading 891 yards rushing. The closest rusher to his totals is former Cowboys, and current Tennessee Titans running back, DeMarco Murray with 807. They both have seven touchdowns in addition to the great rushing totals, but the difference is Murray has played nine games to Elliott's eight.
After a slow start to the season, Elliott exploded for three straight games with 130-or-more yards on the ground. His latest game was a 92-yard outing where he rushed two touchdowns. He only had 18 carries in that one because Dallas had the game wrapped up before the second half kicked off.
1. Dak Prescott, QB
The number one performer for the Dallas Cowboys during their 7-1 start to the season has to go to the one guy responsible for saving not just this year, but perhaps the future. Quarterback Dak Prescott was a consolation prize for a Dallas team that tried in vain to get a veteran backup to Tony Romo after losing him for 12 games the previous season.
With Romo sidelined in 2015, the Boys went a pathetic 1-11 with Brandon Weeden, Matt Cassel and Kellen Moore taking turns at losing. Dallas spent the offseason studying quarterbacks like Jared Goff, Carson Wentz, Paxton Lynch, Connor Cook, and way down the list, Dak Prescott.
Team owner and general manager Jerry Jones even lamented their failure to get back into the first round and select Lynch, the Memphis quarterback who wound up in Denver. Out of the list of players they looked at, only Wentz has been able to establish himself as a starter, but the second-overall pick isn't having the success of the fourth-round compensatory pick, Prescott.
In eight games, Prescott has the 7-1 record as well as 2,020 yards passing with 12 touchdowns and just two interceptions. His quarterback rating through the first half is an outstanding 104.2. Prescott has also proven to be a dual threat, adding another 125 yards rushing and four touchdowns on the ground.
Most importantly he has given fans hope for the future. So much hope that there is now a real debate whether or not Romo should get another shot as the starter. That's a great argument for Dallas fans to hear after the depression caused by watching the backups struggle so mightily in 2015.
This article originally appeared on