Dallas Cowboys: Tony Romo's Legacy Now At Risk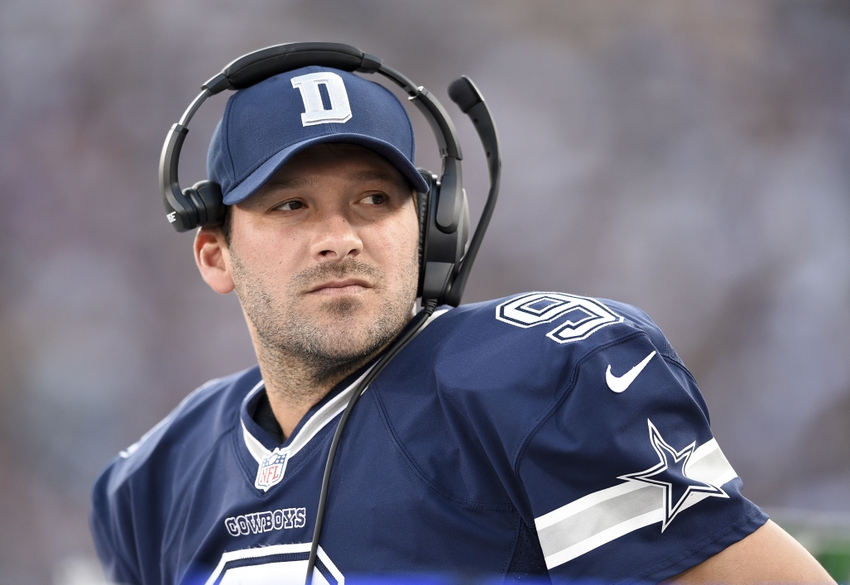 Our last memory of Dallas Cowboys quarterback Tony Romo should be hoisting a Lombardi trophy as Super Bowl MVP, not laying on the turf during a meaningless preseason game.
Well Jerry Jones, you've finally done it. You have all of Dallas Cowboys Nation elated with the recent eight game win streak. Winning has made our lives enjoyable. Mine in particular, because I enjoy trash talking with my friends. They're intelligent football fans, so most of them understood that our 4 – 12 season from 2015 was due to quarterback Tony Romo's absence.
Tony Romo – who recently gave an announcement in which he passed the torch and accepted being a backup to quarterback Dak Prescott. Romo fell on the sword and stopped you from making a controversial announcement. Romo may have accepted it and some of us already have, but many of us won't.
Who knew that last year's backup quarterbacks Matt Cassel and Brandon Weeden – okay, Kellen Moore too, but I'm still a Moore fan – would combine for a 1 – 11 record. I believed it when you told Cowboy Nation – "Weeden was a thing of beauty throwing the football" and how "we wouldn't see a more gifted passer."
Well, the Weeden experiment lasted three weeks and then you said we were lucky to get Matt Cassel. That "Cassel would take risks and not be so conservative", but the losses continued piling up. There was only one hope. There was a buzz in Cowboy Nation and with the NFC East title in reach, we all whispered – "Wait until Romo returns!"
During that time, we bought into your rhetoric about the Cowboys having a Romo friendly offense. After all, this team was built for Romo. I was there in Miami with my friends in a crowd of 65,000 that were mostly Cowboy Nation and heard the roar as Romo returned. That first pass – left handed to running back Darren McFadden was classic Romo.
Four days later, it was tough swallowing turkey after Romo was reinjured against the Carolina Panthers while trying to save our season. Hope was again lost, until Kellen Moore finally played. Well, I did mention that I'm a Moore fan, but by then it was too late. In the end, our pain would be eased with the selection of running back Ezekiel Elliott with the fourth overall pick.
Zeke has been as good as advertised. Romo, Elliott and wide receiver Dez Bryant, who was also returning from an injury, were called the next triplets. Unfortunately, Romo was reinjured during a meaningless preseason game. Thanks for making that call.
The blessing in disguise was quarterback Dak Prescott. Prescott has proven that this isn't a Romo-friendly offense. It would be nice for the outside receivers to be more involved in the offense.
This season, tight end Jason Witten has 63 targets and slot receiver Cole Beasley has 61. Prescott's success has shown how incompetent Weeden and Cassel were as NFL quarterbacks. Not Moore though, he's awesome.
Prescott's Leading Receiver By Game

Opponent

Player – Receptions

New York Giants

Jason Witten – 9

Washington Redskins

Dez Bryant – 7

Chicago Bears

Cole Beasley – 7

San Francisco 49'ers

Jason Witten – 7

Cincinnati Bengals

Terrance Williams – 5

Green Bay Packers

Cole Beasley – 6

Philadelphia Eagles

Cole Beasley – 4

Cleveland Browns

Jason Witten – 8

Pittsburgh Steelers

Dez Bryant – 6
Now we've won eight in a row and many would say – against questionable opponents – but we can only play who we're scheduled to play against. The victories are great! There aren't any members of Cowboy Nation that would prefer to be 3 – 6 right now. If that was our record, we all know that Romo would be starting. That's the reason Romo wasn't placed on injured reserve.
It has to be said that I like winning. I'm happy that Prescott hasn't played like Weeden and Cassel. Being a fan of Tony Romo doesn't mean that I am anti-Prescott. I like Tito's Vodka, but that doesn't mean I will refuse to drink pineapple Ciroc.
Having a preference doesn't equal hatred. It's possible to be a Romo fan and a Cowboys fan. I'm also a Witten fan and a Beasley fan. Let the record show that I asked the world to believe the hype and support Brandon Weeden – in fact, I did it TWICE!
Like many long time members of Cowboy Nation, I've witnessed every throw Romo has ever attempted. I was actually there, in Candlestick Park when he was injured in San Francisco against the 49'ers. It looked like his liver was knocked into his elbow after a hit.
They took him to the locker room and did the Mr. Miyagi healing technique from the Karate Kid (the original one from 1984) and Romo with a fractured rib, threw a pass in overtime for a 77 yard completion to wide receiver Jesse Holley that set up the win. I did mention that Romo had a broken rib and a punctured lung, right?
I was in AT&T stadium on October 27, 2014 when Romo was kneed in the back by Washington Redskins linebacker Keenan Robinson. Although we lost that game, you remember the roar of the crowd when he returned from the locker room?
Tony Romo's Injuries

2008
Broken Right Pinkie Finger
2010
Broken Left Collarbone
2013
Ruptured Disk
2014
2 – Transverse Process Fractures
2015
2 – Broken Left Collarbone
2016
Compression Fracture Vertebra
After every injury, Romo returned when he was healthy enough to play. I'm wondering what's different? I thought you wanted a backup quarterback that could win games. I guess we're lucky that Cassel wasn't given Romo's job after the win in Washington.
I would rather see Romo lose his job after going 7 of 45 passes for 31 yards in a loss against the Philadelphia Eagles. I would rather see Romo benched after the team starts a season 0 – 5. Right now, Prescott is winning  but Romo is the better quarterback.
It isn't crazy to prefer the man with 127 starts, 2,826 completions, 247 touchdowns, 78 wins, 34,117 yards, 4 pro bowls and 14 years of NFL experience.
Of course you're the genius general manager that doesn't realize people are laughing AT you when you say "My backup quarterback has 4 pro bowls and has an average salary of $18 million."
Nobody could blame you for announcing that Tony Romo is your guy, but having him pass the torch the way he did – Romo has shown true leadership. I couldn't do it.
Frankly, I'm having a hard time believing those were Romo's words. Romo doesn't have 30 game winning drives and 25 fourth quarter comebacks without being a great competitor.
Hate me for being emotionally invested in #9. I make no apologies for it when I've seen you rush to the field from the owners box to check on Romo. Is there any loyalty left? Any love?
Jerry Jones. You've made questionable draft picks, but I've never questioned your love for the Cowboys and your loyalty. You give our franchise the best of the best. In the past, you ruined the immediate future and kept us in salary cap hell by giving mediocre players monstrous contracts.
My friend Martin Hernandez reminded me – you've even stood by players with the worst off the field issues. Martin wrote:
"You can support a man that, though unintentional, killed another player. You can support a player that apparently beat his girlfriend. You can support players that repeatedly fail drug tests. But you can't support the QB that carried your team for years. The one you supposedly built this team for. The one that sustained the injuries he did trying to make this team great. You suck. I have no more respect for you. Go Cowboys!"
Martin is right. You've stood by Adam "Pacman" Jones, Greg Hardy, Rolando McClain and shown support for Randy Gregory. I was in Cincinnati when Josh Brent traveled with the team and stood on the sideline after killing teammate Jerry Brown.
It was tough to see DeMarcus Ware win a Super Bowl with the Denver Broncos. Even Ware said he wished he could have shared the moment with Romo and Witten. It would be bittersweet to see this team win the Super Bowl without Tony Romo at the helm. In my book, it would probably have an asterisk next to it as the Super Bowl Romo should've won.
Our last memory of Tony Romo should have been seeing him hoisting a Lombardi trophy as Super Bowl MVP, not laying on the turf during a meaningless preseason game or holding a clipboard. History will show that your awful drafts, poor coaching hires and lack of a quality defense robbed him of a championship.
Romo has been nothing short of a warrior and represented the Dallas Cowboys well. He kept our franchise relevant during the rebuilding years that you refuse to acknowledge.
For everyone wearing a – NoMo Romo – shirt in Dallas and making meme's about Romo fetching Prescott water, it's completely disrespectful. I don't get involved with debates about who's a "Real" fan, but if you can't respect the things #9 has done – then clearly you aren't.
In the end, I'm with Martin – I can't believe you're moving on from a healthy Romo. Prescott's play has earned him the future. Romo's history has earned him the right to finish this.
Now we can only hope the lack of a Super Bowl title doesn't stop Romo from joining Jason Witten in the Hall of Fame. Believe me, you'll get the blame for that too.
#PutSomeRespeckOnThat9
#ThatsMyQuarterback
#Forever9
#DakIsTheFuture
#GoCowboys
Find Me on Facebook at CowboysRob
This article originally appeared on