Five steps to failure: How the Cowboys' season crashed and burned
At least they made it interesting.
The Dallas Cowboys scratched and clawed their way through a mistake-filled slugfest against the New York Jets on Saturday night. They even held a fourth-quarter lead, but as things have happened all too often this season, their best efforts weren't enough as Gang Green gutted out a 19-16 victory.
Bad QB play? Yep, that happened. Matt Cassel again looked lost and was eventually pulled for backup Kellen Moore — getting the first game action of his NFL career — before halftime. And in typical first-game style, Moore did some nice things, but also threw three interceptions — including one that came on the final drive when the Cowboys were driving for a potential game-tying field goal.
Welp, it's official. Not even a year after a magical season that ended with an NFC East crown, the Cowboys have been officially eliminated from postseason contention. For the fifth time in the last six seasons. They're free to start making tee times and planning family vacations for January yet again.
"That's very disappointing, and it's certainly nothing I could have envisioned," Cowboys owner Jerry Jones told reporters after the game, via NFL Network.
So, let's take a look at how they got to this point by reliving a series of missteps and misfortune that doomed Big D to a season of disappointment.
In five steps.
1. DEMARCO DEPARTS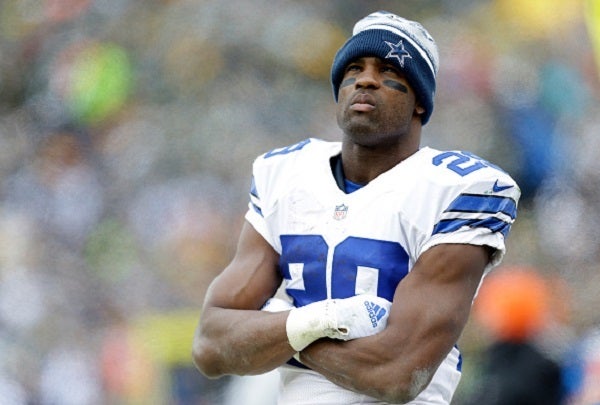 Divorces are ugly.
When couples split, many times there is one party that handles it better. Granted, it's usually the one that instigates the conscious uncoupling, but in the case of the Cowboys and DeMarco Murray, neither side has fared well since the divide.
Murray was the spurned party. He quickly "remarried" and, as is often the case, went for the complete opposite of his previous relationship, going from a bombastic showboat (Jerry Jones) to the quirky genius (Chip Kelly) who doesn't like talking to the media. Murray quickly found the grass —€" turf? — wasn't greener in the Eastern Time Zone and like many poorly thought-out second unions, the relationship soured fast. Murray may have scored nice money with his new relationship, but his satisfaction level drastically dropped.
"I've never been concerned with making any individual happy," Kelly told Philly.com this week when asked about Murray's decreasing role in the Philadelphia offense.
Uh-huh.
Murray has already (allegedly) complained to ownership as his numbers have dipped from a league-high 1,845 yards rushing last season to 603 yards through 13 games in 2015. What's worse, it appears Kelly prefers having backs like Darren Sproles and Ryan Mathews play ahead of Murray in the rotation.
"We're winning. At the time, that's all that matters," Murray said (via Pro Football Talk). Which wouldn't be amusing if the Eagles were better than their 6-7 record.
Meanwhile, the other party in this divorce — the one who could have prevented this whole thing by showing it cared with a new contract — has spent its time running around with all kinds of running backs.
The Cowboys have burned through all the archetypes: the can't-miss prospect whose prime has passed (Darren McFadden), the one with issues (Joseph Randle), the one who looks good on paper (Lance Dunbar) and two former Seahawks whose only claim to fame is that they're not Beast Mode.
Have Jerry Jones and Co. found happiness? Not a chance, though McFadden could reach 1,000 yards rushing this season. No matter who the Cowboys throw in the backfield, no one will be as special as Murray.
Such a shame. And so preventable. Maybe the Cowboys and Murray should have tried counseling. Just sayin'.
2. WEEDEN WEIRDNESS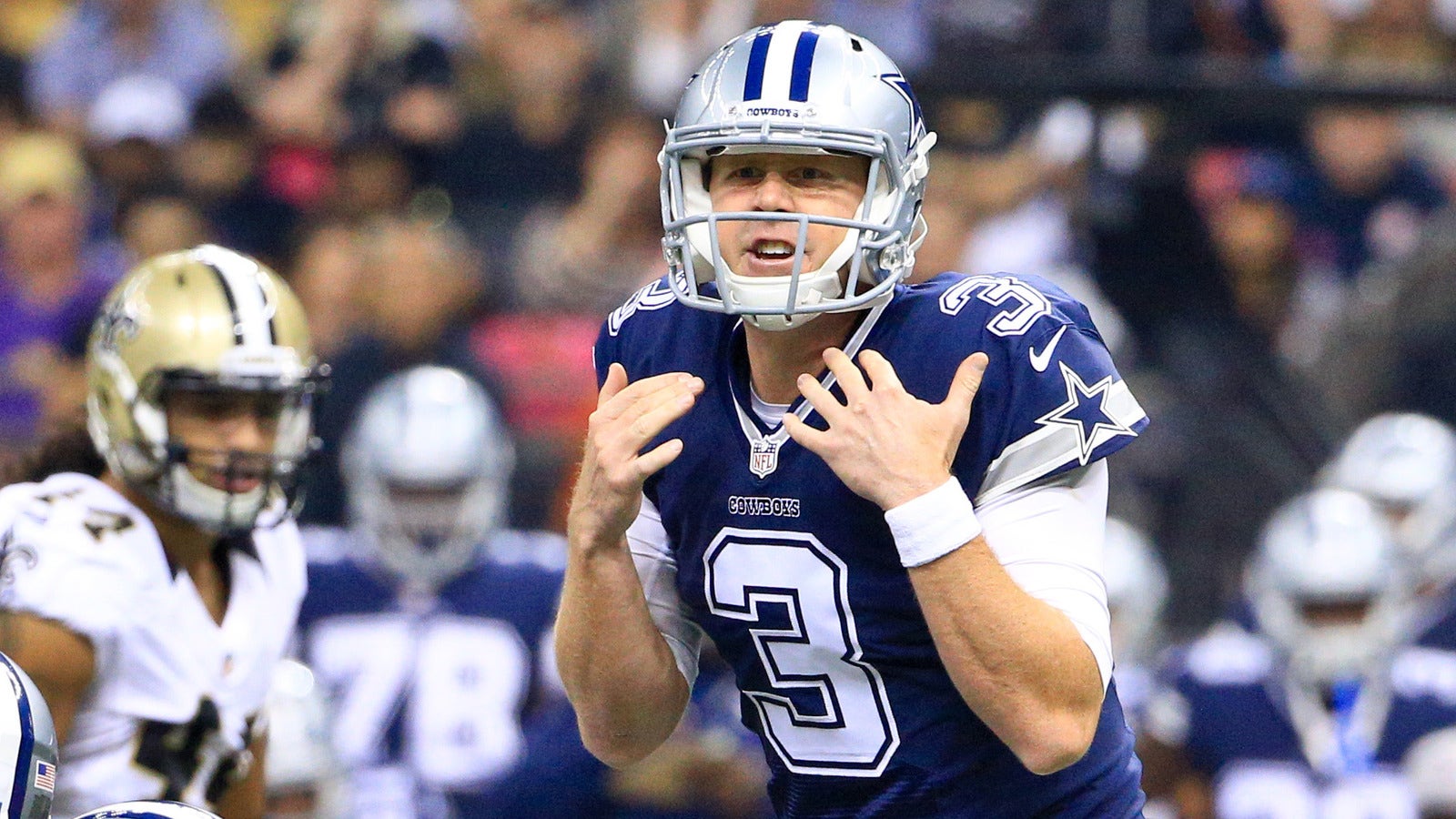 Jones will never live down these comments.
When starting QB Tony Romo went down with a broken collarbone during a Week 2 game, backup quarterback Brandon Weeden stepped in and preserved the win and the Cowboys' 2-0 start.
And good ol' "Jerrah" couldn't have been more confident. After all, he felt Weeden was "a thing of beauty on throwing a football. His passing motion and his arm, frankly, you won't see a more gifted passer, power, accuracy, the entire aspect of it."
He wasn't done.
VIDEOS: IN THEIR OWN WORDS...
"If he can basically prepare, be the starting quarterback, come in and execute and keep his head right, then I feel good about Weeden," Jones gushed to The Dallas Morning News.
Well, all righty then. Weeden responded to his owner's vote of confidence and poetic compliments by losing his next three games and throwing two pick-sixes in the process. He did complete almost 73 percent of his passes, but those completions didn't turn to points, as the Dallas offense turned into a shell of itself. The vaunted offensive line that was so skilled at blocking downhill for Murray in 2014 became more or less useless as opposing defenses stacked the box with defenders and dared Dallas to throw.
And there's only so much that can be gained with checkdown after checkdown.
Weeden was passed up in favor of Matt Cassel and eventually released on Nov. 18. And Jones kicked him in the rear on the way out, saying that Cassel would have won the games that Weeden lost.
Speaking of which, Cassel's record as a starter this season? A cool 1-5. And he threw an interception on Saturday night while being flagged for intentional grounding.
That is the first time I ever heard intentional grounding called on an interception. Interesting.

— Amy Trask (@AmyTrask) December 20, 2015
I have never seen an intentional grounding interception. Now I have #9news #9sports

— Mike Klis (@MikeKlis) December 20, 2015
Intentional grounding on an interception. Impressive.

— Tom Pelissero (@TomPelissero) December 20, 2015
Don't see that often. No eligible receiver in the area. Defender in area does not take off foul even if intercepted. That is grounding.

— Mike Pereira (@MikePereira) December 20, 2015
3. GREG HARDY
Enough said.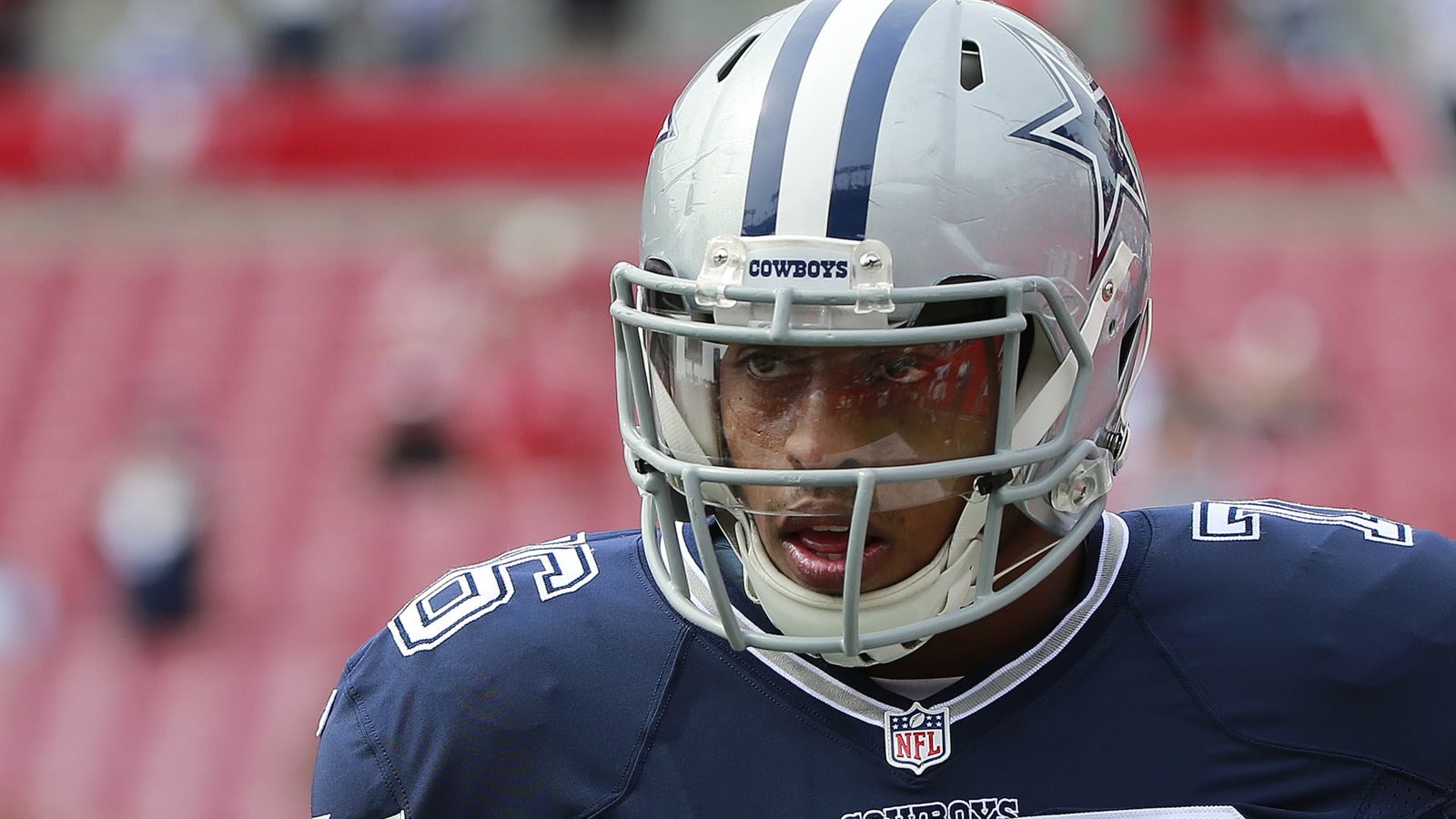 Forget about the defensive end's football talent. Adding someone with a background as toxic as Hardy's to a team that is already under enough of a media spotlight was a foolhardy mission, at best. A season-ruiner, at worst.
There have been spats with teammates, questionable comments made about an opposing quarterback's wife and physical contact with an assistant coach … on his own team. He's also been outplayed by second-year defensive end DeMarcus Lawrence.
Oh yeah, all of that is in addition to the whole domestic violence incident he was accused of in North Carolina.
Why invite disruption into your house? It's a recipe for failure.
4. LOOKING FOR A TAKEAWAY?
We've seen Big D play some putrid defense in recent years. Monte Kiffin Era, anyone?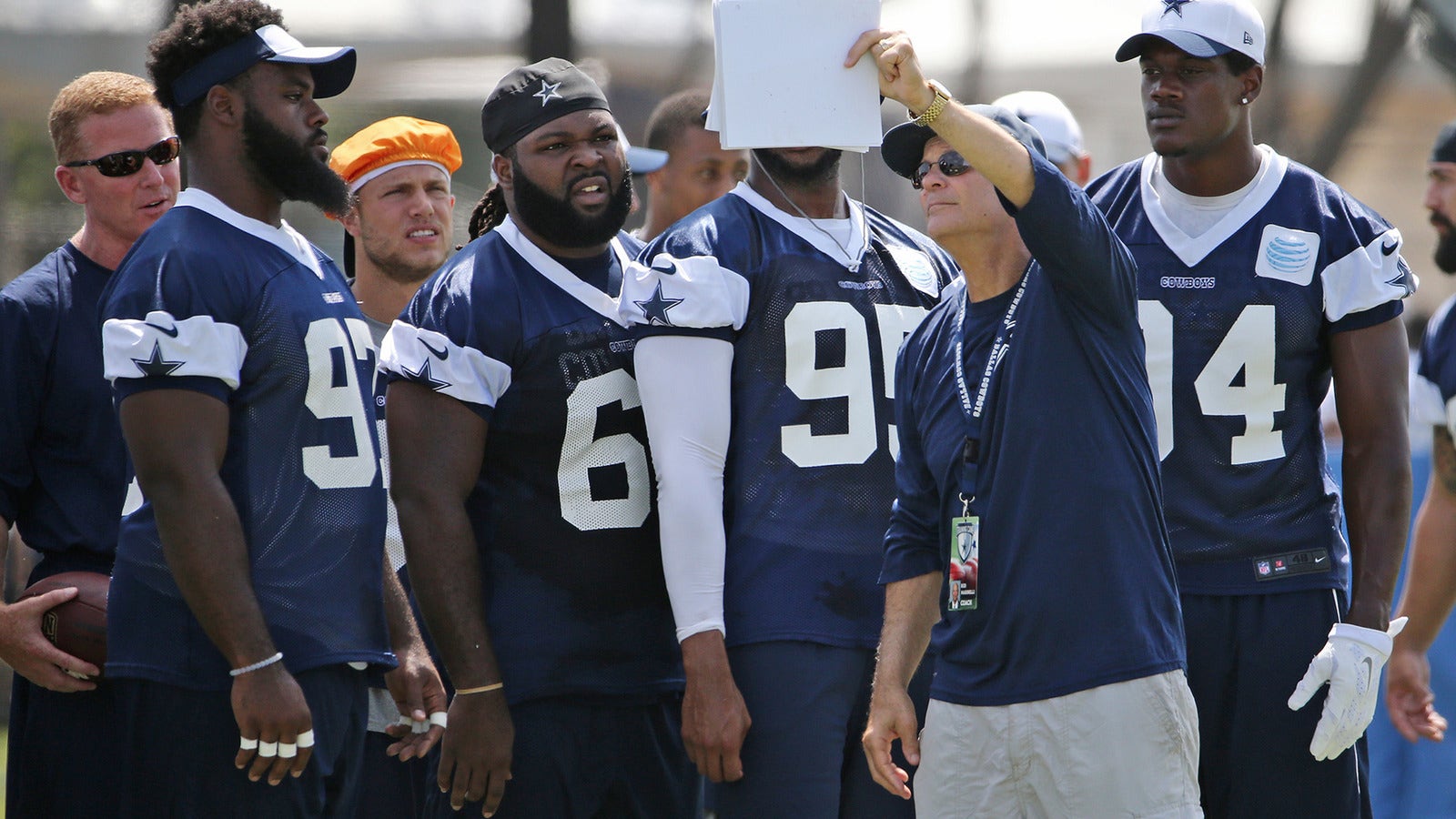 This season's unit under Rod Marinelli hasn't been bad; it just hasn't been good enough. Specifically because of turnovers, or the lack thereof. The Cowboys forced 31 turnovers in 2014, which was instrumental in setting up short fields for their offense and for building momentum during games.
In 2015? The Cowboys have forced just nine through 14 games. According to dallascowboys.com, since the NFL expanded to 16 regular-season games in 1978, no team has finished a season with single-digit takeaways.
The Cowboys have given the ball away 27 times this season, including four on Saturday night, for a differential of minus-18, easily the worst in the league.
Their turnover differential during their 12-4 campaign last season? Yep, plus-6, which was tied for ninth.
5. STARS SNUFFED OUT
You're not going to win much if wide receiver Dez Bryant leaves your Week 1 game and doesn't return until Week 8 because of a broken foot. And then has to catch passes from a legion of backup quarterbacks.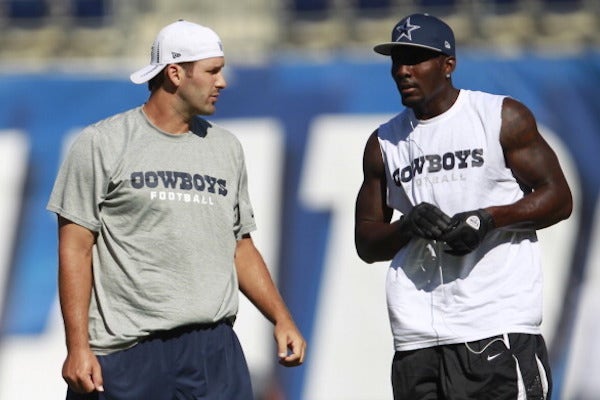 You're not going to win much if quarterback Tony Romo suffers a broken collarbone in Week 2, sits out until Week 11, and wins one game before leaving the following week (for good) with another broken collarbone.
If you get both of those in one season, it's just not fair.
But don't tell Jones that.
"I am stunned that we haven't been able to win more games without Tony," Jones said on Dec. 9 (via For the Win). "And I would have thought that we could have coached it up enough, and put it together enough, that we would not have lost those games without Romo early. We would be in better shape than we are right now."
No, Jerry. This isn't your head coach's fault. Your team can't sniff the playoffs with Cassel, Weeden, Moore, Ryan Leaf, Heath Shuler or any other option you can find off the retread scrap heap.
And you're not going to beat teams like the Seahawks, Panthers and Packers without Romo.
Speaking of Romo, is there anyone out there who wants to impugn his importance to this franchise now?
Didn't think so.