Dallas Cowboys: Three Offseason Hot Takes
Carl Daley/FanSided via The Landry Hat

Fansided
The Dallas Cowboys future looks incredibly bright. Here are three hot takes on what the Cowboys will do this offseason to improve America's Team.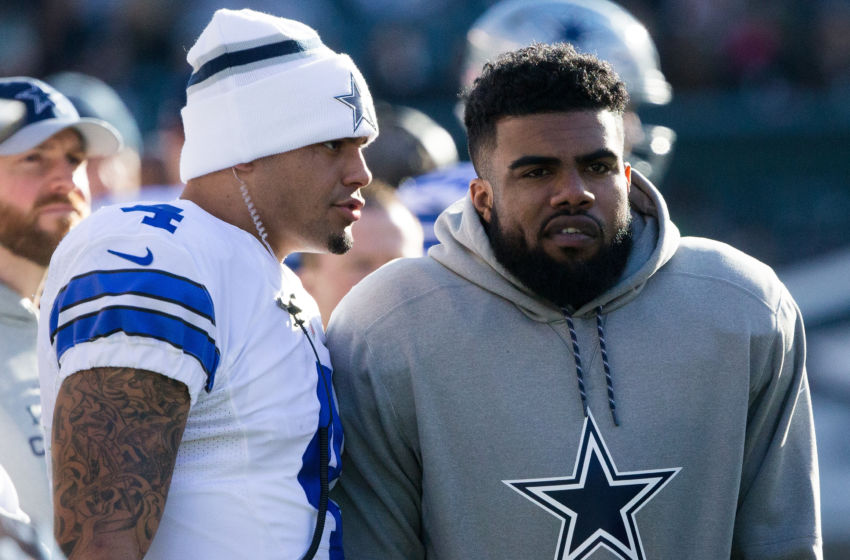 The ending of the Dallas Cowboys season will always be tough unless they are raising the Lombardi trophy at the end of it and that is just the level of expectations that have surrounded Dallas for decades.
There is one clear difference between the end of the 2016 season and 2017 season for the Cowboys that can be felt and that is tremendous hope for the future.
Heading into the 2017 season the Super Bowl window was closing rapidly on the Cowboys or so it seemed.
Now we have come to find out that we have a new franchise quarterback who can literally throw with the best of them.
Starting quarterback Dak Prescott gave it his all in what was one of the best performances all season from the rookie as he went blow for blow with Green Bay Packers legend, Aaron Rodgers.
Even though the result of that game ended in a loss, the pride I felt for this team never disintegrated.
Dallas was never supposed to make the playoffs, instead they revived America's love for the game of football.
Cowboys star running back, Ezekiel Elliott won the rushing title, and could potentially be eying an even bigger season next year now that he has finally gone through a full season in the NFL.
The stars have never shined brighter in Big D and that is a cause for celebration.

Hot Take #1 – Cowboys Free Agency Needs

The Cowboys will have to find a way to fill several holes in their roster as players will hit free agency or possibly retire. The Dallas wide receiving corps will have Terrance Williams and Brice Butler possibly hitting the market even though for Butler that failed touchdown catch in Sunday's game likely doomed his time with the franchise.
Williams could return for the right price, but that leads us to the possible free agents at the wide receiving position. It would be tough to see wide receivers such as Alshon Jeffery, Vincent Jackson, Pierre Garcon, or DeSean Jackson heading to Big D. But quietly productive players such as Kamar Aiken, Kendall Wright, Kenny Stills or even Terrelle Pryor could make sense with this franchise.
I mean Pryor put up over a 1,000 yards an he used to be a quarterback, the guy is definitely worth a look. In the pass rushing category none of the names in free agency make sense with the Cowboys unless they are for a discounted rate. Dallas may be looking for some help in the secondary with so many of their players about to hit free agency.
Their options could be cornerbacks like Trumaine Johnson, Captain Munnerlyn, Stephon Gilmore, or a star safety such as Eric Berry if he hits free agency. Any one or a combination of those players would be a tremendous help to the Cowboys secondary. The tight end position could use some added juice as Gavin Escobar is slated to be a free agent and James Hanna has a pretty big cap hit for a player coming off an injury.
Players such as Jermaine Gresham, Jacob Tamme, Ryan Griffin, and Jared Cook all make sense here but the cheapest one could win a backup role behind veteran Jason Witten. If the Cowboys are able to free up some cap space and possibly deal offseason rumor machine Tony Romo they could make a play for some of the bigger free agents in the NFL.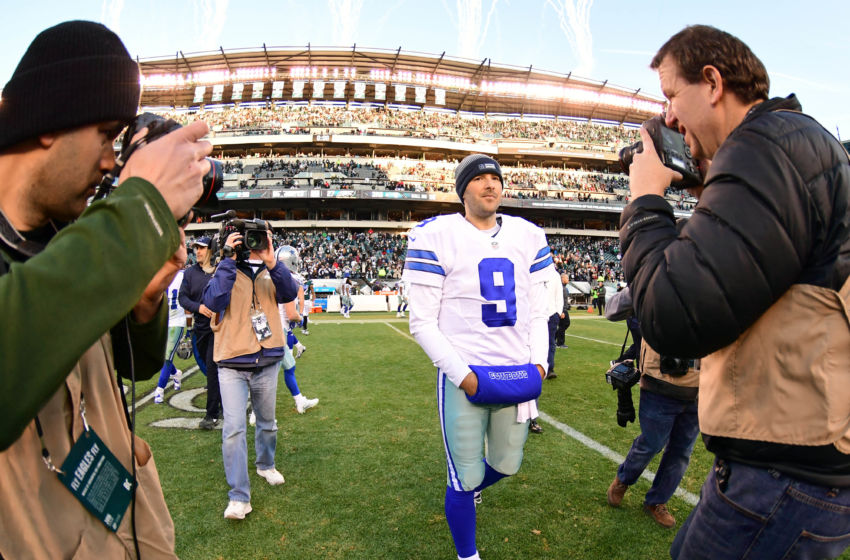 Hot Take #2 – Cowboys

Possible Trade Options

Trading Cowboys veteran quarterback Tony Romo still does not feel like the best idea. Dallas would then have to go out and find a quality backup quarterback all over again and the list of the signal callers heading into free agency is just not that promising. Beyond Washington Redskins quarterback Kirk Cousins there is not really a player I would give the keys to a high level offense.
Bills quarterback Tyrod Taylor could also be in the mix depending on what happens with his situation in Buffalo. Still it feels as if Tony Romo continues to be the best option to backup starting quarterback Dak Prescott. Even looking forward towards the draft players like Brad Kaaya from Miami, Patrick Mahomes II from Texas Tech, and Nathan Peterman from Pittsburgh all seem like shaky options at best as a backup.
When you factor in the Cowboys needs during this draft it just would not make a whole lot of sense to select a quarterback. This leaves the option of a trade and only the most tantalizing deal will do. Romo is a top ten quarterback in the NFL hands down.
Sure we can talk about his lack of playing time in 2016 or we can talk about how on his first drive with the team in almost two seasons he threw an absolute dime to wide receiver Terrance Williams for a touchdown, the guys still got it.
Plenty of suitors have been named including the Denver Broncos, Arizona Cardinals, and Chicago Bears but we will take a look at some of the dark horses in the Tony Romo race. The Broncos may say they do not want Romo but their defense will likely say otherwise.
With their starter Trevor Siemian suffering multiple injuries this season and their future QB Paxton Lynch still a work in progress the Broncos need a quarterback with star power. Not only would Romo instantly give them an upgrade at the quarterback position but he will also re-open their Super Bowl hopes after not even making the playoffs in 2016.
The main issue would be Romo's salary, which is flexible. If number 9 re-signs with Dallas to a more appealing contract the Cowboys would probably try to keep him on the team. If he is determined to leave this may be the only way to do so as other franchises may not be so keen on having Romo's contract expand their salary cap.
From a monetary perspective the San Francisco 49ers, Jacksonville Jaguars, Cleveland Browns, and Miami Dolphins make the most sense. These teams also have pretty favorable draft positions so giving up a first rounder could come easy to them.

Hot Take #2 – Cowboys

Possible Trade Options Continued
The main issue is would Romo want to go to any of these franchises? Contenders like the Kansas City Chiefs ($5 million), Arizona Cardinals ($4 million), Denver Broncos ($6 million), and Houston Texans ($4.7 million) make a lot of sense but are suffering in the salary cap department.
Swapping players could make some sense as Romo's contract and cap hit are big enough for two capable starters. With the Cardinals they have starting quarterback Carson Palmer set to make $15.5 million in base salary and have a cap hit of $24 million. Their star wide receiver Larry Fitzgerald is due to make $11 million in base salary and have a $15 million cap hit.
Calais Campbell who could hit free agency is one of the Cardinals better pass rushers could be convinced to sign a smaller deal for a trade. Would a second or third round pick and Romo make sense for Fitzgerald and Palmer? That remains to be seen. The Cowboys could use a top quality wide receiver and Fitzgerald could be in a better position to win a Super Bowl with Dallas.
When looking at the Broncos star wide receiver Demaryius Thomas is scheduled to make $8.5 million in base salary and generate a cap hit of $12 million. Cornerback Aqib Talib is set to earn $11 million and count $12 million against the cap which could be just enough to move him.
There is also former Cowboy DeMarcus Ware who could want to play out his last season in Dallas however there are reports he may retire instead. For the Broncos trading draft picks may be out of the question but players could be a bit more interesting.
The Kansas City Chiefs are a perennial playoff team however they cannot seem to get to the Super Bowl. The upgrade of Tony Romo over Alex Smith could be a game changer. Smith is set to earn $10.8 million in base salary and count $16 million against the cap which is a pretty tough pill to swallow if your Kansas City.
The Cowboys have a need at safety so possible free agent Eric Berry could make sense as the answer to their troubles in the defensive backfield. Combine Berry with some of the veteran defensive players such as Tamba Hali or the injured Derrick Johnson and a trade could be possible.
The Chiefs still have no idea what to do with Jamaal Charles and he could find a place running behind the best offensive line in the NFL as the Cowboys change of pace back. Dallas will see two running backs possibly hit free agency as Darren McFadden and Lance Dunbar will have their contracts expire so adding some help in the ground game could be an option.
Lastly maybe the best destination is one that has been under our noses the whole time, the Houston Texans. Romo gets to stay in Texas and is out of the NFC while the Cowboys could get some exciting players in an exchange. Their starting quarterback Brock Osweiler is gobbling up cap space like they are a plate of baby back ribs and his production just does not match what he is being paid.
Going into 2017 he will have a cap hit of $19 million and a base salary of $16 million, ouch. Romo could have comparable numbers in terms of salary but would provide a major uptick in the production department.
In terms of talent, it could be tough for the Texans to provide a trade worthy option but their hesitation to give star wide receiver DeAndre Hopkins a contract extension could mean he is on the trade block or at the very least a trade worthy asset. It could end up being advantageous for both sides if they can work out a deal for Romo.

Hot Take #3 – Cowboys First Three Draft Picks
It is possible that the Cowboys take very few risks in the 2017 NFL draft as their needs have somewhat become a constant offseason topic of conversation and they rarely change. The problematic pass rush has gotten significantly better but still does not show elite level results.
The secondary is about it go through an overhaul as several current defensive backs are slated to become free agents. There are a few minor holes along the offensive line and wide receiving corps that may need to be bandaged as well this offseason.
The Cowboys will likely target a defensive back twice in this draft if not more. With cornerback Morris Claiborne along with safeties J.J. Wilcox, and Barry Church all possible free agents, Dallas will need to add more depth in the draft.
Names such as Washington's Sidney Jones, Clemson's Cordrea Tankersley, Ohio State's Gareon Conley, and LSU's Tre'Davious White all fit the bill as corners the Cowboys could land at the end of the first round. Cornerback is the obvious need as the team should be able to come to an agreement with Church.
It is debatable whether or not the Cowboys take a corner in the first round considering their need for a pass rusher. Plus pass rusher will be a rare position in free agency unless Dallas looks to acquire former New York Giant, Jason Pierre-Paul which will seemingly be unlikely.They could however create cap space and go after a player like Trumaine Johnson or Captain Munnerlyn while re-signing Claiborne as an effort to re-tool this secondary.
The amount of game changing pass rushers in the draft are limited to the first round so the Cowboys will likely have to spend their first round pick on one of these players. The top pass rushers projected to be on the board while the Cowboys are on the clock will likely be players such as Auburn's Carl Lawson, Missouri's Charles Harris, or Michigan's Taco Charlton.
The Cowboys could also just go with their favorite method, selecting the best player available. If a top ranked wide receiver, offensive lineman, or linebacker falls to them the team could be select a prospect from anyone of those positions.
This article originally appeared on