Dallas Cowboys tame Bengals: Week Five Observations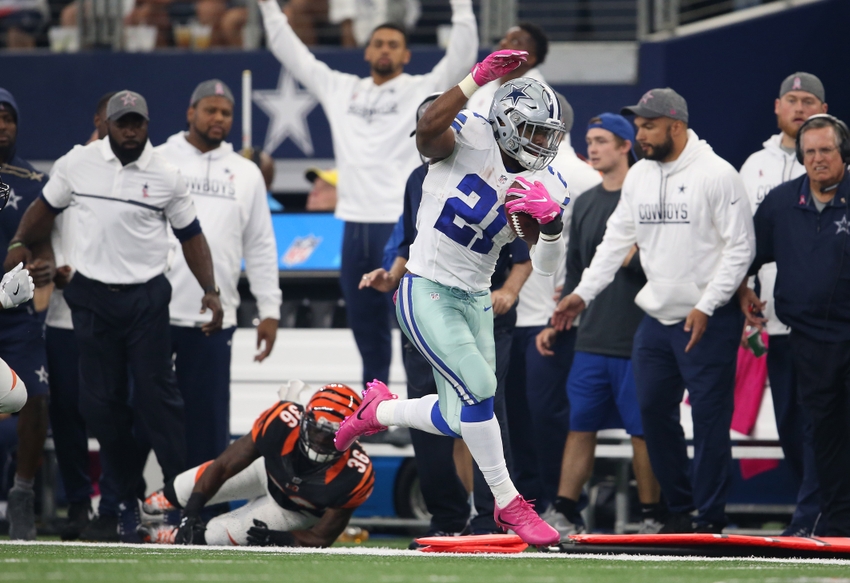 Facing a perennial playoff team, the Dallas Cowboys dominated every facet of the game in route to a 28-14 home victory over the Cincinnati Bengals.
If you don't think the Dallas Cowboys heard all the same silly talk that you did regarding the level of their opponents, I give you Exhibit A:
Cowboys 28, Bengals 14.
The Cincinnati Bengals are a good team, despite their current 2-3 record.  This is a franchise with 52 wins over the last five years.  Each season resulting in a playoff appearance.  This is a team that prides itself on aggressive, physical play.
And that team just got thoroughly outplayed in a way you normally do not see by your Dallas Cowboys.
In every single facet of the game, this Cowboys team was obviously better than their opponent.  Dallas did whatever they wanted, whenever they wanted.
The evidence of this was all over the place.
On the first drive of the game, the Cowboys ran the ball six out of seven times, gaining 53 yards on the ground, resulting in six points.
After a Bengals punt, the Cowboys took it to them again.  Their next drive featured seven more runs for 34 yards and another touchdown.
Another Cincinnati drive, another punt which lead to another Cowboys score.
The rout was on.
By any measure this game was not only the type of statement game that the Dallas Cowboys needed, but also the one they wanted.
This was the Cowboys, circa 2014, all over again.  The only difference being that this defense is actually better.
You would have to go back almost a full calendar year to find a game in which the Cowboys had 4+ sacks.  Dallas also forced another turnover in this game, bringing their season total to six in five games.  Last year, they had 11… in sixteen games.
This was also the third straight game that the defense allowed 17 or less points.  The yardage allowed was impressive as well.  Taking away the fourth quarter, which was largely garbage time, the Bengals totaled 209 yards through three quarters.
Most importantly, the did exactly what I thought they needed to in order to win.  They held Bengals wide receiver to a miserable four catches and 50 yards with no scores.
Through five games, this Dallas Cowboys team is starting to exhibit the look of a contender.  There is balance on offense, a defense coming into its own with the best kicker in the game.
With another stiff test next week, it will be interesting to see if the Dallas Cowboys can keep it rolling.
More Dallas Cowboys observations from Week 5:
Of all the wonderful things about quarterback Dak Prescott, possibly the most impressive is his willingness to take whatever he is given.  He never seems in a hurry.  He has no interest in doing too much.  The game seems so slow to him, which is ridiculous when you realize it is his fifth game as well.
We all know how big of a turn around cornerback Morris Claiborne has had this year but don't forget about Brandon Carr.  They each took turns covering Green on Sunday and each did well.  Pro Football Focus ranked the Cowboys unit 27th coming into this season.  I guarantee their play boosts that ranking significantly.
Six different Cowboys registered a quarterback hit on Sunday.  All but one of them, linebacker Anthony Hitchens, was a defensive lineman.  I think it is safe to say defensive coordinator Rod Marinelli is coaching his (ahem) butt off with this unit.
Just how good has the Dallas Cowboys offense been?  In twenty red zone trips this year, they have fourteen touchdowns.  Four of their five field goals came in the first two weeks.  They are also the best third down team in the NFL and have the most first downs through five weeks.
Next week, Dallas returns to the scene of the biggest crime of 2014.  Will Dez Bryant return as well?
This article originally appeared on