Dallas Cowboys: Stick to What Truly Works at Quarterback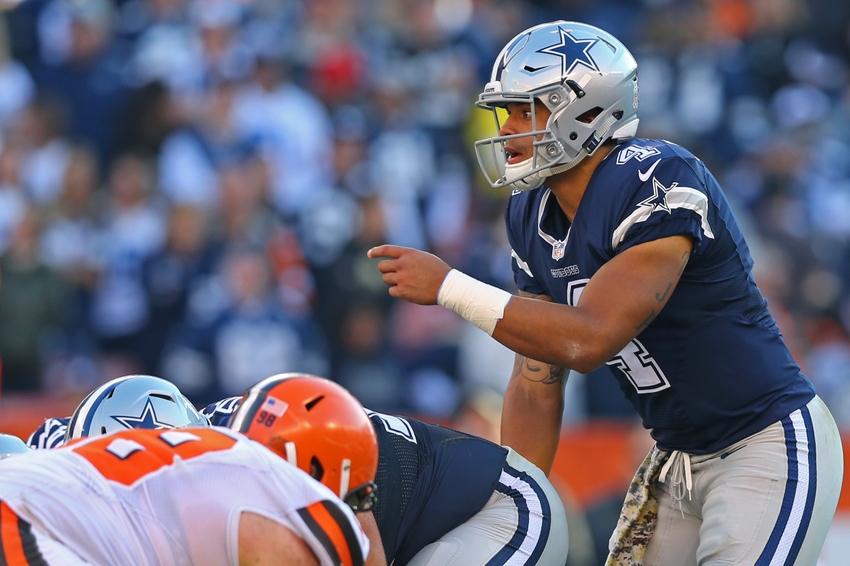 The Dallas Cowboys sit atop the NFC, but face a difficult decision in regards to their starting quarterback with Dak Prescott and Tony Romo.
The Dallas Cowboys are currently 7-1 and have shocked the football world with how efficient they can be. Of course, it all comes back to a certain rookie quarterback that is impressing everyone under center.
The quarterback position is easily the most important across any team. They're the main leader in the huddle and usually the face of a franchise. As the Cowboys continue their course throughout the regular season, the quarterback play of Dak Prescott has been extraordinary.
So far this season, Prescott has totaled 2,020 passing yards, 165 completions, 12 touchdowns, and two interceptions. He's rushed for four touchdowns and has taken the NFL by storm. Prescott's ability to remain game, even with a game on the line, has been amazing to watch throughout the year.
Even though owner Jerry Jones is teetering with the idea of possibly sitting Prescott in upon the return of Tony Romo, the Cowboys must stick to what has been working. There is such a surreal chemistry on offense thanks to everything Prescott brings to the table that disrupting it could cause severe consequences.
Unfortunately for Romo, it appears his NFL career is in jeopardy. There is no guarantee he'll be able to continue their momentum and to throwing him out there too soon could cause even more problems. The Cowboys offense is red hot with Prescott running the show and he's earned the respect of the entire locker room.
While it must be weird for Romo to embrace being in a backup role, it's inevitable in the grand scheme of things. With how great Prescott has been playing, there is no telling how far he could take the Cowboys, who are looking like a serious playoff contender.
It's in the best interest of the Cowboys to continue striking while the iron is hot. Prescott has won this team over and the Cowboys should stick with him. There is no telling if the Cowboys might need Romo down the road. Moreover, his continued training with Prescott is invaluable. Romo has undoubtedly been helping Prescott all across his unique journey this season and it's simply best to keep things the way they are.
The Cowboys could be building something really special this season with Prescott under center. He's making a name for himself and will continue making NFL history every step of the way. Hopefully, Jones see what is at stake here as a sudden change at quarterback could be disastrous. Making that decision to move to an injury-prone and inconsistent quarterback that will undoubtedly bring major disappointment.
This article originally appeared on