Dallas Cowboys show determination in overtime win vs. Philadelphia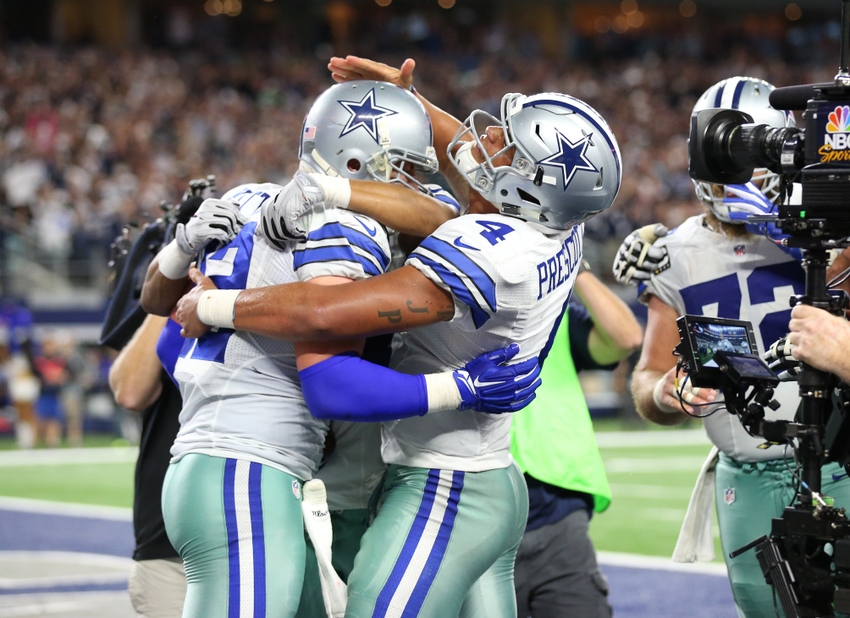 Grinding through the worst game they have played since the opener, the Dallas Cowboys learned a valuable lesson with clutch win over Eagles.
This was no masterpiece.
No one is going to look back on this game as an example of how the Dallas Cowboys exerted their dominance and beat down a divisional foe.
Thankfully, none of that really matters.
While you could say that the Dallas Cowboys were fortunate to survive their own misadventures, there is something else to take from Sunday night's victory.  A very young team just persevered in a difficult situation against a quality opponent.
That could go a long way as the season goes on and the stakes are raised with each contest.
For the first time since the San Francisco game and only the second time all season, the Cowboys did not score on their first possession.  For the majority of the game, they also played from behind. Neither situation is one they are accustomed to so far in 2016.  In fact, you would have to go all the way back to the third quarter against the 49ers to find the last time Dallas trailed in a game.
For the first time all year, quarterback Dak Prescott looked like a rookie drafted in the fourth round. Many of his throws were off target.  The offense failed to produce points for much of the game, largely due to his inaccuracy.  He completed less than 50% of his passes, the first time that has happened since Week 1.
The offense, in general, was not it's normal self either.
Wide receiver Cole Beasley did not have a pass thrown near him until late in the third quarter.  Even then, the pass thrown his way became another pass, from Beasley himself, on a trick play.  He was not only the receiving target that was being left out either.  Due to the return of Dez Bryant, Beasley, as well as Brice Butler and Jason Witten combined for less total targets than Bryant.
The team altogether looked out of sorts as well. Dallas was flagged for 11 penalties, four more than they had been in any other game this season.  Some penalties extended drives which led to points, others wiped away big plays.  The team looked lethargic and unprepared.
Yet and still, the Dallas Cowboys won the game 29-23, improved to 6-1 and created a two game buffer in the NFC East.
These games are going to happen.  You're not going to be perfect week in and week out.  Usually they do not all snowball into an avalanche of ineptitude like this, but it happens.
It would be fair to show dissatisfaction with the team's performance and look towards Jason Garrett as the scapegoat.  Coming off of a bye week, the team should have looked extra prepared. They did not.
It would also be fair to give Garrett a lot of credit for being very un-Garrett-like.  This team does not go around attempting fake punts and wide receiver option passes per rush.  That was a clear effort to give a despondent team any sort of spark and it worked.
As badly as Prescott played, and he did have a lot of questionable moments, if this is his bottom, you'll gladly take it.
You could do a lot worse than 287 yards passing with two touchdowns and a pick.  Go look at some Ryan Fitzpatrick stat lines as a point of reference.
Was it the Eagles defense?  Maybe it was rust from a bye week, the presence of Tony Romo at practices or just an off night.  Whatever the issue, Prescott was able to produce when it was most important to do so.  If you're going to recognize his failures, you have to give him credit for his ability to stick with things and come through in the clutch.
And, once again, remember how this defense was going to be the weak link of the team?  Well, for the second time this year, it was the exact opposite.  This defense held the Eagles under their average points per game.  They shut them down the entire fourth quarter, creating a forced fumble and registering two sacks.
More Dallas Cowboys observations from Week 8:
Even though cornerback Morris Claiborne and safety Barry Church will likely both be out the next month, it comes at good time relatively speaking.  The Cowboys only face two top ten passing offenses over the next five weeks.  One of those, the Pittsburgh Steelers, may still have a backup at quarterback.  Without these two, the effectiveness of this secondary will be put to the test, but it could be worse.
Speaking of Claiborne, if he was your defensive MVP for September, that award for October has to go to linebacker Sean Lee.  He has played at the level everyone knows he's capable, especially over the last four games.  The play he made on a late third down attempt on Eagles running back Darren Sproles likely saved the game.  He's on his way to a Pro-Bowl spot.
One last note on the defense.  Although, Carson Wentz completed 74% of his passes, he only averaged 4.7 yards per attempt.  While being successful three quarters of the time is great, it doesn't really matter if you're not going anywhere.  The plan was clearly to let them have all the short passes they wanted.  No Eagles receiver had a completion over 15 yards and only one averaged double-digit yards per catch.
Special shout out to the fans at the AT&T Stadium by the way.  There has not been much of a home field advantage since the Cowboys started play there seven seasons ago.  Depending on the road team, the fan ratio can be a little too close for comfort.  For those who went to the game, you brought great energy.  That's a nice change from the usual.
Hopefully the Cowboys avoid the lull of traveling to 0-7 Cleveland and just handle business.
We'll see.
This article originally appeared on