Dallas Cowboys: Rushing attack helps team turn the corner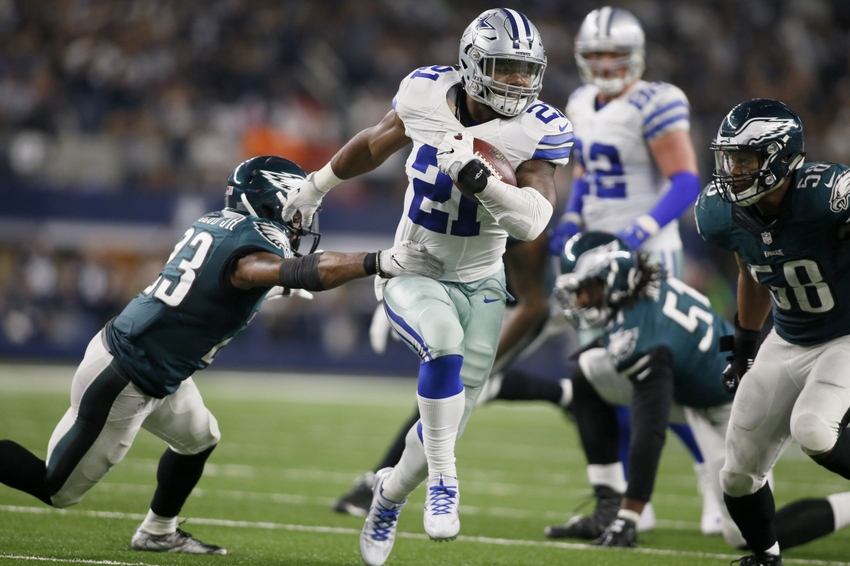 Because of the Dallas Cowboys dominate and consistent running attack, America's Team is now able to finish games and win them.
I didn't want to be the member of Cowboy Nation to mention it last week. In fact, I was scared that I'd be declared a jinx if our Dallas Cowboys suffered an embarrassing loss to the Cleveland Browns. I never referred to it as a "trap game" or stated that we faced a "dangerous" winless opponent.
Every team is composed of professional athletes with a job to do. In reality, every team that plays our Cowboys has a 50% chance of losing. As the saying goes – "On any given Sunday."
With that said, a lot of us held our breathe leading up to the game against the Browns because we have long term memories. Before this season, when everyone hated head coach Jason Garrett because from 2010 – 2015, his record stood at 45 wins and 43 losses (.511%).
For three straight years, from 2011 – 2013, the team finished 8 – 8 and the team was known for losing games against opponents that they should've dominated. The Cowboys were also known for not being able to win close games and not having a killer instinct.

2013 Dallas Cowboys Close Losses

Team

Score

Kansas City Chiefs

16 – 17

San Diego Chargers

21 – 30

Denver Broncos

48 – 51

Detroit Lions

30 – 31

Green Bay Packers

36 – 37

Philadelphia Eagles

22 – 24
The Cowboys went 12 – 4 in 2014, everyone true fan knows that. like a true championship team, they won 8 road games and went 4 – 2 in the division. They finally beat teams they were expected to and emerged victorious against tough opponents like the Seahawks in Seattle.
Including the playoffs, quarterback Tony Romo went 13 – 4 (quarterback Brandon Weeden went 0 – 1) that year. It marked the return of the Cowboys running game as they finished with the 3rd most rushing attempts and the NFL's leading rusher in DeMarco Murray.
That was in stark contrast to 2012 and 2013, when the Cowboys ranked 31st of 32 teams in rushing attempts. The return to power, smashmouth football may not have been a surprise to most after the Cowboys added guard Zack Martin to the offensive line in the first round of the 2014 NFL draft.
The lessons learned in 2014 weren't effective enough to result in victories when applied in 2015 due to inept quarterback play from Matt Cassel and Brandon Weeden. The Cowboys still managed to produce a 1,000 yard rusher in Darren McFadden. The rushing game was elevated to another level with the additions of running backs Alfred Morris and Ezekiel Elliott. Had offensive coordinator Scott Linehan
displayed more balance in his playcalling against the New York Giants – 30 rushing attempts to 45 passing attempts – it's possible this team would be undefeated.
Garrett, Linehan and I'd like to give credit to our former offensive coordinator and offensive line coach Bill Callahan, have managed to assemble a powerful rushing attack. They've learned to rely on it and use it effectively. Linehan's play calling and the running game has helped Garrett cure his reputation for poor clock management.
The team is now able to win games and finish them. The running attack not only helped the team turn the corner, but also the coaching staff. Now that we're winning, Cowboy Nation doesn't have to ask – What took them so long?
This article originally appeared on