Dallas Cowboys prove they can win any type of game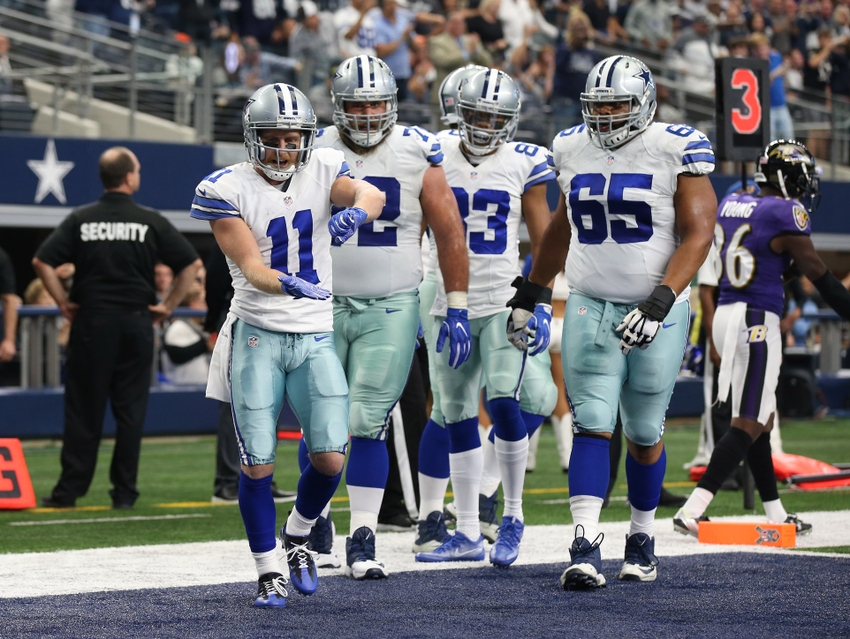 Despite a slow start against a very good defense, the Dallas Cowboys offense showed poise with an "ugly" win over the Baltimore Ravens to improve to 9-1.
Even though the Dallas Cowboys have a knack for making offense look easy, there are times when you will face adversity.
Case in point, Sunday's victory over the Baltimore Ravens.
For just the second time all year, the Cowboys went scoreless in the first quarter.  They didn't register their first points until there was less than six minutes to go before halftime.
Maybe that wouldn't be news for most teams in the NFL, however the Cowboys have been amazingly efficient offensively.  Dallas has scored 10 points in the first quarter three times this year.  They've had 21+ points at halftime on three separate occasions as well.
To put that into some perspective, there are eleven teams that do not average 21+ points per game.
Yet, going into halftime on Sunday, the Cowboys could only muster up ten points as they fought back to tie up the score.
The Ravens number one run defense allowed just 48 yards rushing to the best running team in the NFL.  Baltimore and their dominating defense looked like they were going to challenge this Dallas offense all game.
Fortunately, the Cowboys came out of the break and played like the team they really are.  The best team in the league.
In the second half, the Cowboys possessed the ball just three times.  Those three possessions produced 17 points however while taking 19:09 off the clock.  The Ravens, meanwhile, not only rarely saw the ball, but also could not do anything with it.
Another complete team win, on both sides of the ball, proved one thing.
The Dallas Cowboys can play any type of game you want and they will likely beat you at it as well.
Oh, you want a shootout?  Ask Pittsburgh (35-30) and Philadelphia (29-23) how that works out.
You want to ugly it up?  Alright, Baltimore just tried doing that to no avail.
Maybe you want to jump out to a big lead to rattle the Cowboys cage.  San Francisco (24-17) did so and that did not work for them either.
And please, for your sake, don't show up to the game not really ready to play.  This team will embarrass you.  Ask Chicago, Cincinnati, Green Bay or Cleveland about that.
It just seems like any time one side of the ball is struggling, the other side is there to hold down the fort.  Give credit to Baltimore.  Whatever they were doing early on was certainly working.  It's just a matter of time, however, before this potent offense figures out the problem and solves it.
As for the defense, they too seem to be able to work themselves out of trouble.
During the Ravens first touchdown drive, this Dallas defense was gashed on runs of 16, 20 and 18 yards.  They also got hit up for a 27 yard pass play, looking as if their big play woes were back.
Over the next 28 Baltimore plays, Dallas gave up just one that went for more than 15 yards.
As the weather gets colder and the games get tougher, each unit is going to need to continue to pick the other up from time to time.  There will almost certainly be another shootout on the horizon.  There could be another ugly game or another team might jump all over the Cowboys early.
Thankfully, if and when that time comes, the Dallas Cowboys can look back at their season so far and know what it takes to right the ship.
More Dallas Cowboys observations from Week 11:
Could Dallas have both the NFL Rookie of the Year AND the MVP as well?  Dak Prescott became the first rookie QB ever to post consecutive 300+ yard, multi-touchdown games.  Meanwhile, Ezekiel Elliott maintained his NFL leading rusher status.  He's also on pace to break the all-time rookie rushing record.  Not too bad of a draft class, eh?
Speaking of Dak, his chemistry with receiver Dez Bryant seems to be getting better.  After scoring just two touchdowns heading into last week, Bryant has three in two games.  The red zone fade route was finally fruitful for these two in this game.  Hopefully that's a sign of things to come.
I know I mentioned it above, but I want to really give credit to this defense.  After giving up 54 yards rushing on one drive, the Cowboys only allowed just 34 yards the rest of the game.  Any time you can make a team one-dimensional, especially in a close game, that's a good thing.
If you're looking for the offensive play that woke the Cowboys up, look no further than the big 41-yard catch on 3rd & 6 from Brice Butler.  More impressive, that catch from Butler capped off a ridiculous drive that started with 1st & 30.  After being almost non-existent over the last couple of weeks, give him credit for continuing to grind.
If Dallas is to keep this winning streak alive through Thanksgiving, they'll need better play from their secondary.  There were a couple of no-calls that went their way that could have easily been called.  Brandon Carr has been incredibly physical of late but there is a fine line between physical and illegal.
Happy Thanksgiving everybody!
This article originally appeared on