Dallas Cowboys offense looking to set new franchise record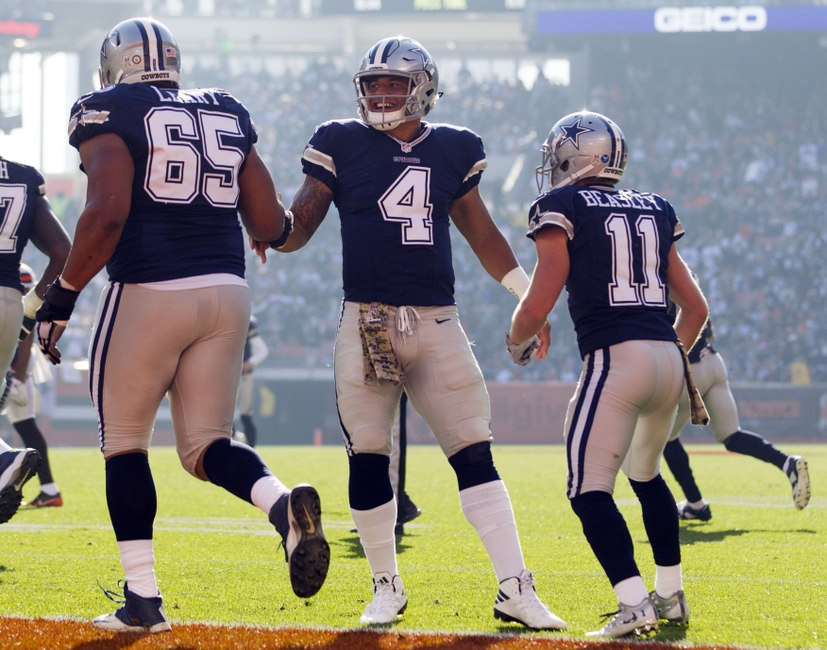 The Dallas Cowboys face the Pittsburgh Steelers in Week 10 and will try to keep their streak of consecutive games with more than 400 yards of offense going.
The 2016 Dallas Cowboys have been nothing short of dynamic on offense.
In fact, they have racked up 400 yards or more on offense in six consecutive games and will be trying to make it a franchise-record seven straight this week in a classic rivalry game against the Pittsburgh Steelers.
Dallas averaged 411.5 yards per game on offense in the first half of the season, passing for just under 250 yards and rushing for over 160 yards per game.
Rookie running back Ezekiel Elliott has been exactly what they hoped he could be when the Cowboys selected him with the fourth overall pick in the 2016 NFL Draft. He is leading the NFL in rushing with 891 yards while averaging 5.0 yards per carry.
Running the football is clearly the Dallas offense's bread and butter, but they have proven to be more than willing to throw the ball when opponents stack the box while trying to stop the ground attack.
The Cowboys will be facing a major challenge this week in the Steelers, who are hungry to end a streak of their own. Pittsburgh is coming off three straight losses and will be fired up and desperate to get a victory in this game.
The Steelers do not have a dominant, physical defense that NFL fans have been accustomed to seeing from Pittsburgh over the decades.
Pittsburgh is giving up 276 passing yards (24th in the NFL) and 99.6 rushing yards (13th) per game.
The Steelers defense is also at the bottom of the league, dead last to be exact, in sacks with 11.
What is even more baffling is the lack of disciplined tackling and the yards that the Steelers give up after the catch.
Pittsburgh has given up 2,262 passing yards this season and 1,178 of those yards have been allowed after the catch- meaning more than half of their yardage allowed has come after their opponents secure a catch.
If the Steelers allow Cowboys receivers Dez Bryant, Terrance Williams, and Cole Beasley to run free after the catch, Pittsburgh will be sad to have both teams could see their streaks continue on to Week 11.
This article originally appeared on