Dallas Cowboys: Jerry Jones Says Dak Prescott Will Remain Starter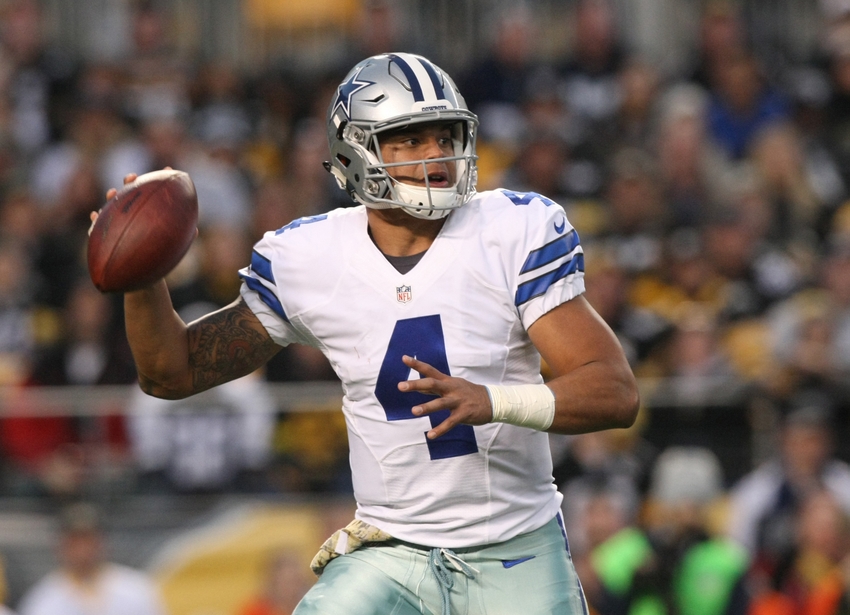 The Dallas Cowboys have two of the best quarterbacks in the NFL, but it looks like they are sticking with Dak Prescott over Tony Romo.
There's no question that the Dallas Cowboys are the best team in the NFC right now at 9-1. This machine of offensive efficiency keeps racking up signature victories. On Sunday, they pulled out a win in an all-timer against Ben Roethlisberger and the Pittsburgh Steelers, scoring a long touchdown run with nine seconds left to walk away 35-30 victors on the road.
Ezekiel Elliott's 200+ yards of total scrimmage, three touchdowns, and, of course, game-winning score stole the show. But observers around the league took notice of yet another clutch display from Dak Prescott. The calm and collected rookie out of Mississippi State played a great game against Big Ben, averaging 10 yards per attempt with two touchdowns and no interceptions.
Before the game, rumblings of a quarterback controversy between a now-healthy Tony Romo and Prescott brewed stronger than ever. The NFL's vultures were hoping for Prescott's first dud of the season. That didn't materialize, and Prescott stood tall in the face of another test.
Cowboys owner Jerry Jones: "We're going to let this decision in this case make itself. Dak's got a hot hand and we're going to go with it."

— Albert Breer (@AlbertBreer) November 14, 2016
That is the strongest statement on the quarterback situation that we've seen from supreme leader Jerry Jones. This speaks volumes to how much respect Romo has deservedly garnered after years of putting the Cowboys franchise on his back. Prescott has played so well and is clearly the future of the franchise. But the Cowboys held off as long as possible before making an even somewhat concrete statement in support of Prescott as the starter.
Even so, Jones's statement leaves the door open for Romo to start if Prescott struggles. While this answers the question of who to expect as the starter going forward, it leaves other questions open. One prominent question is, how long of a leash does Prescott have?
With the way he's played and with the potential he has to win rings for this franchise with the likes of Dez Bryant and Elliott around him, hopefully Dallas affords him a long one. Romo is a franchise legend who could conceivably give the Cowboys a better chance of winning. But it may not be wise to pull Prescott unless if the rookie struggles for an extended period of time.
This article originally appeared on