Dallas Cowboys: Jerry Jones Gets In on Trolling Dan Snyder's Dancing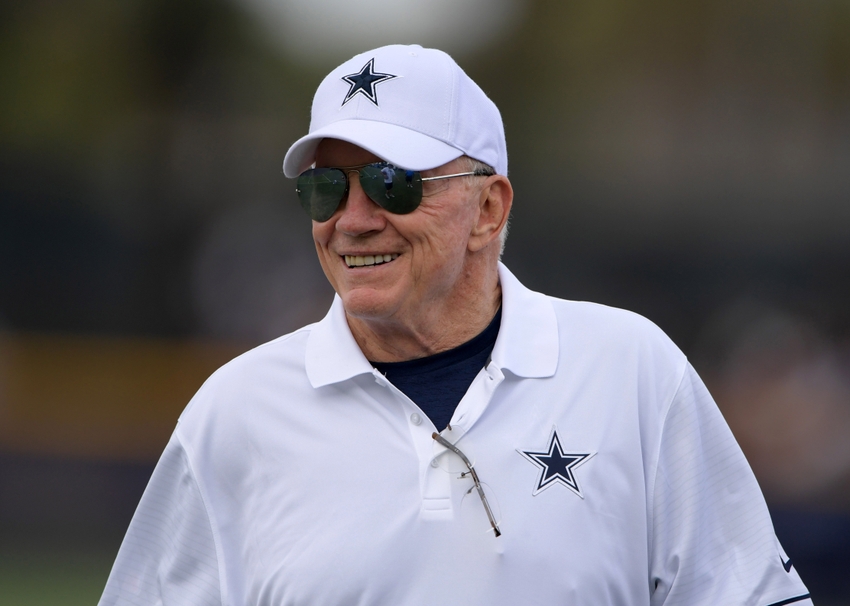 Literally everyone has now poked fun at Washington Redskins owner Dan Snyder's dancing after Dallas Cowboys owner Jerry Jones joined in.
Following the Washington Redskins emphatic victory on Sunday Night Football in Week 11, there were two things blowing up social media. The first was the fact that Kirk Cousins and the Redskins are absolutely rolling right now, particularly on offense, heading into the Thanksgiving Day matchup with the Dallas Cowboys. However, the second was the fact that Washington owner Dan Snyder needs to retire his dance moves.
As time wound down on Sunday night, the cameras cut to Snyder in his skybox. And while Jump Around by House of Pain blared over the speakers in FedEx Field, the owner proceeded to bless everyone with some of the worst dance moves possible.
Just for reference (and a good laugh), here's a look at the now infamous dancing:
Slowly, it began to sink in for #Redskins owner Dan Snyder that he was dancing like nobody was watching…but everybody was watching. pic.twitter.com/PtrTQFJKJg

— Charles Robinson (@CharlesRobinson) November 21, 2016
Needless to say, Twitter and the rest of the social media scope had a field day trolling Snyder. Even days after, the jokes have still been coming in. And you know it's getting bad when even Cowboys owner Jerry Jones is taking part.
While appearing on NFL Network's Good Morning Football on Wednesday, Jones talked about the upcoming matchup on Turkey Day. As for what would make a holiday victory special, Jones said, "nothing makes it any sweeter than to cut Dan Synder's dancing down," per Conor Orr of NFL.com. Jones then joked that the Redskins owner had been "boogie-ing" recently.
Obviously Jones is just trying to be light-hearted on a light-hearted show. But it's hysterical that even fellow owners (albeit rivals) are getting in on making fun of Snyder's dance moves. Needless to say, I don't think we'll be seeing the Washington owner cutting a rug in public anytime soon—win or lose.
This article originally appeared on