Dallas Cowboys have matured into rock solid identity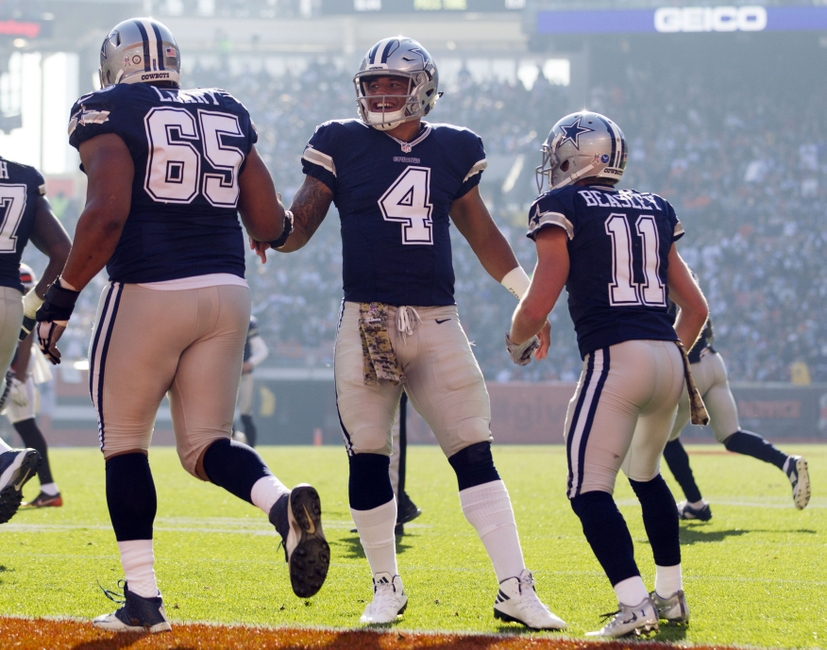 The 2016 Dallas Cowboys are one of the most inclusive, cohesive teams I've ever witnessed in Dallas. Young, old, stars, and back-ups, everyone is on board.
During the Dallas Cowboys scorching run of seven consecutive victories one thing has become abundantly clear…they have a rock solid identity.
This is one of the most inclusive, cohesive teams I've ever witnessed in Dallas.
Rookies, vets, stars (old and new), back-ups, everybody is getting in on the act.
With 2016's 2nd and 4th round draft picks on injured reserve without a snap, four rookies are still major contributors (1,527 combined snaps).
The entire team has rallied around their fearless, young leader in quarterback Dak Prescott.
Even Pro Bowl passer Tony Romo helps foster the youngster's development.
Injuries have tested their resilience with countless missed starts by key players.
Head Coach Jason Garrett repeatedly called for the 'next man up', and each time the backup came riding in with guns blazing.
OFFENSE RUNNING ON ALL CYLINDERS
The NFL's 4th best scoring offense (27.9) has been relentless since Week 1.
At least six of eleven starters will likely get heavy Pro Bowl consideration.
Everything begins and ends with the dominating offensive line and elite rushing of rookie runner Ezekiel Elliott.
The NFL's best rushing offense (165.3 ypg) is led by the NFL's top rusher (111.4 ypg).
The attack is centered around balance (278 runs, 250 passes) and controlling possession (34:03 average per 60 minute game).
Prescott has been extremely efficient (104.2 QBR ranks 4th) and generous with the football (13 players with a reception).
They're 5th in 3rd down conversions (46.7%) and a perfect 7 for 7 on fourth downs.
After maturing into a balanced, diverse offense, no opposing defense is safe.
DEFENSE NOT TO BE OUTMATCHED
The shocking Dallas defense now ranks 4th in scoring allowed (17.5 ppg).
On defense the mandate is the same as the offense…control the trenches and dominate the ground battle.
The Cowboys have the 5th best rush defense allowing only 86.2 yards per game. No opposing rusher has reached 100 yards to date.
Even more astounding is their 3 rushing touchdowns allowed leads the league.
While the pass defense is 16th allowing 246.9 ypg, they do not allow big leaks.
No opponent has reached 300 yards passing. Five failed to throw for 250 yards.
Another impressive stat is only 2 of 12 passing scores allowed covered 15+ yards.  In comparison, Pittsburgh allowed 6 of 9 pass TD's of 15+ yards.
Watching this well balanced team mature and play in unison has been a pleasure.
If Dallas stays true to identity, winning the NFC and home field advantage throughout the playoffs is well within reach.
This article originally appeared on