Dallas Cowboys get away with penalty on Vikings' 2-point conversion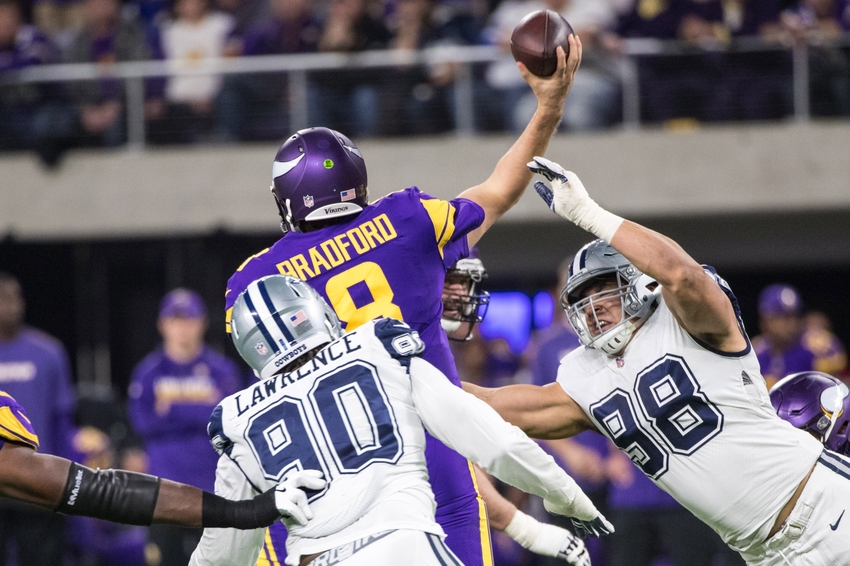 Did the Dallas Cowboys get away with a penalty on the Minnesota Vikings' late-game 2-point conversion attempt? It looks like it.
With just over two minutes left in their Thursday Night Football matchup against the Dallas Cowboys, Sam Bradford and the Minnesota Vikings drove 65 yards down the field and scored a touchdown to pull within two points, trailing 17-15.
It was easy to laugh when Bradford's pass on the ensuing two-point conversion attempt sailed about 15 yards too high, but the 'Boys definitely got away with one at U.S. Bank Stadium.
After Jerrick McKinnon's three-yard touchdown pulled Minnesota within two with 25 seconds left, Bradford — who returned in the second half after exiting the game with an apparent rib injury — threw over the middle to try and tie the score and force overtime.
His pass attempt was nowhere near a receiver, but it was clearly obvious from the replay that the Cowboys got away with a blow to Bradford's face/helmet.
Bradford was seen arguing the call with the lead official after the play, but from the referee's viewpoint, it looked like the defensive lineman only got his shoulder pads.
That was a blatant missed call, but to be fair to Dallas, ESPN's Trey Wingo pointed out that there should've been a false start on the offense on the same play, which would've blown it dead before the blow to the head even happened:
The Cowboys were able to recover the onside kick and take a knee to run out the clock and win the game, improving to 11 straight wins and an 11-1 overall record.
The Vikings, meanwhile, fell to 6-6, including 4-2 at home.
In any given game, referees are going to make mistakes that hurt both teams. But in a pivotal moment on the decisive play of the game, these officials missed a big one (or two) that guaranteed Vikings fans even more misery after just getting over Bradford's late-game pick in a loss to the Detroit Lions on Thanksgiving Day.
From Blair Walsh in the playoffs last year to Teddy Bridgewater's preseason injury to losing Adrian Peterson, it's been tough to be a Vikings fan lately. Not getting that flag and another crack at a game-tying two-point conversion — especially after Bradford made such an impressive return and the defense played so well — was yet another soul-crushing development.
This article originally appeared on